Here's Why Sonic Youth Remain a Touchstone of Alternative Rock
Godfathers of alt-rock guitar Lee Ranaldo and Thurston Moore were a missing link.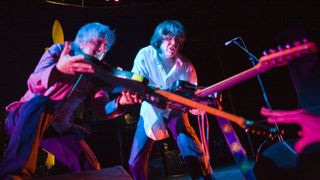 (Image credit: Marc Broussely/Redferns)
Happy birthday to alt-rock legend Lee Ranaldo!
While guitarists like Lou Reed, Sterling Morrison, Richard Lloyd and Tom Verlaine established the protocols for alt-rock guitar, the players with the most direct influence on the alt-rock movement that emerged in the 1980s were Sonic Youth's Thurston Moore and Lee Ranaldo.
As part of New York City's post-punk no-wave movement, they were a tonic to punk rock's recycled rock riffs. Their unusual tunings, bold harmonic experimentation and pioneering application of noise and textures made Sonic Youth an inspiration to countless bands and players.
And if any group served as a bridge between punk and alt-rock, it was Sonic Youth, who created the template for how an indie band could grow in popularity without losing credibility.
"We felt very liberated in the early '80s," Moore said, "because suddenly it was okay to be interested in anything – 20th-century composition, avant-garde jazz – rather than having to have that 'punk rules, everything else sucks' mentality."
Wielding Fender Jaguars and, toward the end of the '80s, heavily modified Jazzmasters, Moore and Ranaldo combined punk rock attitude and song structure with open-tuning techniques, and invented one of the most radical approaches to electric guitar in the history of rock.
"We're interested in textural sounds and the blendings of instruments in ways that don't fit into the standard lead and rhythm guitars and rhythm section backing it up," Renaldo told Melody Maker in 1985.
"The music's got the emotion, the sentiment and the lyrical thinking of rock music. We're a rock band and proud of it. We're not an art, noise or extreme band. We just do what we do."
He could have been speaking for the entire alt-rock nation.
Browse the Sonic Youth catalog here.
All the latest guitar news, interviews, lessons, reviews, deals and more, direct to your inbox!
Guitar Player is the world's most comprehensive, trusted and insightful guitar publication for passionate guitarists and active musicians of all ages. Guitar Player magazine is published 13 times a year in print and digital formats. The magazine was established in 1967 and is the world's oldest guitar magazine.
When "Guitar Player Staff" is credited as the author, it's usually because more than one author on the team has created the story.