"The Ear and the Heart are King": St. Vincent Talks Style and Inspiration
One of alt-rocks greatest guitarists has reshaped the instrument in form and function.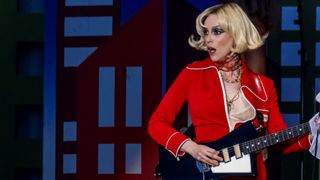 (Image credit: Scott Legato/Getty Images)
Annie Clark is perhaps the most beguiling guitarist to emerge in the past 20 years.
The artist known as St. Vincent makes music that is a collision of adept, otherworldly guitar arrangements and propulsive electronica, a mix that has made her a leading light of the alt-rock movement's genre-subverting strain.
A Berklee grad inspired to learn electric guitar by grunge acts like Nirvana and Soundgarden, Clark debuted her genre-bending approach on 2007's Marry Me, kicking off a career that has had its fair share of success and critical acclaim.
Her 2014 St. Vincent brought her a Grammy Award for Best Alternative Album (the first won by a solo female artist in 20 years).
She seems poised to repeat that with her latest release, 2021's Daddy's Home. The Grammy-nominated album was recorded partly during lockdown and made with no expectations.
"It was truly just having so much fun playing music," Clark says. "I'd go in and sing a song in my studio, just for fun, just, 'Oh, I wonder how my voice is going to sound today,' and the same with putting guitar parts down, just playing for fun and joy. That's emblematic of the whole process.
"It's not that any record is easy to make, because it's not," she adds. "But a lot of times the strife in the process is you getting in your own way and not some literal external force. It's the ego games and self-loathing circus that gets in the way."
That sort of effortlessness seems a hallmark of Clark's career, including the creation of her Ernie Ball signature guitar.
After visiting the company's factory in spring 2015, she recalls, "I sat down with Sterling [Ball] and he said, 'Why don't you design a guitar?' Really, the guitar that I drew up on that first day is very similar to what ended up making the final cut.
"There were definitely tweaks back and forth to make sure the ergonomics were correct – the balance was correct, to whittle down as much of the weight as possible without sacrificing the tone. I couldn't believe that it was that easy. And with my vision and their skills combined, I think we made a really great guitar."
Your music is diverse. How often are guitar parts the starting point for compositions?
Quite a lot of times. Melody, to me, is everything, and there are a lot of melodies that I dream up and transpose onto guitar that end up being riffs. At the moment, I can only really speak of my current writing process, but it's very guitar-heavy. My emotional spectrum on the instrument has gotten broader.
You play with a lot of dynamism. You're up and down the fretboard with quite a percussive approach. Do you make a conscious effort not to play guitaristic clichés or is it just your voice on guitar? How did your style crystalize?
I do try to shy away from the pitfalls of the poorly played blues guitar. I think, too, approaching the guitar from a melodic standpoint as a jumping-off point instead of relying solely on muscle memory – this might feel fun to play, but how does it sound?
The ear and the heart are king. It's fun to riff on the classic stuff that every guitar player knows, but I get away from that in particular because there is John Lee Hooker and there is Howlin' Wolf, and I don't think that that's where I need to add to the conversation.
The revered guitarist Tuck Andress is a relative of yours. Was he an early influence and, if so, what's so interesting about him as a player that you admire?
Tuck's my uncle and his influence on me is immense. I flatter myself to think that there is an actual genetic through-line to our playing – I mean, we're obviously related and there are all manner of micro-movements that we might share.
Tuck's a total genius and he can make an instrument sound like 10 people playing. The level of skill and discipline it took for him to become a one-man guitar symphony is staggering. I've never seen anybody play like he can play. He's the eighth wonder of the world.
Tuck and Patti [his wife] took me out on tour with them when I was 15 years old, to Japan, and to be a 15-year-old kid from Tulsa growing up in Dallas, all of a sudden being in Japan, being their tour manager-slash-roadie, I got to see what it really meant to be a touring musician.
And I got to see how much their show moved the audience, myself included, and it encouraged me to fall so deeply in love with music. I did, and it's never, ever let me down. It's just the best thing.
Buy a copy of Daddy's Home here.
All the latest guitar news, interviews, lessons, reviews, deals and more, direct to your inbox!
Guitar Player is the world's most comprehensive, trusted and insightful guitar publication for passionate guitarists and active musicians of all ages. Guitar Player magazine is published 13 times a year in print and digital formats. The magazine was established in 1967 and is the world's oldest guitar magazine.
When "Guitar Player Staff" is credited as the author, it's usually because more than one author on the team has created the story.