"I Knew What I Wanted to Do With Guitars": Bartees Strange on His Heady New Album, 'Farm to Table'
The rising indie-rock star cooks up a dynamic concoction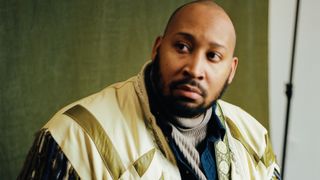 (Image credit: LUKE PIOTROWSKI)
With rehearsals for his tour just a week away, rising indie-rock star Bartees Strange is surrounded by his favorite guitars and amplifiers. From all indications, this is the hard part of the job.
"If you could see me right now, I have all of my amps in a circle around me and, like, five guitars," Strange says over the phone from his home in Virginia. "And I'm just like, 'What's going to be the perfect combination?' I can't figure it out."
Whether he's strapped with his Gibson '59 ES-335 Reissue, '67 Epiphone Casino or '59 Fender Jazzmaster, Strange will show up ready to blaze.
Over the past year, he's toured with indie vanguards like Phoebe Bridgers, Lucy Dacus and Car Seat Headrest.
But as one can tell from his latest album, Farm to Table (4AD), his own music is a fusion of styles and influences stretching back to his youth, when hardcore and emo bands ruled his playlists and fueled his creativity.
"I got into guitars and playing music from having hardcore bands and punk bands expand my understanding of what you can do with a guitar," he says, "the ethos of guitar playing and sounding like yourself being more important than sounding like anybody else."
Strange's music is rooted in the emotional heft of emo, but he pulls R&B and hip-hop into the layered madness of "Cosigns" and explores acoustic pop on "Tours" and "Black Gold."
There is also a hint of Fleetwood Mac balladry on "Escape This Circus" and some fine dueling guitars on the surging and lyrical "Heavy Heart."
On the eve of touring for Farm to Table, Strange spoke with Guitar Player about his journey to indie-rock stardom.
How and when did music come into your life?
I remember the first real moment that I was like, Oh, what is this? It was a Norma Jean concert. To see everyone react to it reminded me of church, like the spirit moving through a room and people going crazy, moshing. The music was so loud, and it was such a different context for me.
I went to some all-Black churches and heard some pretty wild, awesome church bands, but I'd never seen anyone making – let alone playing for an hour and half – music that was that intense. It really changed what I thought you could do with music and made it more accessible for me, because I was always so intimidated.
That was my on-ramp to getting into guitar-based music and finding the blues, falling in love with Albert Collins and Freddie King and Rosetta Tharpe, and copying all those licks.
Then I heard those same licks in country music and fell in love with Chet Atkins and Waylon Jennings and Brad Paisley.
Seeing TV on the Radio perform "Wolf Like Me" on [Late Show With David] Letterman and hearing those Telecasters on Bloc Party's "Helicopter" completed the circle. I knew what I wanted to do with guitars.
What about Telecasters spoke to you?
Teles resonate with me and my guitar philosophy. I'm not a super-fast, technical player. I don't really know how to read music. I like to write songs – I think about chords and the song construction and what the section means and why it's there.
I need a guitar that's not in the way, that I can treat just like a tool. Like, this is a hammer and I build houses with this hammer, and who cares what brand of hammer it is? That's how I like to think of guitars, and that's how I think of a Telecaster.
You can play jazz or country on a Tele. Some of my favorite emo bands, like American Football, Joan of Arc, Cap'n Jazz – these guys are all Tele players. And whenever I make records, there's always two or three Teles in the room. They record really well, and I know what it's going to sound like.
It certainly lends itself to the intricate picking you do.
I don't really play with a pick; I play with my fingers. So every time I play a chord, I'm kind of picking it out and finding the loop within the chord, finding the lead.
Sometimes I'll write a riff and build the song around it, but most of the time I write the chords and come back and solo on it.
It is literally just me with a looping pedal playing the chords and following along with it. I don't put too much thought into it. I'm just playing what feels good.
What are your favorite guitar moments on Farm to Table?
My favorite is the end of "Heavy Heart," where the solo kicks in. I just love that freaking guitar part and all the tones involved with that song. It's a guitar symphony. It's such a fun song to write and play. Every guitar line is a solo.
And then on "Hold the Line," there is a guitar line at the end, which is a solo slide part played by my friend Dan Kleederman.
But my favorite part about the song is how the two guitars interact with each other. I'm playing the rhythm part on the left side, and the part is sneaky confusing. It's a slow song, so there's all this space, and you just have to sit in it. You can't play through it. It took many years of overplaying to get a song like that.
On the song "Escape the Circus," there is a guitar moment on the bridge where a cacophony of guitars swirl around each other and result in these weird bloopy tape loops, and oversaturated sounds that fade in and out. That's probably the most Bartees guitar move of all time.
There's just a combination of a lot of things I love smashed into that section, and then we leave it and move into this big Blink-182, nine-million-guitars, big-drums moment, which is the only moment like that on the whole album, but it's a throwback to some of my favorite music.
What was your main rig on the record?
My '67 Epiphone Casino, my favorite guitar, is on everything. There's also a 1963 Gibson ES-125T, the slim one, with some funny quirks added to it. For that song it had flatwounds on it, and the string slots on the bridge were rubber, so it created a sound that was different from the other 125 I had played. It has the stock Gibson P-90, and so when you hit it, it crunches in a really unique, nice way on the hollow body. I played that guitar quite a bit.
I also used a 1964 [Fender] Jaguar all over the record. For the outro of "Escape the Circus," I played a Danny Gatton Telecaster and that Jaguar through a Tone King amp and a Benson Vincent amp in stereo, with different ribbon mics on each.
I'm not really big on dynamic mics for guitar amps, 'cause I like how an amp breathes and sounds in a room. Sometimes when a mic is right on the cone, it can be a little too much for me. So I always use a ribbon mic about a foot away, just to catch the darkness and the air.
The amp I used the most on the whole album is an early '70s [Fender] Vibro Champ. I think it's my best-sounding amp. Almost every song starts on that amp. I actually broke it on this album, and I still haven't gotten it fixed, which is killing me. But it's also forcing me to use some of my other amps.
You were a football player before you took up music. Are there parallels between your days as an athlete and your career as a musician?
I don't know if there are parallels, but there are definitely things I took from athletics that I apply to music. I'm a competitive person; I have goals of what I want to do with music. I'm extremely grateful that I get to make music, but it doesn't stop there for me.
Ultimately, I think there are a lot more Black kids from Oklahoma and Arkansas and Missouri and Texas who are great artists and deserve opportunities like I have. Seeing Tunde Adebimpe [of TV on the Radio] on Letterman blew my mind, like, "You can do that?"
It's like, you can't tell a Black kid to be a doctor if they've never met a doctor before. They've got to see it, and I hope people see me and they're like, "Oh, he did it! I'm going to do it better than he did it. I'm going to do it bigger than he did it."
That's really my dream with all of this.
Order Farm to Table by Bartees Strange here.
All the latest guitar news, interviews, lessons, reviews, deals and more, direct to your inbox!
Jim Beaugez has written about music for Rolling Stone, Smithsonian, Guitar World, Guitar Player and many other publications. He created My Life in Five Riffs, a multimedia documentary series for Guitar Player that traces contemporary artists back to their sources of inspiration, and previously spent a decade in the musical instruments industry.