Five of Danny Gatton's Greatest Performances
A few examples of why Steve Vai reckons Gatton came "closer than anyone else to being the best guitar player that ever lived."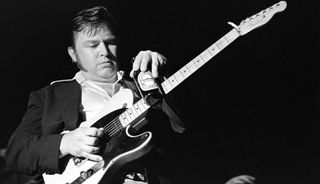 (Image credit: Ebet Roberts/Redferns/Getty Images)
Known in his lifetime as "The Telemaster" and "The Humbler," Danny Gatton was a walking, talking, '53 Tele-wielding encyclopedia of classic American guitar styles.
Sadly, the guitarist took his own life in 1994, leaving behind a bunch of essential albums and two incendiary Hotlicks tutorial DVDs (Telemaster! and Strictly Rhythm Guitar). Here are five examples of why Steve Vai reckons Gatton "comes closer than anyone else to being the best guitar player that ever lived."
"Cruisin'" (live) – The Humbler, 1996
The aptly named The Humbler was recorded in 1981 at the Berkeley Square nightclub in Berkeley, California, when Gatton was lead guitarist for rockabilly revivalist Robert Gordon and his band The Wildcats.
For years the recording existed only as a bootleg, passed between guitarists to inspire and possibly even terrify. Everyone who plays guitar should own this album. Here's a little taste as to why.
"Elmira St. Boogie" – 88 Elmira Street, 1991
"Elmira St. Boogie" saw Gatton nominated for a Grammy for Best Rock Instrumental Performance in 1990. Although he ultimately lost out to Eric Johnson's "Cliffs of Dover," his channeling of Fifties rockabilly greats like Gene Vincent & His Blues Caps genius Cliff Gallup on "Elmira St. Boogie" makes it one of his greatest performances.
"Harlem Nocturne" – Cruisin' Deuces, 1993
Gatton's performance on "Harlem Nocturne" proves just how adept he was at wringing new life out of an old standard.
There are echoes of his fellow Telemaster, Roy Buchanan, in this live performance of "Harlem Nocturne," especially in those stinging string bends. But the "flying by the seat of his pants" vibe, like he'd just come up with a killer lick that second, is typical Gatton.
"Sun Medley" – Cruisin' Deuces, 1993
Gatton was a lifelong devotee of the sound of Sun Records artists like Elvis Presley, Johnny Cash, and Carl Perkins.
This live clip features Gatton blasting through Presley classics "Mystery Train," "My Baby Left Me," and "That's All Right" on the '56 Gibson ES-350 he owned from the age of 12. Heads up – this is a rockabilly guitar masterclass.
"Gearheads" – Relentless, 1994
Armed with his Tele's tone control and his Fender amp's vibrato circuit, Gatton could pull off a damn close Hammond B-3 organ impression (see his Telemaster! DVD for proof).
On "Gearheads" he leaves the tone-wheel grinding to Joey "Finest Jazz Organist on the Planet" DeFrancesco to concentrate on tearing the hell out of his Tele's fingerboard.
All the latest guitar news, interviews, lessons, reviews, deals and more, direct to your inbox!