Playlist: Roy Buchanan's Best Solo Tracks
Buchanan's inimitable guitar style spanned blues, country, gospel, rock, and beyond.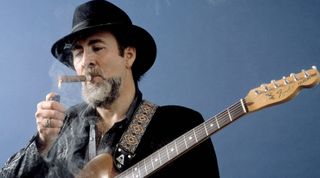 (Image credit: Paul Natkin/Getty Images)
He mentored Robbie Robertson, allegedly turned down an offer to replace Brian Jones in the Rolling Stones, and was coined, in a 1971 PBS documentary, the "best unknown guitarist in the world."
Most of all, Roy Buchanan was known for a stinging tone (courtesy of a blond '53 Tele he nicknamed "Nancy") and an inimitable guitar style that spanned blues, country, gospel, rock, and beyond.
Over the course of his three decades as a sideman and solo artist, Buchanan – who took his own life, by hanging, at the age of 48 in 1988 – never had a hit song (though he came close with 1972's "The Messiah Will Come Again"). But his masterful technique – equal parts graceful virtuosity and raw attack – had a profound effect on any player that crossed his path.
Jeff Beck, for one, dedicated the rather Buchanan-esque "Cause We've Ended as Lovers" to the man himself. Below, GP offers four of Buchanan's best from his solo years.
"The Messiah Will Come Again" – Roy Buchanan, 1972
All the elements of Buchanan's singular style are in evidence on this largely instrumental original composition: measured, emotive string bends, wailing volume swells, piercing pinch harmonics, and quick blasts of frenzied notes.
Over the course of the song, Buchanan adds technique upon technique, building and expanding on the haunting melodic theme in what has become known as his signature tune.
"Sweet Dreams" – Roy Buchanan, 1972
Buchanan's take on the 1956 Don Gibson country ballad substitutes guitar in place of the original's vocal; rather, he bends, pulls, and wrings notes from his Tele in a manner as expressive as any human voice.
34 years after this song kicked off Buchanan's 1972 Polydor debut, it reappeared, to great effect, as the closing number in Martin Scorsese's 2006 film, The Departed.
"Please Don't Turn Me Away" – This Is What I Am Here For, 1974
Buchanan simply slays on this slow blues original composition, expertly mimicking vocalist Billy Price on the verses and cutting loose with tortured, piercing lines during two solo spots. Buchanan at his bluesy best.
"Further On Up the Road" – Live Stock, 1975
A year before Buchanan acolyte Robbie Robertson battled Eric Clapton on a version of this song in the Band's The Last Waltz, Buchanan recorded his own blistering take on this blues standard.
Reportedly, Clapton was so taken with Buchanan's playing here that it inspired him to add a similar arrangement of "Further" into his own set lists.
All the latest guitar news, interviews, lessons, reviews, deals and more, direct to your inbox!
Rich is the co-author of the best-selling Nöthin' But a Good Time: The Uncensored History of the '80s Hard Rock Explosion. He is also a recording and performing musician, and a former editor of Guitar World magazine and executive editor of Guitar Aficionado magazine. He has authored several additional books, among them Kurt Cobain: Montage of Heck, the companion to the documentary of the same name.