"Everything About This Record Captured the Essence of Who I Am": Marcus King Takes the Brakes off for New Album, 'Young Blood'
Co-written with the Black Keys' Dan Auerbach, this heartfelt rock and roll record is the guitar sensation's most personal yet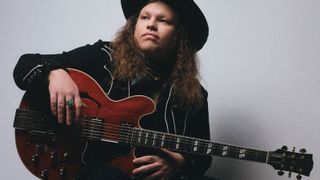 (Image credit: MITCH CONRAD)
At 19, Marcus King could cut heads with the best of them, when he kicked-started his career in 2015 with Soul Insight, the number-eight hit debut album from his group, the Marcus King Band. So it might come as a surprise to learn that, nearly eight years later, he still spends time focusing on the basics.
"One of the main things that I work on these days is to constantly try to breathe a little more in my playing," the electric-blues firebrand tells Guitar Player. "I try to think like a sax player – they need to take a breath. And that's what helps the phrases and licks that you play on guitar stand out: when you take a pause between lines."
It's that sort of mindful approach that has guided the 26-year-old's career over these recent years. After three albums with his Marcus King Band, King took a step in a different direction with his 2020 solo debut, El Dorado.
Working along with producer and co-writer Dan Auerbach, of the Black Keys, King focused more on the songs and his singing. The result was an album of electric blues tinged with southern soul that proved he was more than a very talented fret burner – he was also a stylist who could define his own signature strain of blues.
Which is why his new album, Young Blood (American Records), is such a surprise. It features some of the fieriest playing of his career. Produced and co-written with Auerbach, the record finds King channeling elements of Free, Steve Miller and Lynyrd Skynyrd to deliver the warm, organic tones of the great classic rock albums of the early '70s.
Certainly, there is evidence of his upbringing in these 50-year-old influences and tonal inspirations: King was trained by his father, Marvin, a well-known blues guitar player in South Carolina, who also played with gospel acts. His grandfather was a regionally popular musician as well. Which is not to say King's playing is in any way derivative. He can fire off blindingly fast sheets of sound when he wants to, but he has the emotional maturity to put tone and taste ahead of fretboard pyrotechnics.
Following a rough break-up early in 2022, he's turned tough personal moments into songs that convey heavy emotions, yet never sound downbeat. King's delight with Young Blood is clear. "Everything about this record captured the essence of who I am, even down to the picture on the cover."
Above all else, Young Blood is a hard-rocking album that will make listeners itch to fire up a Les Paul and wail along.
Why is Young Blood so different from El Dorado?
It's ironic that people feel like I drifted away from my sound with this record, because it's actually more the other way around. I feel that El Dorado was more of a departure for me, stylistically. It allowed me to grow a bit more as a vocalist and a songwriter. But Young Blood is a little closer to my roots.
What is interesting is that anyone listening to the two albums would think El Dorado was the work of an older, more mature artist, and Young Blood was recorded by someone much younger and hungrier.
That's a really interesting way of looking at it. Everything prior to recording Young Blood was the product of me trying to govern myself and what I was doing – holding back a bit more as a player and trying to play a little more tastefully.
A great example of that was when I was playing on tour with [Black Crowes vocalist] Chris Robinson, where I was just playing rhythm guitar and singing background vocals. That was a real lesson in humbling yourself to another performer.
I think it had an impact on my playing – that conscious process of holding back – which was a valuable thing to be aware of and to develop. For this album, I took the brakes off and let my adolescent self speak out a little more. [laughs]
You co-wrote every song on the album with Dan, with a handful of other writers contributing to some of the songs as well. What was the process with you and Dan? Did you sit down together to write?
Actually, we used exactly the same process as when we wrote the songs for El Dorado, which was that Dan and I did everything face to face. Things were a little easier this time around, as we'd known each other a lot longer, so we were more comfortable working together. That created a much more relaxing space for me in terms of the subject matter that I was dealing with, lyrically.
We decided early in the year that we were going to make more of a rock and roll record, but then I had some bad personal stuff happen around April, and that influenced the subject matter of the songs. I brought "Lie, Lie, Lie" in pretty much all done and dusted, but Dan and I dissected it a little more and re-wrote the chorus. It was called "Heavy Metal Heart Attack" when I wrote the original idea, but Dan's a master of the chorus, and his input really transformed that song.
Another example is "Aim High," which was originally called "Calamity Jane," but things changed once Dan got involved in breaking down exactly what we had.
At the heart of the album is a strong power-trio vibe. And in keeping with that, your bassist, Nick Movshon, has to do a lot of heavy lifting.
Absolutely. Dan brought in Nick to play bass and Andy Gabbard to be on drums, and they did a fantastic job. I wasn't aware of Nick by name but realized that I'd actually heard him playing on a lot of things that I really liked. They took the whole record to the next level, that's for sure.
The vocals are upfront throughout the album. Does that reflect a much more confident approach from you when it comes to the singing?
Kind of, but I also think the fact that we recorded everything live in the same room had a big influence on how I approached things and the finished product. It really felt natural, like we were playing in a bar, and that made everything much more relaxed from a performance point of view, both vocally and when it came to playing the songs on my guitar.
We did the whole album in six days, which, in the grand scheme of things, is not very long for a record. Compared to El Dorado though, it was twice as long, because we cut that in three days.
What were your main electric guitar and amps of choice for this album?
For pretty much all of the album it was the same thing: a '59 Les Paul into a small Gibson amp. I'm not sure what model the amp is, as the head was put into a new plywood chassis. For effects, it was just a wah pedal and an old [Sola Sound] Tone Bender that belonged to Dan.
You seem to like a lot of rock bands from the 1970s. For example, "Dark Cloud" has quite a strong Free influence, which I thought carried through to a number of songs on the album.
You're right. Free was such an inspiration for this whole record. In the months leading up to the recording, I just couldn't keep them off my turntable. [laughs] I was totally inspired by Paul Kossoff's playing, and I'm always inspired by Paul Rodgers' singing as well.
I listened to them so much that it just seeped into my own playing, and there's no doubt that there's a lot of their influence on this song.
"Hard Working Man" is an obvious standout track, with a hint of Steve Miller in the chorus.
Aw, man, it's hard not to be influenced by Steve Miller! He's really one of the greats of American guitar players. I think you can hear a little bit of Steve Miller in everybody. [laughs] Auerbach really knows how to write a chorus, and I think this is one that gets stuck in your head.
"It's Too Late" is another song where the chorus takes things in an unexpected direction, and the breakdown with the handclaps is an unlikely twist.
Absolutely. And again, that's something that Dan just has a real knack for. The chorus almost sounds like a pop radio song, which is a testament to his prowess as a songwriter, and as a producer, actually. I love the rolling groove that this one gets into, where the bass lays down a solid foundation, and I don't have to play very much at all on the verses.
The solo features you scat singing along with your playing. Was that worked out beforehand?
It just happened in the moment. I don't ever plan what I'm going to play for a solo. I generally like to keep the live take, which is what I usually think is the best version of myself, but I rarely do more than a couple of takes for a song anyway. I don't like to take a few passes and use phrases from each version.
There's nothing wrong with doing it that way, and I've done it on a few sessions, but never on one of my own records. I think you lose the spontaneity. There's an energy that just hangs above you, the band and the room, and you can play off that.
You play slide with a little wah on "Rescue Me", which also has a hint of Steve Miller. What tuning do you use for slide?
I play in standard tuning. I've never been a big open-tuning guy. I think the slide was the perfect sound for the song. It has a morose, helpless kind of feel about it, which captures what the song is trying to express.
If there is one song on the record that could cross over into a broader audience, I think it would be "Blues Worse Than I Ever Had."
Yeah, that one's quite different from the rest of the album. That was co-written with Greg Cartwright, who is a great writer. He just captured a feeling so perfectly. It was one of those songs that took about five minutes to write; everything just came together instantly. Its subject matter is very downbeat, but it has an uplifting feel, kind of like the way gospel works sometimes. I've always liked that juxtaposition of a happy chorus with a sad verse.
Like a number of artists, including Joe Bonamassa, Christone "Kingfish Ingram and Derek Trucks, you reached a high level of proficiency at a very young age. Did you feel under pressure to make a success of a career in music, given that background?
No, I felt that I needed to find a way to create my own identity as a player. I didn't want to sound like a diluted version of all the great guitarists that I was listening to. I wasn't hung up on being successful; I was just having a great time playing shows. Playing was an end in itself for me.
You were playing in clubs while you were still at school. It must have been a very different existence for you from that of your school friends, who presumably couldn't have related to the dual experiences that you were having by day and night.
I was definitely living two lives. The night life was exciting, which made the days at school mundane by comparison. I think the contrast between the two was a part of what made the night times seem so good. It was a great life experience as well.
Do you think there were dangers in being exposed to those temptations of the adult world, playing in the music business at such a tender age?
I don't think so, because you see, even from that young age, that adults can be fuck-ups too. [laughs] If anything, that experience helps steer you in the right direction, if you have the head on your shoulders that my parents raised me to have. I've struggled with dark choices I've made in life, but it wasn't because I didn't know the consequences of those choices.
How did you start on guitar? Did your dad teach you how to play?
Early on, my dad was showing me everything that he knew, and we still do that. We always work off one another. My dad's one of my favorite players. He's a very inventive guitarist, and I really like his style.
My grandfather also taught me a lot. He had this way of teaching that was a kind of hillbilly tablature. [laughs] It was something that he put together in the '50s that he drew out by hand. So playing guitar was just a natural thing for me, because it was around the house all the time, and I was always kind of tinkering around with it.
I can remember certain things being a struggle now and then, but the guitar was something I always came back to. It was my release – my Game Boy or PlayStation.
What's your relationship with the instrument today? Do you still have that same enthusiasm for it?
I still play all the time. I have a guitar in every room in my house, and I still sit noodling away when I'm watching TV. For me, it's almost like having a nervous tic. It's something that I have to do. I wouldn't feel right if I wasn't holding a guitar.
Order Marcus King's Young Blood here.
Visit the Marcus King website for news and tour info.
All the latest guitar news, interviews, lessons, reviews, deals and more, direct to your inbox!
Mark is a freelance writer with particular expertise in the fields of '70s glam, punk, rockabilly and classic '50s rock and roll. He sings and plays guitar in his own musical project, Star Studded Sham, which has been described as sounding like the hits of T. Rex and Slade as played by Johnny Thunders. He had several indie hits with his band, Private Sector and has worked with a host of UK punk luminaries. Mark also presents themed radio shows for Generating Steam Heat. He has just completed his first novel, The Bulletproof Truth, and is currently working on the sequel.