Marcus King's Top Six Tips for Guitarists
The electric-blues firebrand delivers a half-dozen pointers to help you become a singular player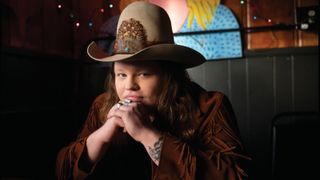 (Image credit: MITCH CONRAD)
At 19, Marcus King could cut heads with the best of them when he kicked-started his career in 2015 with Soul Insight, the number-eight hit debut album from his group, the Marcus King Band.
Several years on and King has shown he has what it takes to go the distance.
Here are six of his top tips to help you become a singular player…
1. Listen to Other Guitarists
"You can learn so much just by paying attention to others. My dad would leave me with a record to learn while he was at work, and that would be kind of like my assignment for that day. It would be things like the first few Lynyrd Skynyrd albums with Ed King on them. I really dug his playing. I loved 'Saturday Night Special,' and I remember learning the solo for 'Free Bird' and a few others.
"Another really big one for me was Heart with Dreamboat Annie; Roger Fisher did some great things that I tried to learn. The three big Strat guys as well: Hendrix, Robin Trower and Stevie Ray Vaughan."
2. Stop Listening to Other Guitarists
"Conversely, at some point you have to turn off the outside world and focus on you. I decided to spend a year where I didn't listen to any other guitarists at all, to try to find out who I was as a guitarist.
"I was listening to sax players, pedal-steel and even accordion players – basically, people who didn't think like a guitarist when they played."
3. Listen to Singers
"I spent a long time listening to singers, particularly female vocalists, to try to reproduce the feel, phrasing and vibrato that they had, and capture the emotion. The big names for me were Aretha Franklin, Tina Turner, Mavis Staples and Janis Joplin.
"I also took a lot from Bobby Womack and [the Temptations'] David Ruffin that I put to use in the way that I phrase lines on the guitar. I remember really trying to make what was coming out of my speaker cabinet sound like the intro to 'Cry Baby' by Janis. I thought if I could make my guitar sound like that, then I'd won."
4. Play With Serious Intent
"When you're playing a solo, the most important thing you can do is really mean what you're playing. You want to convey as much as you can with every single note that you play. That's the kind of approach that B.B. King was the absolute master of.
"A million notes a minute played without any emotional content means nothing. One of the earliest things that I was taught by my dad and grandfather was that the space between the notes is as important as what you play."
5. Put the Work in to Develop the Basics of Your Technique
"My dad and grandfather taught me a lot of finger exercises to help build strength and dexterity. I put in a lot of time on things like that. Sometimes my project for a day would be to work on an exercise and see how fast I could play it by the end of the day.
"Later on, when I studied jazz theory, our end-of-the-year project was to play 'Donna Lee' by Charlie Parker. You got extra points if you could play it fast. [laughs] That's still one of my warm-ups, even now, to play that melody as fast as I possibly can."
6. Remember: There Is No Shortcut to Success
"You have to spend time with the guitar, even if you're sitting watching TV or something, and just running scales.
"Everything that you do on guitar builds your foundation and makes the act of actually playing the instrument second nature, to where you no longer need to think about the mechanics, and you can get to the heart of what you want to say, without any technical obstructions to get in the way.
"I probably played for a minimum of four hours a day when I first started. I never thought of it as practice. I wanted to do it. Practicing guitar was my leisure activity."
Visit the Marcus King website for news and tour info.
All the latest guitar news, interviews, lessons, reviews, deals and more, direct to your inbox!
Mark is a freelance writer with particular expertise in the fields of '70s glam, punk, rockabilly and classic '50s rock and roll. He sings and plays guitar in his own musical project, Star Studded Sham, which has been described as sounding like the hits of T. Rex and Slade as played by Johnny Thunders. He had several indie hits with his band, Private Sector and has worked with a host of UK punk luminaries. Mark also presents themed radio shows for Generating Steam Heat. He has just completed his first novel, The Bulletproof Truth, and is currently working on the sequel.