Paul Kossoff's Five Greatest Guitar Moments
Explore the diamonds of this oft-overlooked virtuoso's slight, but hugely influential, discography.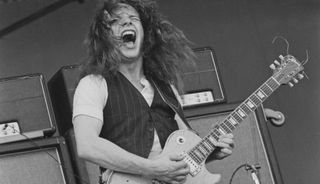 (Image credit: Express/Stringer/Getty Images)
The death of Free guitarist Paul Kossoff, on March 19, 1976, is often overlooked on most rock and roll calendars, as it falls on the same day as the loss of another legendary player, Ozzy Osbourne guitarist Randy Rhoads, in 1982.
Kossoff, who, after years of struggling with drug abuse, succumbed to a heart attack during a flight from New York to London, was, like Rhoads, only 25 when he died.
While stories about Rhoads often abound around March 19, few pause to remember the guitarist that Rolling Stone put at #51 on its list of the 100 greatest guitarists. With that in mind, we've put together a playlist of Kossoff's five most incendiary guitar moments.
5. "The Hunter" - 'Free Live!,' 1971
This is the final track on Free's only official live album, recorded on the same tour that saw them play to over 600,000 people at the Isle of Wight festival. The band's take on this Albert King classic garners a louder pop from the crowd than even "All Right Now."
4. "Boy With A Problem" - 'Short Cut Draw Blood' (Jim Capaldi), 1975
Kossoff was an in-demand session guitarist in the early 70s, playing on albums by Martha Velez, Uncle Dog, Mike Vernon and Jim Capaldi, to name a few. Capaldi allegedly wrote two songs about Kossoff for his 1975 album Short Cut Draw Blood, with Kossoff playing lead guitar on one of those songs, "Boy With A Problem."
The song's chorus proved all too prophetic: "He's just a boy with a problem he can't conceal/He thinks he's controlling his habit/but soon from this earth he will leave." He would be dead within a year of the album's release.
3. "Goin' Down Slow" - 'Tons of Sobs,' 1969
Free's take on this classic blues standard, originally written by "St. Louis Jimmy" Oden, features one of Kossoff's more memorable extended guitar solos.
2. "The Stealer" - 'Highway,' 1970
Highway was the last album recorded by Free before their first break-up in late 1970. The band's management and record company pushed for "Ride on a Pony" to be the lead single from the album, but the band stood firm behind their choice of "The Stealer," feeling it was a stronger representation of their music.
After disappointing record sales and a lukewarm critical reception, the blame was passed from everyone to the art director (the album cover did not include the band's name) to the band themselves for their choice of single.
The relationship between Free's primary songwriters, lead singer Paul Rodgers and bassist Andy Fraser, became more strained than ever, and with Kossoff abusing drugs to cope with the pressure of trying to hold the band together, they soon disbanded to pursue solo projects.
Regardless of whether or not it was the right choice, this song is included as a classic example of a band standing up to "the man," even if it eventually led to their downfall.
1. "All Right Now" - 'Fire and Water,' 1969
A staple of classic rock radio, and easily Free's best known song, "All Right Now" also appears as the epitaph on Kossoff's gravestone. Opt for the album version over the single, as the single cuts short his guitar solo.
All the latest guitar news, interviews, lessons, reviews, deals and more, direct to your inbox!