"Blues Is Life": Christone "Kingfish" Ingram Talks the Future of Blues
Here's how the Mississippian guitarist is taking music forward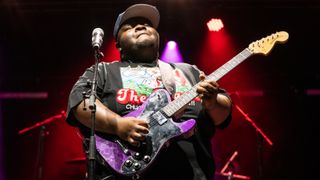 (Image credit: Erika Goldring/Getty Images)
Christone "Kingfish" Ingram's 2019 debut, Kingfish, was that rare thing in music – the arrival of a devastatingly talented, fully formed young artist, seemingly from nowhere. But in Ingram's case, his point of origin was Clarksdale, Mississippi, a town often cited as the birthplace of the Mississippi Delta Blues, so perhaps that holds an explanation for his preternatural abilities: There was something in the water.
Two years later, Ingram proved he was no fluke when he delivered an even stronger set, 662, on which he widened his musical net in surprising and thrilling ways while maintaining his earnest commitment to the blues.
Nominated for a Grammy the first time around, Ingram won the award for Best Contemporary Blues Album for 662 at last year's ceremony.
Image 1 of 2
"Sometimes I think this is all happening to someone else," Ingram says with a good-natured laugh. "When they called my name at the Grammys, I was like, What? I don't believe it. I've got to tell you, that was a long walk to the stage. But a happy one."
For the first six months following 662's release, Ingram was more or less sidelined from performing due to national COVID restrictions. Now that he's back on the road, his shows feel like victory laps.
"Man, I love playing so much," he says. "Being home for something like two years was frustrating, because I had a new album and I wanted to work that material into the set. We're all locked in with touring now, and things feel really great."
Recently, Ingram reworked his 662 track "Another Life Goes By" with indie hip-hop star – and fellow Mississippian – Big K.R.I.T. The two disparate talents come off like kindred spirits and blend seamlessly on one of Ingram's most powerful and personal songs, and the resulting collaboration, dubbed "Another Life Goes By (Mississippi Mix)," is stirring stuff.
"That's kind of a hint at where I want to go next," the guitarist says.
He's been working on songs with his steady musical partner, Tom Hambridge (the noted rock and blues producer helmed both of Ingram's albums), and he's looking to push himself in new ways vocally for album number three.
"I definitely want to do more with my singing than I have before," he reveals. "I also want to do things more on the urban and R&B side – some soul, live instrumentation, kind of a Barry White-Luther Vandross vibe," he says.
With a laugh, he adds, almost emphatically, "Of course, it'll have my fierce guitar playing. That goes without saying."
For years we've heard things like "rock is dead" and "nobody cares about jazz." But rarely do you hear people say that about the blues. As a musical form, it seems to keep on truckin'.
Oh, yeah, well, I can tell you why: Blues is life. Blues is deep-feeling music, and everybody can relate to it. We're always going to experience some blues in our lives, no matter what's going on. It doesn't matter what genre is on the Billboard Hot 100 – blues is life. It's all around us. Everybody's got the blues in 'em. It's all we've got.
That said, you're one of the leading lights of the new blues. Does that make you feel a certain weight of responsibility?
First off, thanks for saying that about me. The way I feel is, anytime you're lauded, it's going to feel like pressure, because you have to live up to people's expectations. I think about the different periods of the blues and where I am today. People expect you to play a certain way or be a certain kind of person. I try not to think too much on it and just concentrate on the music. That's what got me here in the first place.
Even though you're steeped in tradition, it feels as if you're trying to push the blues forward. You're not a rigid purist.
No, no, I don't want to be a purist. I definitely want to feel like today, you know? I borrow some from rock – I get into distortion. At this moment, I'm adding more intros and outros and different transitions into my shows. I put in little rap references.
In the studio, I'm trying to do more with rappers or whatever. I just released a remix of one of my songs with Big K.R.I.T. Slowly but surely, I'm going in that direction. And I want to reach more young kids, especially young black kids. They should know about our history and the blues. To get that done, you have to venture out into the world a little bit. You have to add some hip-hop, a little bit of neo-soul and R&B. It's all about reaching out.
You don't turn your back on blues classics, however. I love your versions of "The Thrill Is Gone" and "I Put a Spell on You." You manage to get inside a feeling of intimacy in both of them, but you also make them sound incredibly spooky.
Oh, definitely. I just try to think about what the original artists were trying to convey. Talking about "I Put a Spell on You," man, I love Screamin' Jay Hawkins. I know he was a freaky, weird, spooky guy, and that's all in the song. I have a semi-deep voice, if you will, so when I sing that song, I try to make it extra gravelly. I want you to go "Oooh!" the moment you hear me sing it. [laughs]
Other than that, I just get in there and do the songs – and that's how they came out. I didn't think about reworking them. But I like doing some older songs, no doubt. Maybe the young fans can hear me doing them, and then they'll go back and learn about the original old guys. That's kind of the point, really.
Would you ever consider doing an album or even an EP of all covers?
Most definitely, but I would probably do that in the future. Right now, I want to concentrate on my own music and getting my own messages out there. But sure, there are plenty of songs I love that I could work into a covers album. You want to put some time into something like that. I'll do it one day.
As you said, you recently worked with Big K.R.I.T., and you've recorded with Rakim in the past. What do you think blues guitarists can learn from hip-hop?
I think they can both learn from each other. When I think about the lyricism of some rappers, to me it's similar to guitar players who are very advanced technically. They both have incredible skills, but how do they use them, you know?
There are some rappers who can intertwine being lyrical with rapping off a feel. That's what I'm talking about. Guitar players can learn from rappers – like storytelling and how to take your audience on a journey. You can do the same thing with your solos and chord progressions, but rap can give you a new way of looking at things. Actually, I think the two music forms are very connected.
When did you start listening to rap?
I've been listening to rap pretty much all my life. I wouldn't say I'm a super fan of everybody now, but I love the old stuff, like the old West Coast stuff and the old '90s East Coast stuff.
I want to incorporate more of that into my music, but it can't just be all about putting a rapper on a song. I want it to be more about the whole song – having a cool beat and adding some Delta blues slide guitar.
There's a lot of great hip-hop production, and I think there's a parallel with the blues. That gritty and raw sound is something I'm really cool with. And when it comes to the soul vibe, you have that West Coast Dr. Dre clean sound. There are a lot of parallels that I can explore.
What about other genres? Do you listen to straight-up pop, folk, classical?
Oh yeah. I learned about classical when I was in school. I listened to composers like Beethoven and Antonio Vivaldi. I love lots of music – Thundercat, Robert Glasper, Terrace Martin...guys in that lane. There's no limit to what I like, and I don't want to limit what I listen to.
Look at somebody like Jimmy Page. Led Zeppelin began as a screaming blues-rock band, but soon he incorporated California folk and Celtic music into their sound.
Yeah, definitely. And maybe I could add different African and tribal beats. I'd be open to that, for sure.
When young fans come up to you at shows, do they ever mention any other young blues players that they're following?
They do, sure. I've had a lot of people come up and mention Eric Gales, Lance Lopez, Chris Duarte. There's a lot of cats they talk about – Django Knight. The list goes on and on. The young fans are cool, man. They're passionate.
And how about you? Any younger blues players that you are following?
Oh, for sure. I mean, I've got some friends out of the deep South. There's Sean McDonald out of Georgia, and there's a Georgia cat who goes by the name of Jayy Hopp. There's D.K. Harrell, who's like a B.B. King disciple – he's great.
There's tons of different guys out there. I can tell you another good one – Marquise Knox.
Okay, what's more nerve-racking: playing the White House or opening for the Rolling Stones? [Ingram performed for Michelle Obama at the White House as part of the Delta Blues Museum band in November 2014.]
[laughs] I would say both are pretty nerve-racking, and both are really high honors, of course. But if I had to go for just one, I'd go for the most recent – opening for the Stones. I mean, it was such a huge place, Hyde Park. Playing for all those people, you don't know how they're going to respond to your music, because they're not there for you. I played two sets, and I think it came off great.
Did you get to spend any time with the Stones? Did you meet Keith?
No, man, I didn't. [laughs] And that was what's funny. [Rolling Stones touring drummer] Steve Jordan caught up to me, like, 10 minutes before their set, and I think that was by accident. That was the closest I got to any of the Stones. I think they were pretty tight backstage due to COVID.
I imagine you're a Stones fan, especially of their early blues period.
Oh yeah. But not just the early stuff – they've got later songs I like. "You Can't Always Get What You Want," and of course "Miss You." But sure, I like the early stuff. The early Stones were so influenced by Muddy Waters and Howlin' Wolf and all the greats. I love it all.
You recently came out with you own signature Fender Telecaster.
That's right, just a few months ago. I'm so happy with that.
Talk a little about what you wanted in your own guitar. Was it something you had been planning for a while?
I just wanted to have something that I could emulate my sound with. Everyone knows I have a sound that's more of a Les Paul thing, a really overdriven sound. So I got with the Fender people, and I developed some custom pickups that give me more of a growling tone.
The guitar's got an ash body, two high-output humbuckers, a '70s headstock – it's pretty much everything that I wanted. And it looks beautiful, too. You want a guitar that looks incredible and gives you the sound.
Anybody who's ever seen you play is bowled over by your natural presence. You're such a confident, commanding performer. Tell me, do you ever have a bad night on stage?
[laughs] Here's how I look at it: If I'm playing a certain song during the first part of my set, and if I'm not comfortable at that point, then it's not a good show for me. Nobody else knows it – the band, my manager, the crowd. Maybe to them the whole show was great.
But for me, if I'm not in the groove at a certain point in the beginning of the show, then I feel like I'm not onboard. It doesn't happen that often – thankfully! [laughs]
Order the Fender Kingfish Signature Humbucker Pickup Set here.
Order the Fender Kingfish Telecaster Deluxe here.
All the latest guitar news, interviews, lessons, reviews, deals and more, direct to your inbox!
Joe is a freelance journalist who has, over the past few decades, interviewed hundreds of guitarists for Guitar World, Guitar Player, MusicRadar and Classic Rock. He is also a former editor of Guitar World, contributing writer for Guitar Aficionado and VP of A&R for Island Records. He's an enthusiastic guitarist, but he's nowhere near the likes of the people he interviews. Surprisingly, his skills are more suited to the drums. If you need a drummer for your Beatles tribute band, look him up.