Christone "Kingfish" Ingram's Top Five Tips for Guitarists
Mindset, bending, solos, rhythm and the pentatonic scale – here are some invaluable pointers from one of the hottest blues players around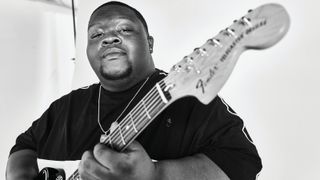 (Image credit: Future)
Hailing from Clarksdale, Mississippi, Christone "Kingfish" Ingram is a born and bred blues guitar player.
His smashing 2019 debut, Kingfish, was that rare thing in music – the arrival of a devastatingly talented, fully formed young artist, seemingly from nowhere.
Here are his top five tips for fellow guitarists…
1. It All Starts With the Pentatonic Scale
"If you want to play good blues, the pentatonic scale is the foundation. It all comes from there. Listen to guys like Albert King, Stevie Ray and, of course, B.B. King – they're based on the pentatonic scale.
"If you want to go other places and get into other scales, that's cool, but you want to start with solid ground below you.
"I started out just listening to all the players I loved. I wasn't getting too technical about it. It wasn't until later that I found out they used the pentatonic scale and that I had been sort of playing it all along.
"It's great for building phrases and licks. Everything you need is right there. You can do so many things with it, so I tell players all the time to get familiar with it."
2. Control Your Bending
"I like to be in total control when I bend strings. I notice a lot of players go too fast and crazy when they bend, and their notes always go sharp and don't sound good. It's like they're not even thinking about what they're doing. They're just playing wild.
"I like to go slow and have good control so that I get a nice clean sound. I make the note sound like it should.
"Otis Rush and Albert King always did it for me. Those are two high-benders, but whenever they reach for that note, it's clean and bright.
"One thing I always liked about Otis Rush was how he would have this shaky vibrato off his bend. It's like he was singing. That's what I try to go for. I lean in slow and go for vibrato that's controlled, but shaky."
3. Get Out of Your Head Onstage
"People always ask me how I look so confident onstage, and I tell them, 'Man, I just get out of my head.'
"You can't overthink a show or let your nerves get to you – you'll mess up. I see it happen all the time. Somebody thinks they're all confident and what not before a show, but as soon as they step onstage, they freeze up and it's all over.
"People come to your show to have a good time and get out of their heads for a while, so you have to treat it the same way. Calm your mind, calm your thinking. We're all there for the same thing. Just get out there and have fun. That's what worked for me.
"I came up from the clubs, but in recent years the crowds have gotten bigger, so I had to treat those gigs the same way as I did in my younger days. They're the same shows, just with a lot more people." [laughs]
4. Don't Forget About Rhythm Guitar
"If you want to play in a band, you've got to be in the pocket with your rhythm playing. You want to be at one with your bass player and drummer, like you're all playing the same instrument.
"That's how Prince played his rhythm guitar. He listened to guys like Catfish Collins when he was in the James Brown band. I'd tell anyone, 'Listen to James Brown. If you want to hear good pocket rhythm guitar, that's where you go.' Eddie Hazel is another one. His rhythm playing was amazing.
"I like to keep a everything on my neck pickup for rhythm. That's how I get a loud, clean and punchy tone.
"You listen to somebody like Nile Rodgers in Chic. He's a perfect person to study for that clean rhythm tone. All that stuff he played sounded great, and he was right in the pocket."
5. Treat Your Solos the Same as Lyrics
"Playing guitar solos is like writing lyrics – you want to have something to say. When I play a solo, I try to take the listener on the journey, like I'm telling them a story.
"And that's how I look at building a solo: I might start out big to grab people, and then I go low for a little while. Then I build it back and explode, you know? It's just like telling a story.
"Sometimes I try to work things out in my head before I even have a guitar on. I run the chord progression around in my mind and I think about what I want to say with a solo.
"I do like to improvise, and I'll do that in the studio, but it's always based around that same idea of telling a story.
"I don't just noodle. Noodling is no good."
Visit Fender to check out the Kingfish Telecaster Deluxe.
Keep up to date on all things Kingsfish here.
All the latest guitar news, interviews, lessons, reviews, deals and more, direct to your inbox!
Joe is a freelance journalist who has, over the past few decades, interviewed hundreds of guitarists for Guitar World, Guitar Player, MusicRadar and Classic Rock. He is also a former editor of Guitar World, contributing writer for Guitar Aficionado and VP of A&R for Island Records. He's an enthusiastic guitarist, but he's nowhere near the likes of the people he interviews. Surprisingly, his skills are more suited to the drums. If you need a drummer for your Beatles tribute band, look him up.