Nile Rodgers Reinvented David Bowie, Like Mick Ronson Before Him. And, Like Ronson, He Still Doesn't Get the Credit He Deserves
Nile Rodgers helped David Bowie make his biggest hit record. And then? Nothing.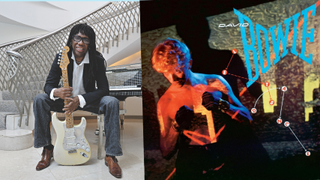 (Image credit: Future/Joby Sessions/EMI)
Let's talk about the numbers first. Nile Rodgers, born 19 September 1952, turned 70 this week. AllMusic lists 5,568 credits to his name as a guitar player, producer, songwriter, and arranger. (To put that into perspective, 60s session ace and Led Zep main man Jimmy Page has 2,414 credits.) He's sold over 500 million albums and 75 million singles, generating around $2 billion-worth of music created largely on one guitar, since nicknamed The Hitmaker, a second-hand Strat that cost him 150 bucks.
Behind the numbers, are the names of the artists he's worked with: Chic, Sister Sledge, Diana Ross, Bryan Ferry, Mick Jagger, Robert Plant, INXS, Madonna, Peter Gabriel, Duran Duran, George Michael, Daft Punk, Christine Aguilera, Kylie Minogue, Dave Lee Roth, Steve Vai, Paul Simon, Grace Jones, John Mayer, Michael Jackson, Stevie Ray Vaughan – and on and on.
He had a hand in some of the biggest hits of our time – We Are Family, Good Times, Le Freak, Like A Virgin, Get Lucky. He's been copied, sampled, and has served as an inspiration to generations of players and pop stars.
And in 1983, he worked on a record that became David Bowie's best-selling album: Let's Dance. It went to no.4 in the US album chart, no.1 in the UK, and EMI claimed that it was their fastest-selling album since Sgt Pepper's Lonely Heart Club Band. Yet Bowie never took Nile Rodgers out on the worldwide tour that followed, and didn't invite him to work on the eventual follow-up, Tonight. Why?
Nile Rodgers started like all of us, struggling over a chord book. The first song he learned was The Beatles' A Day In The Life. "I convinced my mom to buy me a guitar," he told Fender. "I used to look at this Beatles songbook and I used to study the positions and I kept trying to get it right and, no matter how hard I tried, it would never really sound like the song."
Then his mom's boyfriend tuned his guitar correctly et voila: "All of a sudden, these positions that I had been practicing over and over and over again so diligently [suddenly] it was easy as pie. I didn't realize that I was learning barre chords which, to early guitar players, are pretty hard to do, because you have to build up the strength.
"When I first played that song – I never had a feeling of elation like that. I mean, I've been chasing that high ever since I picked this thing up."
With young parents who struggled with heroin addiction, Rodgers had what you might call a Bohemian upbringing. "It was very common for me to come home and find these wonderful jazz superstars like Thelonious Monk, Nina Simone, Miles Davis hanging at our apartment," he said. "I grew up with modern jazz, and these very wonderful intellectuals and poetry and the theatre."
Culturally savvy and precocious (he claims to have read Moby Dick when he was 5), as a young player he started out loving Wes Montgomery and Django Reinhardt, the guitarists of Motown, and funk players like Eddie Hazel, Jimmy Nolen, Willie 'Beaver' Hale, but he sucked it all in like a sponge: rock, pop, soul, R'n'B, blues, jazz.
Bandmate and bass player Bernard Edwards convinced him to get a new guitar and it transformed his playing: "Nard got me to trade in my prized jazz guitar, a hollow-bodied Gibson Barney Kessel, for a sleek solid-bodied Fender Stratocaster, the six-string equivalent of trading in a Range Rover for a Porsche," Rodgers wrote in his biography Le Freak.
Then Edwards gave him a brief guitar lesson: "He fingered the chords with his left hand, and his right hand would continuously play sixteen notes to the bar while accenting the main parts of the rhythm. He called it 'chucking.' Bernard used to be a guitar player before he switched to bass, and one lesson was all I needed.
"For the next few nights straight, I was having a love affair with my new ax. In just a few days, I'd emerge as a chucking funk guitarist who knew more jazz chord inversions than most of my R'n'B counterparts."
With Chic, Edwards and Rodgers took their cues from Roxy Music – "Bryan Ferry was suave and oozed elegance," wrote Rodgers. "Their music was a diverse offering of eclectic rock with changing time signatures and ethereal textures" – and they suggested a lifestyle to go with the music: Even their record sleeves oozed sex and sophistication. Chic would do the same.
The hits came thick and fast: slick, funky, stylish tracks like Good Times, Everybody Dance, Le Freak. They inspired everyone from Queen to the Sugarhill Gang, The Clash to the Blockheads – astonishing basslines, mercurial guitar playing. Elegant and cool, with grooves that could raise the dead. Soon Rodgers became known as The Hitmaker, penning songs for Diana Ross and attracting the attention of David Bowie.
Bowie had parted ways with his record company and management and was looking for hits. His musical direction to Rodgers was to show him a picture of Little Richard in a red suit, climbing into a red Cadillac: "This is what I want my album to sound like," said Bowie. Uh, OK.
They listened to obscure psychedelic records by Hapsash and the Coloured Coat and Peanut Butter Conspiracy, to Mott The Hoople and big band records, to surf music by The Ventures, Duane Eddy's Peter Gunn. And Bowie presented him with sketches of songs that Rodgers then took and arranged.
"I felt that a lot of his songs were lacking in ear candy," Rodgers told Rolling Stone's podcast Music Now. "And I explained to him that every song I've ever written starts with the chorus. He says, 'Really? That's crazy – you build to the chorus'. I said, 'Yeah, well, if you're white, you build to the chorus."
Rodgers' theory was that radio stations gave black records less time to impress them, so you had to cut to the chase: don't bore us, get to the chorus. The first words out of David Bowie's mouth are "Let's dance". The single became Bowie's only song to go no.1 in the US and UK. The parent album sold 11 million copies. It turned him into a star.
Nile Rodgers didn't appear in the video for the title track or any of the follow-ups – China Girl, Modern Love – and Bowie didn't invite him on the road for The Serious Moonlight Tour. In fact, as Nile pointed out, "If you notice all the interviews that he did, very few of them talked about me."
Bowie had form. In 1970, Bowie had been a struggling singer-songwriter with two novelty hits behind him – The Laughing Gnome and Space Oddity – watching with envy as his friend Marc Bolan reinvented himself as a glam rock superstar. A friend introduced him to Hull guitarist Mick Ronson, a classically trained pianist who loved Jeff Beck and Cream, and it changed everything.
With their band the Spiders From Mars, they reinvented Bowie musically and created some of rock's best-loved albums: The Man Who Sold The World, Hunky Dory, The Rise And Fall Of Ziggy Stardust And The Spiders From Mars, Aladdin Sane. Ronson brought riffs, astonishing solos, string arrangements, and helped Bowie produce Lou Reed's Transformer. And then?
An argument over money spiraled (the band learned that new keyboard player Mike Garson was being paid $1,000 a week while they were on £30) and Bowie decided they had outlived their usefulness. Ronson's solo career was short-lived, and Bowie moved on: to Philadelphia where he drafted in soul musicians for Young Americans, then to Berlin where he hung out with and then adopted some of the ideas of the Krautrock scene.
On the one hand, Bowie was an amazing talent spotter, on the other, he could be cold and callous when it came to the people who helped make him.
"I don't think that David had anything against me," Nile Rodgers told Music Now. "I think that he had what I would call survivor's guilt. Like: you're so successful you might be defined by this one record when your body of work is so vast.
"It always makes me feel uncomfortable to say stuff like this because a person could take it the wrong way. Looking at it from my perspective: that record [Let's Dance], I made. Period. End of story. I mean, yes, David sang. Yes, he wrote songs, but basically, the way we made the album? Here's what we did.
"We had a brand new studio and it had a really nice lounge. He went into the lounge, I made the record. He would walk in after we cut the track and he would listen and he give a nod of approval. I never once had him say, 'Do that song again'. He never said that. If you look at all the years that have gone by, you've never heard any outtakes from Let's Dance.
"We did it like a black record. The way that black records were done in those days is we didn't have studios locked out. We didn't have budgets like rock and roll bands had, like our albums would cost like $30,000 to make. So David came in, we played this song he listened to right good, great, next one. Played it. Listen, go right next one. Right. Next one."
Bowie had worked the same way on Ziggy and Aladdin Sane, revealing sketches to the band on an acoustic guitar, leaving them to work them up into the rock songs we know and love. Jean Genie, for example, "was knocked out in an hour on the second or third take," according to bassist Trevor Bolder.
"He didn't know one musician on that album," said Rodgers. "Other than me and Stevie Ray Vaughan. He had never heard Omar Hakim, didn't know anybody."
Maybe some of the critical response to the album stung Bowie a little. From being the arty outsider, he was now a global superstar. Critics sniped that he had sold out, as though Nile Rodgers had forced him into making some terrible disco album. Back then, the mostly white music press was sceptical about pop music and dance music, which meant a genuine talent like Nile Rodgers, could struggle to be taken seriously. Pop geniuses could look like Brian Wilson or Phil Spector, but not Nile Rodgers.
In fact, Let's Dance helped break down divisions between black and white music. Famously, Bowie gave MTV a hard time for not showing enough black music on the channel. Let's Dance was at the vanguard of that, pioneering a post-punk dance music that defined the 80s.
In fact, as Bowie himself commented, "At the time, [Let's Dance] was not mainstream. It was virtually a new kind of hybrid, using blues-rock guitar against a dance format. There wasn't anything else that really quite sounded like that at the time. So it only seems commercial in hindsight because it sold so many.
"It was great in its way, but it put me in a real corner in that it fucked with my integrity! It was a good record, but it was only meant as a one-off project. I had every intention of continuing to do some unusual material after that. But the success of that record really forced me, in a way, to continue the beast. It was my own doing, of course, but I felt, after a few years, that I had gotten stuck…"
But it was his own doing. And it's revisionism to suggest that Bowie hadn't looked for hits in the past: Space Oddity was designed to cash-in on the Moon landing. From Starman to Fashion and Ashes To Ashes, Bowie wrote hits. He wasn't some obscure avant-garde artist with no interest in the mainstream.
"David said to me in no uncertain terms that he wanted me to make a hit album," Nile told Fender. "Let's be very clear. A hit album meaning he wanted every song to be popping like a Chic record or Sister Sledge."
He got what he wanted and more. It's time Nile Rodgers got the credit he deserves.
Fender recently released a limited-edition replica of Nile Rodgers' Hitmaker Strat.
All the latest guitar news, interviews, lessons, reviews, deals and more, direct to your inbox!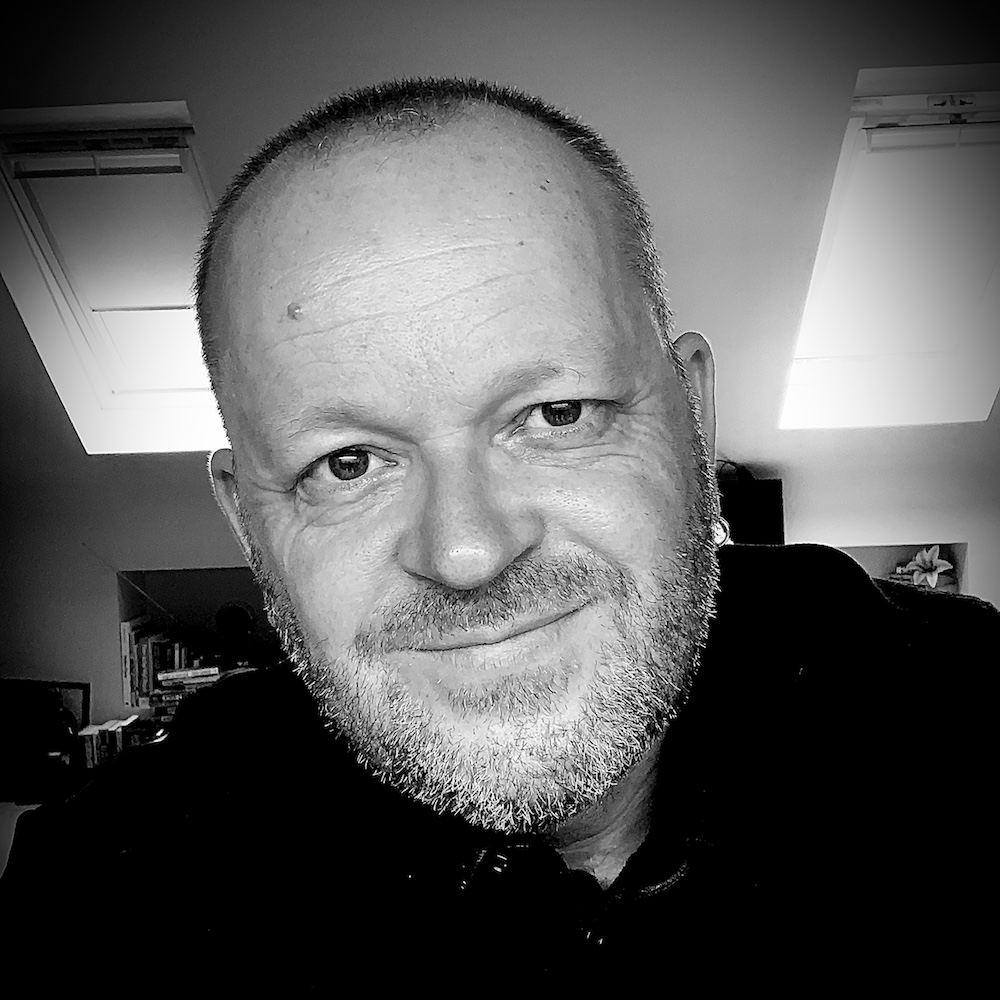 Content Director of Music @ Future plc
Scott is the Content Director of Music at Future plc, responsible for the editorial strategy for online and print brands like Guitar Player, Guitar World, Total Guitar, Louder, Classic Rock, Metal Hammer, Prog, Guitarist and more. He was Editor in Chief of Classic Rock for 10 years and Editor of Total Guitar for 4 years. Scott regularly appears on Classic Rock's podcast, The 20 Million Club, and was the writer/researcher on 2017's Mick Ronson documentary Beside Bowie.
Over the years Scott has interviewed players like Jimmy Page, Slash, Brian May, Poison ivy (the Cramps), Lemmy, Johnny Depp (Hollywood Vampires), Mark Knopfler, Robin Guthrie (Cocteau Twins), Will Sergeant (Echo & The Bunnymen), Robert Smith (The Cure), Robbie Robertson (The Band), Jonny Greenwood (Radiohead), Joe Bonamassa, Scotty Moore (Elvis Presley), J Mascis (Dinosaur Jr), Mick Jones and Paul Simonon (The Clash), Pete Shelley (Buzzcocks) and more.