"Blues Music Is My First Love": Christone "Kingfish" Ingram Reveals Five Life-Changing Riffs
The Fender signature artist and Grammy-winning bluesman talks vital influences from Albert King and B.B. King to Jimi Hendrix and Eddie Hazel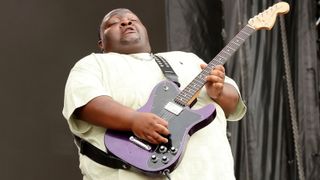 (Image credit: Gary Miller/WireImage)
Christone "Kingfish" Ingram learned his first guitar licks in an after-school program at the Delta Blues Museum in Clarksdale, Mississippi, the home of the crossroads that many music fans consider hallowed ground.
Ingram may be known for keeping the traditions of his hometown Delta blues alive, but that's only half of his story.
As it happens, influences ranging from psychedelic funk to gospel and hip-hop have their own chapters in it as well.
Here are the five riffs that shaped his guitar playing...
1. Albert King – "I Play the Blues for You"
"I learned this at the Delta Blues Museum under my teachers Daddy Rich [Richard Crisman] and Bill 'Howlin' Madd' Perry. We would learn different Albert King songs, such as 'I Play the Blues for You,' and one of the licks in that song influenced my playing a whole lot, because it was one of the first licks I learned in that blues pentatonic scale that I could use. I worked my way around it, and from that I built up on other stuff."
2. Funkadelic – "Hit It and Quit It"
"Eddie Hazel is a big inspiration to me. I love his playing. I listened to Maggot Brain almost every day; it's one of my favorite tunes. I feel like he's one of the most underappreciated and underrated guitarists, and he's one of my favorite guys. Funk rock is a big inspiration to my playing, so I owe it all to him."
3. Robert Petway (in the styles of Muddy Waters and Jimi Hendrix) – "Catfish Blues"
"This is 'Catfish Blues' two ways. The first way is the Muddy Waters way. Hendrix took that and made it a little different. I like to alternate between the two – have that traditional sound but still get contemporary every now and again.
"I'm influenced by a lot of things. Blues music is my first love, obviously, but I'm into rock and classic rock and all sorts of other stuff. I had been playing bass, and I started on guitar around 12 or 13, and I found this Hendrix Smash Hits CD that my mom got me. From that point on, it was right to where I am now."
4. Nate Dogg – "Never Leave Me Alone"
"I'm a die-hard Nate Dogg fan. He comes from the same city as me in Mississippi, Clarksdale, before he moved to Long Beach [California]. I listened to the bass line and listened hard to the guitar on the record, and this is basically those played together.
"You can pretty much pull off the song in any instrumentation. My love of Nate Dogg has to do with my love of music all together. I've always loved his vocal style. He's always been one of my favorite singers. I try to do some of my vibrato like him. He had this long, shaky vibrato, and sometimes I like to emulate that."
5. B.B. King Lick
"This is an old B.B. King lick that sounds very common, but it's definitely a lick that I love. You can incorporate it into any blues solo in 12 bars. Some of that at the end is stuff I added, but it's B.B. King influenced. It's not a particular tune. It's one of his signature licks that I would add into my playing a lot."
Visit the Christone "Kingfish" Ingram website for news, music, tour info and more.
All the latest guitar news, interviews, lessons, reviews, deals and more, direct to your inbox!
Jim Beaugez has written about music for Rolling Stone, Smithsonian, Guitar World, Guitar Player and many other publications. He created My Life in Five Riffs, a multimedia documentary series for Guitar Player that traces contemporary artists back to their sources of inspiration, and previously spent a decade in the musical instruments industry.