Explore the 2023 NAMM Show Acoustic-Electric Highlights: Exciting New Gear From Martin, Taylor, Yamaha, L.R. Baggs, Universal Audio, Lava Music and More
This year's NAMM show was surging with innovative and environmentally savvy gear – here's a rundown of our top picks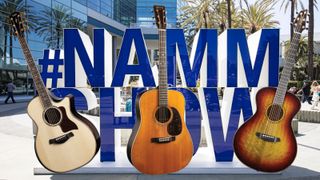 (Image credit: Daniel Knighton/Getty Images (NAMM SHOW))
Once again, the NAMM show took place at a strange time – in mid April as a sort of winter/summer combo – and the buzz in the lead-up was (also once again) about the major players that weren't coming, including Fender, Gibson and PRS.
But once we were on the Anaheim Convention Center floor, the story turned from who wasn't there to who was. And, as it happened, the gear surfing was actually quite awesome. Acoustic currents came from many directions, including the east (via Martin, Fishman and Ovation), the west (Taylor, L.R. Baggs, Universal Audio, Bedell, Breedlove and Santa Cruz), the north (Godin and Seagull), from across the Pacific (Lava Music, Donner, Ibanez, Takamine, Yamaha and Australia's Cole Clark) and the Atlantic (Lâg, Lowden).
All in all, it sure felt like the acoustic world was well represented. There were a few obvious undercurrents. Hybrid designs and acoustic electronics continue to be the most exciting developments in the entire guitar sphere.
Environmental awareness is growing. As wood supplies dwindle, manufacturers are doing everything they can, from spearheading sustainability initiatives to becoming ever more creative with what's available.
The third theme is money, or the lack thereof in the wake of the pandemic. Every effort is being made to bring affordability along with innovation. For many brands, that sensibility co-existed with a "go big or go home" attitude, as lots of luxury was on offer as well. No complaints here.
It's always enticing to browse the dream machines on display in Disneyland.
Acoustic Guitars
Martin's press event was the first happening at Wednesday's media preview, and the historic manufacturer covered all the aforementioned bases, including actual basses. Second-year CEO Thomas Ripsam introduced the show-stopping CEO-10 ($8,999 street), an extravagant limited edition OM made with exquisite Guatemalan rosewood back and sides.
On the flip side, the StreetLegend D-18 and D-28 ($2,399 and $2,799 street) were attainable acoustics inspired by the prized, timeworn instruments in Martin's fabled museum.
Sophisticated re-creations are also now available in the form of the D-18 and D-28 Authentic 1937 Aged ($7,999 and $8,999).
Three small-bodied basses added to the Martin Junior Series made a big impression. My favorite was the DJR-10E Bass Burst ($749 street), because it sounded so full for such a little fella.
On the environmental tip, Martin unveiled the vibrant OM Biosphere ($2,299 street). It's a totally non-plastic, fully FSC-certified instrument with a gorgeous aquatic-themed top print featuring very lifelike oceanic images courtesy of Robert Goetzl.
The affable artist painted the master for last year's 00L Earth Guitar as well, and the OM Biosphere is essentially a version-two of that admirable concept.
While it's not exactly a hybrid, the ever-expanding and reasonably priced SC line offers the playability of an electric way up the neck, and the fancy Custom Shop Limited Edition CS SC-2022 introduced at last year's show drew tons of attention.
There were no new Modern Deluxe models, but the vibe at the Martin booth was more contemporary, artistic and lifestyle driven, as exemplified by the colorful, optimistic OXK Uke Life is Good ($349 street).
Says Ripsam, "We're refreshing our brand, targeting a broader spectrum of more diverse players and encouraging every guitarist to unleash the artist within." Ripsam isn't just talking – he's working on the CEO-10 personally and releasing the album Lichtenstein under the moniker Seeds of Imagination, for which he painted the impressive cover art depicting Castle Lichtenstein, from his family's home region in Germany.
Taylor didn't have a gear booth to browse, but they did host a dealer dinner and a cocktail party at a nearby hotel restaurant. President, CEO and chief guitar designer Andy Powers introduced the three latest creations.
The AD11e-SB offers the popular small-bodied Grand Theater at an American Dream price point of $1,799.
The first Grand Pacific in the rosewood 400 Series, the 417e ($2,999 street), is one of the most cannon-like Taylors I've ever heard – full-bodied and boisterous.
On the other end of the spectrum is the smooth and sophisticated Builder's Edition 814ce ($4,499 street). Explains Powers, "It's our new flagship, which represents a high-water mark in high-fidelity acoustic guitar craft."
The environmental element of the 814ce is subtle, yet significant. The top is made of Adirondack spruce, which has long been pricey due to scarcity. Powers is now creating four-piece tops using smaller pieces of the prized tonewood. He explains that it's possible to make a perfect-sounding top out of them, and cited a correlation to piano tops being made out of many more pieces.
The trick is in the build, and if the builder knows what he's doing and is willing to put the time in, a top made of multiple smaller pieces can actually sound better than a traditional two-piece top.
Breedlove
Breedlove is constantly on the sustainability trail. In honor of Earth Day, the company produced the Oregon Concert Earthsong LTD and Pursuit Exotic S Concert Earthsong LTD.
They're crafted from 100-percent clear-cut-free Oregon Myrtlewood, and every sale goes directly to the planting of new trees.
Breedlove's main thrust at the show was the Organic Pro Series, a new line assembled overseas that's designed to deliver most of what the American-made Oregon Series does, at price points for working pros.
Yamaha
Yamaha has a history of delivering quality production instruments at attainable prices, and the company returned to NAMM with a huge showroom full of every instrument imaginable, including its budget stalwart FG800.
But the new angle was all about the handcrafted FG9s ($4,099 street for the FG9 R, with rosewood back and sides, and $3,999 street for the FG9 M, with mahogany back and sides).
I played them both back in the quiet room, and they were easily the nicest Yamahas I've ever put my hands on. Craftsmanship, playability, tone and feel were exquisite.
Takamine
The highlight at the Takamine booth was surely the striking LTD2023 Santa Fe 30th Anniversary ($3,199 street), with its NEX cutaway body – made of Silky Oak back and sides, and a solid cedar top – and Native American– themed appointments, including plenty of turquoise.
The original Santa Fe featured Takamine's infamous Brownie preamp, so called for its warm sound, produced by the unique saturation effect of the FET amplification element.
The LTD2023 features the CTF-2N preamp, which is based on the original Brownie, plus modern functions such as detailed EQ adjustment, notch filter and a tuner.
Godin
Godin had a rather large presence, and its hot acoustic item was the Seagull S6 Collection 1982 ($599 street), which follows the design of the S6 Original, with a shorter scale length and retro features from the '80s, including the headstock and logo.
Like all Seagulls, it's made in Canada from sustainably sourced woods, in this case a cedar top with wild cherry back and sides.
One of Seagull's primary ambassadors, Italian-American maestro Peppino D'Agostino, was on site performing with his trusty signature dreadnought cutaway. He offered me the opportunity to play it, and it's a wild crossover of a booming steel-string with an extra-wide nylon-style neck that facilitates ample space for his classically inspired fingerpicking.
D'Agostino has been with Seagull almost 30 years, and he said there may be an anniversary update to his signature model by the next NAMM Show, in January 2024.
Hybrid Hot Rods
Godin
Godin has long been hot on the hunt for the ultimate hybrid, evidenced by its entire Multiac line and several electrics with dual outputs for magnetic-plus-piezo pickups.
The latest is the solidbody Radium-X ($2,250 street) launched last fall. Feeding dual amps, it delivered a killer Tele-meets-acoustic tonal blend, which brings us to another undeniably accelerating trend.
Ibanez
So much innovation is happening on the hybrid front, including an increasing number of instruments with dual outputs.
Ibanez includes them on several acoustics, and the new Advanced Acoustic AAD440CE ($2,299 street) is particularly interesting. It's a dark and handsome Grand Dreadnought (five percent larger than a standard dreadnought) made of all solid African mahogany, with a deep Advanced Access cutaway, and a dual pickup system consisting of an AP-11 magnetic pickup and a contact pickup that feed into the two separate outputs.
The Platinum Collection AE410 ($1,999 street) features a similar setup, plus a T-Bar undersaddle piezo on its AE body, which is essentially a grand auditorium style with a cutaway. Three controls on the upper bout let you blend their levels to your heart's desire.
Cole Clark
Cole Clark's True Hybrid ($3,399 street) takes the concept to another level that truly straddles the acoustic/electric boundary.
The body is a thinline Grand Auditorium made of solid Australian Blackwood and loaded with their proprietary PG3 acoustic pickup, as well as a full-on three-way magnetic pickup system available in various configurations: two humbuckers, three single-coils or a humbucker with two singles.
The magnetics are specifically balanced for optimal performance with a typical set of phosphor-bronze acoustic strings.
I got off on the über-flexible HSS setup of the TL2EC-BLBL-HSS at the booth, where they were running the magnetics through a Blackstar 1x12 combo while the acoustic pickup was fed into a QSC P.A. Look for a full review soon.
Lava
On the cusp of the hybrid wave are smart guitars that feature all sorts of onboard effects and other gadgets, housed in an acoustic body that becomes its own amp.
Lava had a case stocked with its top-tier ME 3 carbon-fiber instruments as well as its most recent model, the more affordable Lava Blue Touch, made of high-pressure laminate.
Donner
Meanwhile, Donner showcased a new prototype smart guitar called the REVO (price TBD) with dual pickups (magnetic and piezo) and a lighted fretboard that can be used to illuminate, for example, a particular scale.
Two guitars can be linked, opening up endless educational possibilities. Rather than taking a more high-tech route, Lâg aimed at the masses with two of their more affordable BlueWave guitars featuring the simple BlueWave smart system with dual controls for room and hall reverbs, plus delay.
Unique & Boutique
The Boutique Guitar Showcase was back, and once again one of the coolest of these instruments came from Robert Robinson Guitars out of Chicago.
The 10-C ($8,600 direct) is a 12-frets-to-the-body model with a deep cutaway, thereby combining the awesome punch of a 12-fret with access to the higher register.
One of the most unique items at the show was Timberline's new Jamie Dupuis signature model ($3,299 direct), a combination 12-string and harp guitar.
Acoustic Electronics
L.R. Baggs
L.R. Baggs introduced what could be a game changer in the form of the HiFi ($199) high-fidelity acoustic bridge-plate pickup system.
At its heart are dual transducers that affix under the bridge plate with a non-invasive peel-and-stick installation. An exceptional preamp is in the endpin, and tone and volume controls mount in the sound hole.
HiFi essentially splits the difference between a traditional piezo undersaddle, such as the Baggs Element, and a body sensor-style pickup. It sounds more realistic and balanced than any undersaddle I've heard, including the Element.
I tried out the HiFi rather extensively, and didn't experience the kind of feedback issues one might expect. I can't wait to check it out in a gig environment.
Fishman
Fishman introduced the AFX Series, featuring four miniature pedals tailored to the acoustic guitarists.
The AFX Pocket Blender ($89.95 street) is an A/B/Y + D.I. with a two-channel mixer that lets users of dual-element pickup systems, such as Fishman's PowerTap, to adjust the balance of the signals individually and send them to separate amps.
The AFX Broken Record ($119.95 street) is a simple one-button looper/sampler that can hold up to six minutes of 24-bit audio, which can be transferred to a computer.
The AFX Pro EQ ($119.95) is a miniature acoustic preamp and equalizer, while the AFX AcoustiVerb ($119.95) offers spring, hall and plate reverbs, all voiced and processed in parallel to preserve your acoustic's tone.
Peterson
Peterson brought a Mini Mouse-approved pedal, the Strobo Stomp Mini ($119 street). It's a real strobe tuner with true-bypass and pure-buffer mode.
Top-mounted jacks make its tiny footprint even smaller. Its ultra-accurate display appears huge and can be seen in sunlight or stage light. It runs on nine-volt AC or USB-C power. Acoustic players will appreciate its more than 80 sweetened and guided tunings.
Universal Audio
Universal Audio introduced three mind-altering pedals: Max Preamp & Dual Compressor, Del-Verb Ambience Companion and Galaxy '74 Tape Echo & Reverb ($349 street each).
There wasn't an acoustic on hand at their event, but James Santiago handed me an electric while he played around with various pedal settings and, Holy Toledo! The sound was studio quality and the effects were otherworldly.
Max offers classic Teletronix LA2A optical limiting, punchy 1176 studio compression and a hearty vintage preamp tone. Del-Verb delivers three vintage delays and three lush reverbs, while Galaxy simulates the iconic mid-'70s Roland Space Echo.
Awesome compression and ambience are at the top of the effects list for an acoustic player, and these are top shelf.
Future Focus
Even without some of the big names present at NAMM, so much was happening on the show floor that it's impossible to cover everything here. And once folks started getting into cocktail hour mode in the hotel lobbies, talk of secret projects not quite ready for this show started to spread.
Godin whispered about collaboration with a classic rock superstar, so we'll be eager to find out what that's all about.
Baggs has some Area 52 stuff happening that I saw for myself at their headquarters in Central California, and I can safely say acoustic-electric enthusiasts will be pleasantly shocked.
The future of acoustic-electric guitar appears brilliant. And while the future of tonewoods seems less so, there are areas for optimism through alternative tonewoods, sustainability initiatives and making better use of the woods that are available now.
As for the NAMM show, it appears to be on far more stable footing than last year. Here's looking forward to the next one!
All the latest guitar news, interviews, lessons, reviews, deals and more, direct to your inbox!
Jimmy Leslie has been Frets editor since 2016. See many Guitar Player- and Frets-related videos on his YouTube channel, and learn about his acoustic/electric rock group at spirithustler.com.