"I Love Guitars and the Music Industry, but I See a Lack of Innovation": Lava Music Visionary Lu Zitian On Bringing Smart Guitars to the Masses
The guitar devotee is on a mission to inspire everyone to create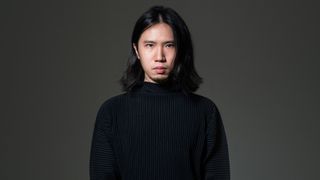 (Image credit: Lava Music)
Once in a blue moon, a design so radically progressive appears that it commands attention, spurs discussion and often leads to imitation.
Lava Music's singular acoustic/electric guitar is just such a phenomenon.
To offer one mind-expanding element would be a breakthrough; two would be revelatory, and three revolutionary.
In Lava's case, the company nails the trifecta by delivering on the guitar itself, the HILava operating system and the Lava+ social media sharing app.
Carbon-fiber guitars have been here for a while, but Lava Music uses a unique unibody design that's just big enough to deliver booming bass, yet small enough be very travel friendly.
The offset ovular soundhole and overall high-tech aesthetic nods more toward Apple and Tesla than Martin or Gibson.
We've seen onboard resonance-based effects that turn an acoustic guitar into its own amplifier, but this Chinese manufacturer has integrated a wild and wonderful collection into a top-side digital graphic interface that's packed with awesome apps, including onboard looping and recording, plus a practice program.
All that pairs to the Lava+ app for iPhone or Android, allowing the user to store and share songs and riffs with other Lava players from around the globe instantly.
CEO Lu Zitian is the Elon Musk/Steve Jobs/Mark Zuckerberg kind of visionary behind Lava Music's quickly advancing awareness in the market, but he doesn't have their need to attach his face or name to every press release.
Zitian prefers that his products get the attention.
He founded Lava Music in 2013 and introduced its unibody carbon-fiber design on the first ME (pronounced "me") model in 2017, followed by the ME 2 and Pro.
The ME 3, introduced in late 2021, delivered improved 4-Mass carbon fiber designed for deeper bass and longer sustain, and added the smart HiLava system.
The new, more affordable Blue Lava Touch delivers most of the same system on the smaller of Lava's two body platforms.
It measures 36 inches long (the other is 38 inches), is made of high-pressure laminate (HPL) and has a heel-less bolt-on neck.
The aesthetic is more pop art-inspired and less future/cosmic than Lava's carbon-fiber guitars, but it's clearly a cousin that's not from an entirely different planet.
Both the ME 3 and the Blue Lava Touch won Editors' Pick awards in our July and August issues, respectively.
We were very curious to know about the man behind the plan, in order to better understand the source of such boundless ingenuity, and Zitian was happy to oblige us with an interview.
You studied at the Musicians Institute. What styles did you focus on?
My background is a combination of guitar and film scoring. I was in the G.I.T program at the Musicians Institute, which is really about electric guitar improvising.
I'm in love with rock, blues and hip-hop, but it's interesting that everyone who finished M.I. does so with some kind of jazz or fusion skills, and I'm a bit like that too.
I have too many favorite players to name them all, but I love the three Kings, Jeff Beck, Joe Satriani, Tommy Emmanuel and Scott Henderson.
What's your personal guitar story?
I've played electric guitars for most of my life. I loved Satriani when I was a kid, so later when I went to college I bought an Ibanez JS1000. That was my first dream guitar. Then I got a bunch of Les Pauls.
I also like collecting unique handmade acoustic guitars from individual luthiers. I have some not for the sound but because of the concept, craftsmanship or soul behind it.
What was your vision for Lava Music?
I love guitars and the music industry, but I see a lack of innovation. I hate to see people looking at guitars like they are all built for yesterday, and industry leaders responding to their expectation by giving them guitars that were designed 50 to 70 years ago.
I love vintage, but we need to innovate. I believe that music is about creating the future, and instruments are about inspiring people to create. So our mission is about building a world where anyone can be inspired to create.
Did you have mentor or hero in the world of instrument manufacturing?
Our friends at Plek gave us advice along the way. And building the Lava ME 3 guitar required lots of robotics, so we learned a lot from Apple as well.
What led you to the unibody carbon-fiber design?
My original idea was to create an acoustic guitar machined from a whole block of wood or any wood-like material. The concept was a combination of minimizing vibrational energy loss and creating a perfect art form, if you will.
We did actually make something out of a giant composited wood block, but neither the strength nor the sound really worked at all. Almost at the same time, I received an email from a material-science student who said that he wanted to join us. I found out that he had been working on exactly the right technology we needed.
We spent the next two years working with a huge team to create the first-ever injection-molded carbon-fiber guitar, the Lava ME.
How did you decide on the size, shape and unique soundhole?
It came from our founding idea to build something easy, light and functional. There's also a sense of personality. Maybe that's why we called it Lava ME. [laughs]
We wanted to achieve a weight goal and a sound goal. That focused our designs to somewhere around 36 to 38 inches, which gives you great portability and a deep enough bass. Putting the soundhole on one side frees up about 30 percent vibration space on the top, which maximizes the output of this smaller-body guitar.
And the soundhole really couldn't be anywhere else. Put it the other way around and your right hand might stick in it while strumming. Its shape follows the straighter curve of the upper body, so to us it shouldn't be any other shape either.
How did you develop such a precise way to machine and manufacture?
We didn't do it alone. When we showed the project to the machine makers, they were all very interested but ended up rejecting it. What we wanted to do seemed simply too difficult, and no one had ever done it before.
Luckily, we convinced one of the largest material suppliers in Asia to help us, and they were willing to send their top engineers and scientists. At the very beginning of this project there were nearly a hundred people, internal and external, working on it.
How did you wind up with the HILava [Human Interface] system?
Most of our designs evolve from what we learn from our customers. The Lava ME 2 was successful, and people love its FreeBoost [onboard actuator-generated effects] feature. People love to use effects without plugging in the guitar, and it does create unique sounds.
When we tried to enhance the feature, giving more options of effects or loops, it immediately became a machine-like device. It felt complicated. It just didn't work. We wanted an easy but powerful and fun customer experience.
We believed the combination of a multitouch display and a custom-designed operating system to be the ultimate solution. So we then spent the next three years of our lives working on that.
Had you ever seen a smartphone style design onboard any other guitars?
No. I don't see it as a smartphone-style design onboard though. Look at the control panel of most old acoustic-electric guitars.
All you really need to replace it is a graphic interface and a physical volume wheel. You can record tracks of ideas anywhere, anytime. You can play with hundreds of effects. You can jam with your friends and the whole community.
The system on the Lava ME 3 is always getting updated and more fun to play. Give it some time. I don't see why anyone wouldn't want one.
How did you decide on the core features and apps?
There are lots of features that we would like to create for our customers, as you can imagine, and we definitely learn a lot from interacting with our users.
What were the greatest challenges in getting it to work well?
It's the sense of making the interaction that feels right on the guitar, and creating the features that work better on the guitar than any existing solutions in any other way.
I'll give you an example: let's say that you want to create a short loop piece and maybe share it with your Facebook friends. There are no smoother ways than doing it on the Lava ME 3.
You could plug into a laptop and use Logic to record a file. Then you'd have to export and upload it. But by the time you've opened your Logic file, I've already finished and gone.
What made you decide to add the social element as well?
Music to me is eventually about sharing and connecting with others. Wouldn't it be great if I could play with others or immediately share a work I just created on my guitar?
Who is your target audience?
It seems that the Lava ME 3 users love to create and share. We also believe that if we release more affordable as well as more advanced versions, we will be able to reach a wider range of customers.
What made you decide to quickly follow up the ME 3 with an HPL model, the Blue Lava Touch?
Our mission is to inspire everyone to create. That means we need to make our products more affordable and reach out to a wider audience. The HPL is a wonderful material to get people started. You don't have to worry about storing it like you do wooden guitars.
You get tools like a tuner, metronome, practice features and all these colorful effects, and you can also get inspiration from the whole community.
I truly believe getting all that for $699 makes it perhaps the best guitar for all entry-level players.
How will you address the challenge of keeping elements such as software and batteries up to date so that the technology remains cutting edge?
I believe that if we keep our heads down and work, and keep listening and caring about our users, we will be able to keep making something wonderful and inspirational for people.
Let's look forward to that future.
Visit Lava Music for more information.
All the latest guitar news, interviews, lessons, reviews, deals and more, direct to your inbox!
Jimmy Leslie has been Frets editor since 2016. See many Guitar Player- and Frets-related videos on his YouTube channel, and learn about his acoustic/electric rock group at spirithustler.com.