"I Realized Maybe I Don't Need These Big Amps After All": Shinedown Guitarist Zach Myers Recalls His Guitar Amp Revelations
The PRS signature artist explains why bigger doesn't always mean better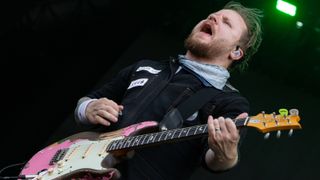 (Image credit: Aldara Zarraoa/Redferns)
***The following interview extract originally appeared in the November 2018 issue of Guitar Player***
For years, Zach Myers was convinced that size matters. But the Shinedown guitarist now recognizes good things can come in small packages.
"I used to be one of those 'the bigger the amp, the bigger the sound' kind of guys," he says with a laugh. "I was young and into flashy stuff. I started touring at 14, and I wanted lots of big amps.
"For the longest time, I was all about 'more, bigger, more, bigger.' And the funny thing is, it wasn't making my sound any better."
Slowly, though, Myers' attitude changed. He recalls going to a Dallas Guitar Show and playing through a small combo amp at one of the booths.
"I sounded like garbage," he says, "so I just left."
But after leaving his jacket behind, he returned to fetch it and heard the most incredible electric guitar sounds emanating from the booth.
"I was like, Who is this guy? And that's when I saw it was Eric Johnson. Only he didn't sound like garbage – he sounded like Eric Johnson.
"So I started to think, Maybe it isn't so much the amp. Maybe it's about the way you play."
Myers also credits Jack White's use of small combo amps in readjusting his attitude.
"It's kind of a cliché – the guy who plays one note and it sounds huge," he admits. "But that's what Jack White does. You hear him and you think he's got all this firepower behind him, but he's usually putting his guitar through something kind of tiny.
"When I heard him, that's when I realized maybe I don't need these big amps after all."
All the latest guitar news, interviews, lessons, reviews, deals and more, direct to your inbox!
Joe is a freelance journalist who has, over the past few decades, interviewed hundreds of guitarists for Guitar World, Guitar Player, MusicRadar and Classic Rock. He is also a former editor of Guitar World, contributing writer for Guitar Aficionado and VP of A&R for Island Records. He's an enthusiastic guitarist, but he's nowhere near the likes of the people he interviews. Surprisingly, his skills are more suited to the drums. If you need a drummer for your Beatles tribute band, look him up.