5 of Jack White's Coolest Guitars
From vintage and rare to customized modern classics, these are the maestro's essential tools.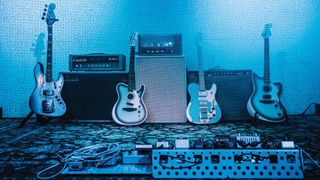 (Image credit: Future/Eleanor Jane)
Jack White has put his signature style on gear – from its sound to its look.
As he drops his latest album, Fear of the Dawn, he gives Guitar Player an exclusive look at the electric guitars behind his blue period.
Here are five of the coolest...
1) 1964 "JB Hutto" Montgomery Ward Airline
Made by the Valco company, and distributed via Montgomery Ward department stores from 1958 to 1968, the "JB Hutto" Airline, which originally retailed for only $99, is perhaps White's most iconic guitar, as it took the lion's share of the heavy lifting in the band that would be his vehicle to stardom, the White Stripes.
Image 1 of 3
Nicknamed the JB Hutto after the great blues slide guitarist who was its best-known proponent in its day, the Airline's distinctive fiberglass body and space-age design made it a natural fit for the iconoclastic White, who so elevated the guitar's public profile that Eastwood began making a fine replica version in 2000, albeit with a chambered mahogany – rather than fiberglass – body.
2) Fender Three-Wheel-Motion Low-Rider Telecaster (Blue)
"The kill switch on the blue Telecaster is a simple momentary switch that we'd used on the EVH Wolfgang Signature Model," says Fender/EVH Senior Master Builder and Project Engineer Chip Ellis.
"That was one of Ed's things. I don't know if it was the first time that Jack had used an interrupter, or kill, switch, but when we sent Jack his first Wolfgang with the kill switch in it, he absolutely loved it.
Image 1 of 3
"We built two custom Wolfgangs for Jack for that first solo tour, and since then, anything that we built for him after that got a kill switch. That's just become part of Jack's thing."
The Tele's current Thinline Wide Range Humbucker once belonged to Jack's brother Eddie, who had it on his Thinline.
"I always loved that sound," White says, "and I thought it would be cool to use my brother's actual pickup on this guitar."
3) Fender Three-Wheel-Motion Low-Rider Telecaster (Copper)
"The copper Telecaster was a gift that Jack received," Ellis says. "It originally had the traditional B-Bender setup – the big one with the giant plate on the back and the huge mechanism, which he loved.
"It was clear that he wanted it to not be the typical Nashville Tele with the B-Bender. He wanted it to be very much his Tele. So there were lots of modifications. We basically hogged out a swimming pool rout in the body and glued in a fresh block of wood.
Image 1 of 3
"We veneered the thing and turned it into something completely different with a Lace Sensor in the bridge position, something P-90-ish in the middle, and a Wide Range Humbucker in the neck. And then he wanted to add a G-Bender and the Hipshot bender for a dropped-D!"
4) Fender Acoustasonic Jazzmaster
"I'm the last guy you'd think would be interested in guitar modeling," White says, "and even when I first picked up the Fender Acoustasonic, I was still worried that it might sound a little fake.
"But that technology has come a long way from where it was 20 years ago."
Image 1 of 3
White's custom Acoustasonics have pared the available models down to just three, which keeps things simple for him during long shows with lots of moving parts.
"There have been a lot of guitars over the years that have attempted to do both acoustic and electric sounds, but this is the first time I've heard a guitar that really does it well," he tells us. "And it's practical, especially for my solo catalog that has a lot of electric and acoustic guitars in the same song.
"I used to have to actually write sections with pauses long enough so I could switch from acoustic to electric onstage."
5) Gretsch G6199 Bill-Bo Jupiter Thunderbird
"This guitar was inspired by seeing Billy Gibbons play one of Bo Diddley's original Gretsch Jupiter Thunderbird guitars, which Bo had given to Billy," White explains.
"When I was working on the theme song for the James Bond movie Another Way to Die, with Alicia Keys in 2003, my idea was that we'd play live at some point, and I'd outfit Alicia and myself and the entire band with these guitars, sort of like how Bo and his guitarist The Duchess did back in the day.
Image 1 of 3
"While that never materialized, I ended up using the Billy-Bo for the 'Another Way to Die' video, and it then became the theme for my band the Dead Weather.
"You can even see that this particular Gretsch G6199 Billy-Bo Jupiter Thunderbird has the Bond/Third Man logo on it."
Order Jack White's new album Fear of the Dawn here.
All the latest guitar news, interviews, lessons, reviews, deals and more, direct to your inbox!