"Finally, We Went Back to the Guitars I Played on the Demo, Which Went Through a Kemper Profiler": Zach Myers Does More With Less on Shinedown's Latest
The Florida outfit's seventh studio album, 'Planet Zero,' showcases choice digital amp tone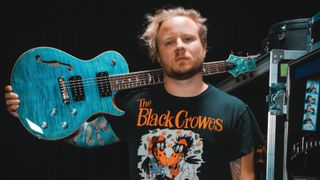 (Image credit: Atlantic)
Let's face it: The chances for a rock band to have any kind of success, much less maintain it, are statistically very low.
And then there's Shinedown.
Together since 2001, and with record sales exceeding 10 million copies, the Jacksonville, Florida–based outfit has the kind of staying power that seems to defy all odds.
How does guitarist Zach Myers explain the group's longevity? "It's something I think about a lot, and I certainly don't take anything for granted," he says.
"Most of the bands we came up with aren't here anymore. I think one of the things that's kept us going is the fact that we write songs that mean something and speak to people.
"We don't write about partying or doing drugs. Plus, we have a pretty unique sound. I don't hear anybody that does what we do."
He laughs. "And then there's luck. You just can't explain it, no matter how hard you try."
Throughout Shinedown's seven studio albums, which includes their just-released Planet Zero (Atlantic), Myers has distinguished himself as an inventive and reliable guitarist. His riffs are sparky and hooky, and his solos are marvels of punchy economy.
With surprising candor, he makes it clear that he's not trying to challenge anybody for shred supremacy.
"This will be very unpopular to say, but I'm not looking to blow people away with my guitar playing," he says.
"I'm friends with people like Joe Bonamassa and [Periphery's] Mark Holcomb, but I'm not like them. I can't do the crazy speed stuff, and I'd look foolish trying to impress people by playing flashy chops.
"If anything, I'm developing more as a songwriter than as a guitar player. I just want to write good songs, so I view the guitar as a tool for composing and creating the right parts for each track."
Shinedown's previous album, 2018's Attention Attention, was a sonically adventurous cinematic concept record based around an overarching theme of personal alienation.
Tougher and leaner, Planet Zero travels down a similar lane (this time the narrative concerns a worldwide dystopian future), but as Myers points out, the sustained storyline that connects the songs was purely unintentional.
"We were just writing and recording. There was no grand design to it," he explains. "When we were finished, [vocalist] Brent [Smith] said, 'This is less of a concept record than the last one.' Which was funny to me. I said, 'Are you kidding? It's way more of a concept album than before. It's got a beginning, middle and end.'
"Somehow, we created a story without even trying. I think the whole band has Pink Floyd as its navigational system."
On songs like "Dead Don't Die," "Clueless and Dramatic" and the pummeling title track, Myers' guitar sound is a scorching, paint-peeling thing of beauty.
But what appears to be a multitude of overdubbed guitars is actually the opposite.
"There's really very few guitars on each song," he says. "It's basically a hard-left and hard-right guitar, and that's it.
"There's no reason to dick around with endless overdubs. We found out long ago that minimal equals maximal on the sonic spectrum."
On each Shinedown album, Myers has relied on his treasured 1965 Gibson ES-335, and on Planet Zero he also played a couple of PRS 305 models in addition to a 1976 Fender Telecaster that he refers to as "the magic Tele. It sounds like nothing else around."
However, on most tracks, he found himself grabbing one of two Les Pauls owned by Shinedown bassist (and album producer) Eric Bass.
"They're 'pancake' body Telecaster Deluxes from the 1970s, and they're just incredible," Myers says.
"They sound great on their own, but when you pair one with that Tele, it's the ticket, man."
While recording at Bass's home studio, Myers utilized an array of amps, including Marshall JCM 800s and a 1977 JMP, as well as a Roland JC-90 Jazz Chorus combo.
But no matter what combination of amplifiers he tried on the album's title track, nothing seemed to click.
"Some songs just don't want what they don't want, and I was going crazy working on that one," he says. "No matter what amp I played through, I couldn't get it to sound right. It was driving me insane.
"Finally, we went back to the guitars I played on the demo, which went through a Kemper Profiler digital amp. And there it was! That's what I was looking for!"
He sighs.
"I wish I would have tried doing that the first time. It would have saved me a lot of headaches."
Order Planet Zero by Shinedown here.
All the latest guitar news, interviews, lessons, reviews, deals and more, direct to your inbox!
Joe is a freelance journalist who has, over the past few decades, interviewed hundreds of guitarists for Guitar World, Guitar Player, MusicRadar and Classic Rock. He is also a former editor of Guitar World, contributing writer for Guitar Aficionado and VP of A&R for Island Records. He's an enthusiastic guitarist, but he's nowhere near the likes of the people he interviews. Surprisingly, his skills are more suited to the drums. If you need a drummer for your Beatles tribute band, look him up.