Fender American Vintage II 1951 Telecaster and 1975 Telecaster Deluxe Reviews
Fender's American Vintage II line aims for period-correct specs – we explored a pair of Telecasters to see how they did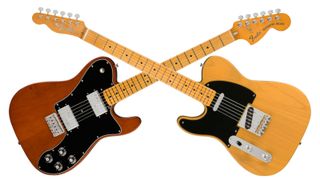 (Image credit: FMIC)
Seeking to refine its vintage roster by offering models that embody the coolest and most interesting aspects of various production years, Fender recently launched a new line of guitars called American Vintage II, which comprises five Telecasters, three Stratocasters, a Jazzmaster, a Jazz Bass and two Precision Basses.
They were chosen from years spanning 1951 to 1977, with a primary focus on getting the details correct for any given year that Fender produced these instruments.
"The idea was to go back to the original recipes and make sure we're adhering to them," says Justin Norvell, executive vice president of Fender products. "Because even if we're doing guitars with stainless frets and compound-radius necks, there's always that baseline of the vintage stuff.
"Over the many iterations of vintage reissues we've done, even our most recent American Original series was more of a 'greatest-hits' type of package. People look at a vintage Strat or Tele or P-Bass or J-Bass and think they're all very similar, but they were changing constantly – like every six months for the first 15 or 20 years.
"So, just like in 1954 a Strat was ash, had a U neck and beveled pole pieces, by 1957 it had a V neck and an alder body, and by '59 it had a rosewood board.
"We had a lot of people clamoring for a return to year-specific reissues. What they really like is vintage correctness, and a greatest-hits package isn't accomplishing that."
Image 1 of 2
To give GP a taste of how the new line manifests on the Tele side, Fender sent an American Vintage II 1951 Telecaster and a 1975 Telecaster Deluxe, which present the opposite extremes of a group that also includes the American Vintage II 1963 Telecaster, 1977 Telecaster Custom and 1972 Telecaster Thinline.
"These guitars show such a wide range of what the Telecaster is and can be," Norvell explains. "With the '51 and '63, you have brass saddles versus steel saddles, Alnico III versus Alnico V for the pickups, and a round lam fingerboard with a rosewood option in '63.
"They even used mahogany on the Trans-Red model that was only offered in '63 and '64, and it was the last year of clay dots in '63. So they're very different instruments.
"And then you get into the '70s models, when Roger Rossmeisl [designer of the Coronado, Tele Thinline and Wildwood models, among others] was in the picture, and Seth Lover did these pickups with CuNiFe magnets [an alloy of copper, nickel and iron].
"So for the '75 Tele Deluxe, we got people to make CuNiFe again, and Tim Shaw [Fender's chief engineer] worked to recreate the Seth Lover Wide-Range humbucker pickups."
The American Vintage II '51 Tele is a beautifully rendered version of the first model to wear the Telecaster name. It's finished in sweet-looking Butterscotch Blonde nitrocellulose lacquer that shows off the grain of the woods, especially the wavy figuring in the solid ash body.
Its one-piece maple neck has a Thick U shape, a 25 ½-inch scale and 7 ¼-inch radius, black dots and 21 well-finished Vintage Tall frets. The bridge has three brass saddles, and the pickups are a Pure Vintage '51 Tele set with non-staggered poles on the bridge unit.
There's a three-way blade switch and the controls are volume and tone. Cloth covered wire in black, yellow and white is used for the internal connections and slot-head screws secure all of the components, including the black phenolic pickguard, vintage-style tuners and four-bolt neck, which has a plain chromed plate.
Image 1 of 2
The guitar arrived in a tweed hardshell case and was well set up, with easy action and excellent intonation. I took it on a three-set gig that evening and didn't change it the entire time. This one is on the light side at 6.9 pounds, and the beefy U-shaped neck is very comfortable.
The fret ends are smooth and the bone nut is rounded on the ends, making for a fine playing axe that sounded terrific though a Fender Deluxe Reverb, with distortion pedals from Fulltone and MXR to provide different levels of grind.
The clean tones are richly detailed, and both the neck pickup and the neck/bridge combo delivered excellent dirty rhythm tones when gained up.
For lead, the bridge pickup sounded great with the tone knob rolled down a little to tame the bite, and even at loud stage volume, pickup squeal wasn't an issue, although it was easy to get controllable feedback by moving closer to the amp.
The Vintage II '51 Tele makes you appreciate how right Leo Fender got it, and this guitar is as versatile today for just about anything you throw at it.
The Fender American Vintage II 1975 Telecaster Deluxe is an entirely different animal that reveals its CBS-era origins with an alder body with a belly cut and a gloss polyurethane finish that's available in Black, Mocha and 3-Color Sunburst.
The one-piece maple neck (also finished in gloss urethane) has a Medium C shape and is topped with a maple fingerboard carrying 21 jumbo frets and black dots. As per vintage spec, it has a three-bolt neck plate and a Micro-Tilt mechanism for adjusting the neck angle.
The Strat-style headstock features 2-Pin Modern tuners, a bullet-style truss-rod adjuster and "suntan" coloration on the facing. At the opposite end, strings load through the back and run across a hardtail bridge with stainless-steel block saddles.
The big thing here is the pickups: two Pure Vintage CuNiFe Wide-Range humbuckers, which are, by design, the thing that takes this guitar far afield from standard Tele realm.
As to the properties of CuNiFe, Norvell says "It's weak and soft and it's not optimal to work with. These pickups aren't high-powered, but they're super musical and very clean. They have a voice that's somewhere in between a Gretsch pickup and a P-90.
"It's not a typical humbucker, because the weaker magnets kind of round off and glass up the tone in a unique way. Twenty years ago, CuNiFe was thought of as a CBS-era thing that was not of the 'golden age,' but there are a lot of people that really love the sound of them. It's become something that's been reappraised in the guitar community."
Image 1 of 2
The Vintage II '75 Tele Deluxe is a great player thanks to its slender neck and a sweet factory setup that provides low, buzz-free action and musical-sounding intonation.
Sonic girth is the name of the game here, and this guitar delivered a warm, sweetly crisp sound on the neck position. It's clear and prismatic in the middle setting, where you can easily shape the response with the dual volume and tone controls that are slung on the elongated three-ply pickguard.
The bridge pickup is bright and smooth, and it sounded great played cleanly though a low-gain amp like the Deluxe Reverb, or with drive added via pedals or a high-gain channel such as on a Blackstar St. James 6L6 combo.
The Wide-Range pickups were originally voiced to be a little brighter than Gibson humbuckers, but they still retain plenty of meatiness and give the Tele Deluxe its own sound.
Players like Chris Shiflett, John 5 and James Iha are Tele Deluxe users, and it's easy to see why they choose this model from Fender's CBS era, where the Tele was pushed in new directions partly because people weren't so vintage focused at the time.
"I think stuff that's cool on the '70s guitars is like Wine as color option, which was big in the '70s," Norvell says. "The reason we picked a '77 Tele Custom instead of a '72 is because we liked the vintage-accurate colors of '77 better.
"You'll also see on the '70s guitars where the headstock has the suntan color because it's a lacquer finish that darkens, and the neck is urethane and doesn't discolor. Whatever people think of it, that's how they age, so we build them just as they were."
Visit Fender for more information.
All the latest guitar news, interviews, lessons, reviews, deals and more, direct to your inbox!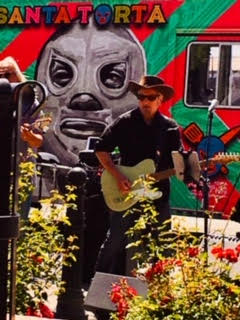 Art Thompson is Senior Editor of Guitar Player magazine. He has authored stories with numerous guitar greats including B.B. King, Prince and Scotty Moore and interviewed gear innovators such as Paul Reed Smith, Randall Smith and Gary Kramer. He also wrote the first book on vintage effects pedals, Stompbox. Art's busy performance schedule with three stylistically diverse groups provides ample opportunity to test-drive new guitars, amps and effects, many of which are featured in the pages of GP.