A great-playing and terrific-sounding replica of the 1954 "Virginia" Strat made famous by Eric Johnson.
Pros
+

Superb smooth tone.

+

Plenty of unique EJ touches.

+

Comfortable neck shape.
Cons
-

Period-correct truss-rod adjuster is difficult to access without removing the neck.
You can trust Guitar Player. Our expert reviewers spend hours testing and comparing guitar products so you can choose the best for you. Find out more about how we test.
Fender launched its Stories Collection this year to pay tribute to legendary musicians and the modified Fender guitars they've used to achieve their signature sounds. So it was appropriate that the first model out of the gate would be a replica of the 1954 Stratocaster nicknamed Virginia that Eric Johnson used on the groundbreaking albums Tones and Ah Via Musicom.
As to how Virginia got into his hands in the first place, Johnson explains that he spotted the guitar leaning against a wall at J.R. Reed music store in Austin, Texas, when he was in his early 20s.
He tracked down the owner and worked out a trade for the guitar, subsequently nicknaming it Virginia after finding the name and the date 6-18-54 written on a piece of masking tape inside the control cavity.
Johnson and his techs modified Virginia, and he toured with the guitar extensively before eventually selling it. That might have been the end of the story had it not been for the Stories Collection project.
Conceived and spearheaded by Fender vice president of product development Joey Brasler, it took on the challenge of recreating Virginia as accurately as possible, based mainly on Johnson's recollections and the specs he'd kept of the guitar, since the original was not available for Fender's typically intense inspection.
One of the standout features of the replica Virginia is its two-piece, offset-seam body made from sassafras, an uncommon guitar-building material. Although ash was the spec for Fender solid-bodies in the early '50s, Leo Fender received some boards of sassafras and built a few Strats with it. Johnson only discovered that detail after the guitar was long gone.
The information helped to explain why he hadn't been able to find another '54 Strat that sounded quite like it, something Johnson has referred to as "a particular kind of smooth, sustain-y tone."
The Stories Collection Virginia has all the mods that were made to the original guitar, including a fingerboard radius widened to 12 inches, jumbo frets, slightly hotter late-'50s pickups of the same polarity to replace the stock neck and middle pickups, and a DiMarzio HS-2 stacked humbucker in the bridge slot, which is opposite polarity and wired so that only the top coil is active.
The second tone knob was also moved from the middle pickup to the bridge pickup, and a 500k-ohm volume pot replaced the stock 250k-ohm unit so that the highs would be less affected when the volume was turned down.
To reduce brightness on the high E string, Johnson used a block-type saddle from a '70s Fender and added a small piece of Delrin where the string contacts the metal. This is the only area where, with Johnson's approval, Fender deviated by using a Graph Tech saddle with a graphite coating on the surface.
Otherwise, the Virginia is exacting in its accuracy, right down to the late-'50s-style string tree (which Johnson preferred over the stock circular type) and old-style cloth- covered wiring for all the connections.
The replica Virginia has a great playing feel, thanks to its relatively thick neck, rolled fingerboard edges and nicely worked and polished jumbo frets. The factory setup provides low action and tuneful intonation up and down the neck.
The guitar arrived with the vibrato adjusted to seat flush to the body with five springs installed. It won't go out of tune if a string breaks, but some readjusting is necessary to use the vibrato as intended.
Played acoustically, the Virginia sounds resonant and sustaining, and these characteristics are prominent when it's amplified. Tested with a Fender Deluxe Reverb reissue and a MojoTone BlackOut British combo, the Virginia proved an inspiring guitar that offers cool tones at every notch on the five-way switch.
The pickup choices seem ideal for this guitar, as they're hot enough to give muscle to the tones and yet remain clear and defined. The neck setting excelled at anything from clean jazz, with the tone knob rolled down a bit, to gutsy blues, with some grind from a pedal or overdriven amp.
The contrast is amazing in position two, where the neck and middle pickups combine to create the thin "koto" sound Johnson uses so tastefully, and which he attributes to the pickups being out of phase. Pretty cool to experience those plucky timbres that Johnson used so effectively on Tones back in 1986!
Due to its location, the middle pickup (which doesn't have a tone control) is a little twangier than the neck unit and another good choice for rhythm work, as is the middle/ bridge combination in position four, which yields a more typical chiming Strat sound.
The last stop is the bridge pickup, which sounded badass for lead playing when fired up with a pedal or the MojoTone's JCM800-derived Drive channel, and with the highs trimmed back for browner response. It's also nice that a good clean sound is right there when the volume is rolled down.
Fender's Stories Collection Eric Johnson 1954 "Virginia" Stratocaster is an impressive guitar for players, collectors and anyone else who wants to get as close as possible to the Stratocaster that Eric Johnson used to create game-changing music more than three decades ago.
The challenges of reverse- engineering a long-lost instrument are significant, but with Johnson's assistance, Fender got the details exactly right. In doing so, the company has created a masterful Strat unlike any other.
Specifications
CONTACT fender.com
PRICE $2,499 street, G&G tweed hardshell case included
NUT WIDTH 1.625"
NECK One-piece maple, soft V shape
FRETBOARD Maple, 25.5" scale, 12" radius
FRETS 21 jumbo
TUNERS Vintage style
BODY Two-piece, offset seam sassafras
BRIDGE Six-saddle American Vintage Synchronized Tremolo with Graph Tech saddle on the high E string
PICKUPS Fender Original '57/'62 Strat single-coil (neck and middle), DiMarzio HS-2 with only the top coil active
CONTROLS Master volume, tone (neck), tone (bridge), 5-way blade selector
FACTORY STRINGS Fender NPS .009–.042
WEIGHT 8.28 lbs (as tested)
BUILT USA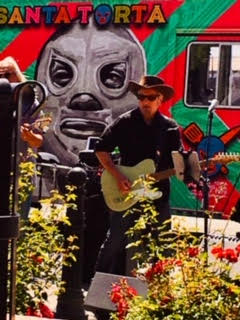 Art Thompson is Senior Editor of Guitar Player magazine. He has authored stories with numerous guitar greats including B.B. King, Prince and Scotty Moore and interviewed gear innovators such as Paul Reed Smith, Randall Smith and Gary Kramer. He also wrote the first book on vintage effects pedals, Stompbox. Art's busy performance schedule with three stylistically diverse groups provides ample opportunity to test-drive new guitars, amps and effects, many of which are featured in the pages of GP.