3 Holy Grail Blackguards from John 5's Dream Guitar Collection
The Telecaster master shows us his hallowed '50s Fenders.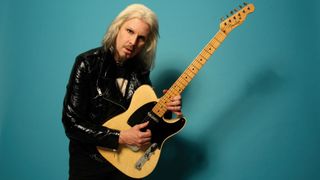 (Image credit: Neil Zlozower/Atlas Icons)
Some people collect stamps. John 5 collects Fender Telecasters. Lots of them. Over the years, he's amassed an assemblage that includes more than 100 of these iconic electric guitars, with a model representing each year, starting at the introduction of the instrument (the 1950 Broadcaster) and stretching to 1983.
"I just love history, and I love Telecasters, so I have the best of both worlds," he says. "I know a lot of people don't want to hear this, but they're great investments. Some folks know about stocks. I know about Telecasters."
He admits that he's regularly contacted by fans, musicians and vintage collectors looking to sell him Telecasters, but he cautions that he's a tough customer. "Anybody can buy a bunch of guitars. It's not that difficult," he says. "The key is looking for the right guitar. How does it look? How does it feel and sound? Is it all original? All of those considerations go into the thrill of the hunt, and I don't settle for second best."
1950 Fender Broadcaster
"I did this little game in which you focus on something to make it come true," John says. "That's what happened with this guitar. You can get a Frankenstein Broadcaster if you look around, but I wanted the real deal – the genuine article. So I thought really hard about it, and that's when I got a call from Norman at Norman's Rare Guitars. He said, 'I've got one for you.'
"This thing is so beautiful. It's the Holy Grail. I'm a history buff, and I love that this is the very first production model of the solid-body guitar. This is like Lincoln's hat. It's so magical – its feel, its sound. And it's light as a feather. I've never picked up a guitar so light. It's completely original – the only thing that's been changed is the strings. I never take it on the road with me, but I love to play it.
1952 Fender Esquire
"I love Esquires because of Keith Richards. The minute I saw him play one, I knew I had to have one, too. Plus, a lot of cowboy players in the '50s played them. They were less expensive than Telecasters, though I'm not sure why. They're incredible guitars – beautiful sound, great feel. This one came into my life in early 2000. I had been looking around for an Esquire, and boom, there it was. That's the thing about the thrill of the hunt: You have to be willing to put the time in, but once you score, it's so satisfying.
"This guitar is a little yellowed, so that means it was out of its coffin for a while. But that's the only thing that's changed about it. It's original, right down to the case. I'll play it around the house, and sometimes I'll use it on a track when I record at home. It's great for bluegrass or western swing. I don't like to travel with it. God forbid I get into a car accident. I treat these guitars like they're Fabergé eggs."
1953 Fender Telecaster
"For a while there, it got to the point where I didn't want to buy any guitars that weren't from the West Coast, because the weather in other parts of the country can kill them. I don't think this guitar ever saw daylight. Whoever owned it must have left it in its case for decades. It looks like it just came off the assembly line. It's very bright in color; there's no hint of a change in its appearance at all. With a lot of these Teles, their color starts to mellow and turns into something that looks like butterscotch. Nothing of the sort with this one.
"This is another dream guitar that I was lucky to acquire. Of all the blackguards, it's probably the nicest. I got it from Norm. There was a period when he would get an awesome Tele in, and he knew who to call. I was probably his first call with the Teles. He knew how much I loved them and that I treated them like the treasures they are."
All the latest guitar news, interviews, lessons, reviews, deals and more, direct to your inbox!
Joe is a freelance journalist who has, over the past few decades, interviewed hundreds of guitarists for Guitar World, Guitar Player, MusicRadar and Classic Rock. He is also a former editor of Guitar World, contributing writer for Guitar Aficionado and VP of A&R for Island Records. He's an enthusiastic guitarist, but he's nowhere near the likes of the people he interviews. Surprisingly, his skills are more suited to the drums. If you need a drummer for your Beatles tribute band, look him up.