The 70th Anniversary Esquire is a fitting tribute to a groundbreaking design that helped shape the future of the solid-body electric guitar and the music that it helped create.
Pros
+

Light and toneful.

+

Old-style electronics yield a broad range of sounds from one pickup.

+

Flawless nitro finish.
Cons
-

Neck has to be removed to adjust the truss rod.
You can trust Guitar Player. Our expert reviewers spend hours testing and comparing guitar products so you can choose the best for you. Find out more about how we test.
Debuting in 1950, the Esquire was Fender's first practical electric guitar and featured a body made of pine, a bolt-on maple neck with 21 frets, and a repurposed lap-steel pickup mounted in the bridge position.
While having only one pickup might have seemed like a shortcoming (and Fender quickly addressed this by introducing the two-pickup Broadcaster/No Caster), the Esquire had a trick up its sleeve – an electronics system comprised of volume and tone controls and a three-way blade switch that provided three different sounds.
In the neck position, the tone control was bypassed and a preset treble rolloff circuit was engaged. In the middle setting the tone control was active, and in the rear position the tone control was bypassed. Simple enough, but it provided everything from a burnished "jazz" tone to a blistering lead sound and anything in-between via a flick of the selector.
Fender went to great effort to accurately replicate the 70th Anniversary Esquire, so it follows that its Tim Shaw–designed pickup is inspired by a 1950 Esquire that resided at the Songbirds Museum in Chattanooga, Tennessee.
It's connected with cloth-covered wiring, and the circuit sports a paper-in-oil tone cap – cool touches that enhance the Esquire's old-guitar vibe. And, as per vintage spec, all of the screws are slot-head (or Fillister, if you prefer).
These include the various diameter and length specs for the black phenolic pickguard, neck joint, bridge, control cover, the tuners, and the aluminum output-jack cup. The Esquire has a chunky U-shaped neck with a 7.5-inch-radius maple fingerboard carrying 21 Vintage Tall frets.
The setup is excellent, and the guitar plays easily and sounds tuneful in all positions, which underscores the effectiveness of the vintage-style Tele bridge with its three adjustable solid-steel "barrel" saddles. Leo Fender certainly got a lot of things right with the Esquire, and this primordial piece of hardware is a big part of why the Esquire delivers a vibrant and sustaining acoustic sound.
The roasted-pine body also contributes to the lively response, as does a thin nitrocellulose-lacquer finish. The flawless 2-Color Sunburst of our review model reveals the nice graining of the pine, and the guitar is available in three other colors if you prefer a non-vintage look (see specs).
Tested with a Fender Deluxe Reverb and a selection of boost and drive pedals for grind, the Esquire proved a vibey-sounding guitar, with a lot of tones on tap.
It's great to be able to switch from a deep, round sound on the neck position to a snarling lead tone on the bridge setting, which is also a little louder due to the tone cap being out of the circuit.
In the middle position, the tone control lets you adjust the highs as needed to dial in sounds between the darker and brighter timbres of the other settings, such as clear, open rhythm flavors or a buttery lead tone that retains single-coil stringiness and bite. I used the switch constantly, and it does give the effect of having two pickups.
So again, Leo came up with a clever way to use a single pickup to deliver the tonal range that would allow guitarists like Jeff Beck – who played a '54 Esquire on early Yardbirds recordings – to go from ripping rock and roll to blues and anything else he needed, with a flick of a switch – or, in Beck's case, probably just by adjusting his attack.
Bottom line? The 70th Anniversary Esquire is a fitting tribute to a groundbreaking design that helped shape the future of the solid-body electric guitar and the music that it helped create.
Specifications
PRICE: $1,999, tweed hardshell-case included
NUT WIDTH: 1.650", bone
NECK: One piece maple, thick U shape
FRETBOARD: Maple, 25.5" scale with 7.5" radius
FRETS: 21 Vintage Tall
TUNERS: Fender vintage style
BODY: Roasted pine
BRIDGE: 3-Saddle American Vintage Tele with barrel-steel saddles
PICKUP: Fender Tim Shaw–designed Esquire single-coil
CONTROLS: Volume and tone. Three-way blade switch. Position 1 (neck): tone control off, preset treble-rolloff. Position 2 (middle): tone control on. Position 3 (bridge): tone control off
FACTORY STRINGS: Fender USA 250R .010–.046
EXTRAS: Available in 2-Color Sunburst, Lake Placid Blue, Surf Green and White Blonde
WEIGHT: 6.62 lbs (as tested)
BUILT: USA
CONTACT: Fender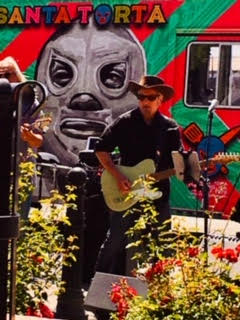 Art Thompson is Senior Editor of Guitar Player magazine. He has authored stories with numerous guitar greats including B.B. King, Prince and Scotty Moore and interviewed gear innovators such as Paul Reed Smith, Randall Smith and Gary Kramer. He also wrote the first book on vintage effects pedals, Stompbox. Art's busy performance schedule with three stylistically diverse groups provides ample opportunity to test-drive new guitars, amps and effects, many of which are featured in the pages of GP.