Well-equipped for just about any situation, and remarkably easy to carry considering the wallop it packs
Pros
+

Easy to carry

+

Great range of clean and overdriven tones

+

Well equipped for recording thanks to built-in reactive load with three preset cab sims

+

Free Cab Rig software lets you change cabs, mics, rooms and more
Cons
-

Clean channel tones are a little strident when pushed into distortion

-

Cabinet vibrates excessively at higher volume, causing items set on it to tumble off
You can trust Guitar Player. Our expert reviewers spend hours testing and comparing guitar products so you can choose the best for you. Find out more about how we test.
It's a safe bet that tube-powered guitar amps won't go out of style with electric guitar players anytime soon, but if there's one thing that drives players to find acceptable alternatives to tube technology, it's the weight.
By nature tube amps are heavy, and for the most part people have just accepted it as fact that nothing can be done about it.
But what if someone came up with an all-tube amp that weighed about as much as a typical solid-state rig?
Well Blackstar has done just that with the St. James series 50-watt heads and 1x12 combos, which tip the scales at 13 and 28 pounds respectively. (A matching 2x12 speaker cabinet weighs 29 pounds and runs $749.)
The James gang claim to be the lightest 50-watt amps available. So how did Blackstar accomplish it?
For starters, the patented design features a new output transformer that uses "specific interleaving of the windings, careful choice of lamination materials, and a couple of other geometric considerations" that allow it to deliver the tone Blackstar required while reducing the OT's size and weight.
Other contributing factors include a new lightweight Celestion Zephyr speaker that's based on a Vintage 30 and does not use a neodymium magnet.
The cabinets are also made of real wood – candlewood ply, to be exact.
Removing the folded-steel chassis to have a look inside reveals circuitry that's laid out on five interconnected PC boards that grip most of the components, including the tube sockets. The pots, jacks and switches are also attached to the chassis for extra strength.
The output transformer is indeed quite small and sits atop, next to the tubes, and the 400-volt power supply is fan cooled and housed in a separate, perforated-steel cage bolted to the chassis.
The main difference between these amps is one uses EL34 output tubes and has a British-voiced medium-gain lead channel while the other uses 6L6 tubes and has a lead channel that Blackstar says is their highest-gain channel ever.
Both versions have identical "blackface-style" clean channels that offer crisp highs and tight low end, and all other details are identical except for the fawn covering and dark gray grille cloth of the EL34 version versus the black covering and salt-and-pepper grille cloth of the 6L6 model.
To test the 6L6 combo, I initially used it on a gig that involved a hike to reach the stage. This is where the St. James' weight was most appreciated, especially compared to my 39-pound Deluxe Reverb.
With a Tele or an ES-335, the St. James sounded great with its clean channel turned up to around two o'clock to get a slightly gritty tone when the guitars were cranked.
The response was similar to a Deluxe with its volume around five, although for some reason the Blackstar sounded harder when its volume was pushed past the point where the sound begins to break up.
A Fulltone OCD distortion pedal hitting the front end yielded a nice range of overdriven tones.
Channel I cleans up well when the guitar volume is turned down, and when you need to crank, it gets intensely loud.
I mostly kept the master volume around one or two o'clock and used the Sag setting, which produces a slightly softer, tube-rectifier feel.
The two-watt setting is handy for rehearsing and recording, and it's loud enough for a small gig. Blackstar achieves the reduced wattage by lowering the voltage in the circuit, not by using a power soak, which would affect the tube tone.
Channel II is a completely different animal that has tons of gain and is voiced to deliver classic British overdrive with tight, thumping lows and ballsy midrange.
I set the gain II knob about a quarter way up and had plenty of sustain for lead and slide playing.
Activating Channel II's voice switch bumps up the gain and low end, and you get that looser, modern vibe, with lots of chug. There's no clean range to speak of in Channel II, but that's cool because it's optimized for rock and metal.
If you prefer to have two channels that can be set to deliver American- and British-style tones without such a drastic change in gain – and therefore perhaps be a better platform for pedals – the EL34 version is probably more your cup of tea.
The St. James (which is named for an ancient abbey in Blackstar's hometown of Northampton) features a digital reverb that sounds reasonably blackface-like, along with an effects loop with a level switch.
As you'd expect from a modern tube amp, it's also well equipped for recording and DI applications, thanks to its built-in reactive load, which comes after the tube stages so that it sees the full whack of the amplifier.
On the bottom rear panel there's a stereo line/headphone out and a balanced XLR out that came in handy for going direct or for silent recording.
A mini-toggle selects three different cabinets that are factory loaded – and they all sounded good though a PA – however, you can change them by connecting the USB to a computer and using Blackstar's free Cab Rig software to select different cabs (an assortment of 2x12s, 4x12s, 1x12s and 1x10s are available, along with a DI option), as well as microphones, rooms, damping and EQ settings (preset or user-adjustable).
Saving customized cabs is simple, and you can save them to the amp if you want to replace any or all of the three stock cabs.
Well-equipped for just about any situation, and remarkably easy to carry considering the wallop it packs, the St. James is a shoe-in for an Editor's Pick Award.
Kudos to Blackstar for cracking the code on making a tube amp that won't break your back or your wallet.
Specifications:
CHANNELS: Two
CONTROLS: Volume 1, gain II, volume II, bass, middle, treble, reverb. Gain II select switch, gain II voice switch, power switch (50 watts, Sag, 2 watts)
POWER: 50 watts, switchable to 2 watts
TUBES: Two 12AX7s, two 6L6s (also available with EL34s)
SPEAKER: 12" Celestion G12Z-70 Zephyr (16Ω)
EXTRAS: Effects loop with -10 dBv/+4 dBv switch. Built-in reactive load, Cab Rig speaker simulator with 3-position cabinet selector, 1/4" stereo line-out/headphone jack and XLR balanced out. Three speaker jacks (1x8Ω, 2x16Ω, 1x16Ω) USB audio. Two-button foot switch included for channel select and reverb on/off
WEIGHT: 28.48 lbs (tested)
BUILT: China
Visit Blackstar for more information.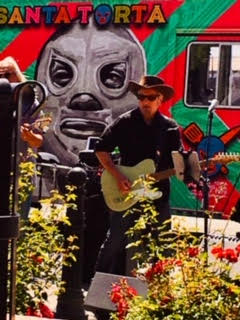 Art Thompson is Senior Editor of Guitar Player magazine. He has authored stories with numerous guitar greats including B.B. King, Prince and Scotty Moore and interviewed gear innovators such as Paul Reed Smith, Randall Smith and Gary Kramer. He also wrote the first book on vintage effects pedals, Stompbox. Art's busy performance schedule with three stylistically diverse groups provides ample opportunity to test-drive new guitars, amps and effects, many of which are featured in the pages of GP.