A well-equipped and capable performer, and a very cool deal, considering everything it does
Pros
+

Tube-like tone and feel thanks to analog TransTube technology

+

Intuitive WYSIWYG interface

+

Excellent sounding effects due to processing power not being dedicated to amplifier modeling
Cons
-

Sanpera I or II foot-controller required to access the wah and looper

-

Amp makes a "thump" when turned on or off, but is otherwise very quiet
You can trust Guitar Player. Our expert reviewers spend hours testing and comparing guitar products so you can choose the best for you. Find out more about how we test.
Peavey's Vypyr series guitar amplifiers give players options to fit their needs and budgets by offering three different combo formats: the X1 30-watt 1x8 ($199), the X2 60-watt 1x12 ($299), on review here, and the X3 100-watt 1x12 ($399).
All of them utilize analog TransTube circuitry for the amplifier distortion sounds in order to impart realistic feel to the tones, and they offer 10 instruments models (two for the X1), 36 amp models (including six acoustic guitar and six bass guitar models), 24 digital effects (none for the X1), and 12 stompbox models.
All have a built-in 30-second looper and wah that are accessible when you add the optional Sanpera I or II foot controller ($199 to $249).
All other functions are available from the top of the amp, and you can also control the X2 and X3 models via Bluetooth on your iOS device via the free Vypyr app.
The Vypyr X2 doesn't have the LED display of the pricier X3 but otherwise is functionally similar.
There are four buttons next to the input jack that toggle between Guitar 1, Guitar 2, Acoustic and Bass, and each has four presets that will get you up and running without even touching a knob.
The two electric guitar presets are quite heavily effected and seem more like demonstrations of what the Vypyr can do, rather than sounds you would deploy in a gig. However, the Acoustic and Bass models are basic and quite handy when you just need to get a good sound quickly.
From there, you can easily shape things with the inst/stomp knob, which has 12 stops, each providing two settings as you turn the knob: Acoustic 1/2, 12str/7str, Res/Sit, Evio/Syn, Bari/Bss, Tsc/Fuzz, Comp/Bst, Aphs/ Aflg, Wah/Slice, Achr/Uvb, Rmd/Slap and bypass.
These presets provide many different sounds, and you can adjust two parameters by pressing the inst/stomp knob and using the pre-gain and low controls to make EQ, gain and other tweaks depending on the selected model.
Next in line is the amplifiers knob which selects Budda, 6505, 6534, XXX, Classic, Butcher, British, Twin, Peavey and Trace bass amps, as well as Peavey Ecous and Trace acoustic amps.
Each offers low-, medium- and high-gain tones when you press the knob (a corresponding LED glows green, orange or red), and the same holds for the acoustic and bass amps, where you can choose between three tonal variations of each.
I was impressed by the sound of the guitar amps, which provide a wide range of touch-responsive tones that cover the spectrum from clean to viciously overdriven, particularly the Budda and 6505, 6534 and XXX models.
Classic is a great all-rounder for clean and medium-gain duties (and well beyond, if needed), and the British model offers a good representation of Vox/Matchless tone and does a nice job of delivering that "blizzard of nails" grind on the orange and red settings.
I liked the richness even at low volume, and the pre-gain, bass, middle treble and post-gain knobs made it easy to get happening tones with guitars that included a Gibson Les Paul '59 Heritage, Reverend Gristlemaster and a '63 LP Junior.
The third knob handles effects, and here you have Chorus, Env. Filtr, Comp BST, Flanger, M.O.G., Pitch Shifter, Reverse, Rot. Spkr, Phaser, Octaver, Tremolo and bypass. In addition, a press of the knob lets you adjust two parameters using the pre-gain and low knobs.
Delay and reverb are global functions, and it's convenient that you can just reach down and tweak them with the dual-function mid, high and post-gain controls, which respectively adjust delay feedback (repeats), delay level and reverb level.
The Vypyr X2's knob-based interface is intuitive and easy to use. However, to unlock the potential of this amp – especially for live use – a foot controller is needed.
Fortunately Peavey sent me the Sanpera II, a rugged, wing-shaped unit that has a dedicated volume pedal on the left side, with a toe switch to activate the tuner and another pedal on the right with a toe switch that activates the wah or lets you alter the rate of a modulation effect (a red LED indicates when modulation is active).
A pair of bank up/down switches on the right let you toggle through the 99 presets offered, in addition to the previously mentioned A, B, C and D presets on the amp's top panel. If you're in Manual mode (indicated by a green LED) and you select a preset with effects, you can turn them on and off individually with the foot switches labeled 1 to 4.
In Normal mode (red LED) the foot switches let you toggle between any four presets you've stored. Either way, you get much more flexibility for live performance.
And let's not forget that there's also a dedicated tap-tempo foot switch and two more stomp switches that control the looper's record, play and stop/reset functions.
All in all, the Vypyr X2 is a good-sounding stage amp with the warmth, punch and presence often missing in digital modelers.
It's the most muscular for its power that I've tried so far, and if you don't want to shell out for a Sanpera foot controller, you can always run modulation, delay and distortion pedals in the front end, and the Vypyr handles 'em just fine.
I also used the acoustic settings quite a lot, and I liked both the Comp setting (green LED) for its natural tone and the Comp/Trace setting (orange LED) for its enhanced cutting power in louder situations.
Note that if you're using the Vypyr for acoustic or bass, it still defaults to electric guitar when you power down, which is a bit annoying if you prefer to stay in those modes.
Bottom line, the Vypyr is a well-equipped and capable performer, and a very cool deal, considering everything it does. It earns an Editors' Pick Award.
Specifications:
CHANNELS: Three
CONTROLS: Instrument Type buttons (guitar 1, guitar 2, acoustic, bass), Inst/Stomp, amplifiers and effects encoders, pre-gain (parameter 1 in edit mode), bass (parameter 2 in edit mode), mid, high, post-gain, master volume. Global delay and reverb controls
MODELING: 10 instruments, 26 effects, 36 amplifiers I/O Input, 1/8" headphone and aux jacks, USB, 8-pin jack for optional Sanpera foot-controller
POWER: 60 watts RMS
TUBES: None
SPEAKER: 12" Vypyr X Modeling Speaker
EXTRAS: Looper (30 seconds). Studio quality USB 3.0 output. Bluetooth for control and audio streaming. Run up to five effects simultaneously with the optional Sampera foot-controller
WEIGHT: 26 lbs (tested)
BUILT: China
Visit Peavey for more information.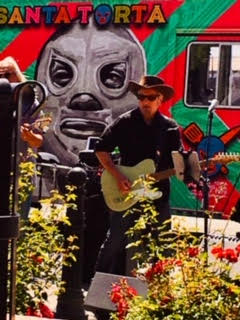 Art Thompson is Senior Editor of Guitar Player magazine. He has authored stories with numerous guitar greats including B.B. King, Prince and Scotty Moore and interviewed gear innovators such as Paul Reed Smith, Randall Smith and Gary Kramer. He also wrote the first book on vintage effects pedals, Stompbox. Art's busy performance schedule with three stylistically diverse groups provides ample opportunity to test-drive new guitars, amps and effects, many of which are featured in the pages of GP.