If you have stereo outboard effects, want another DAW interface or simply desire a more spatially immersive experience, the Dual Cube LX delivers
Pros
+

New amp models sound detailed

+

Useful effects

+

Immersive stereo output

+

App diving optional, not necessary
You can trust Guitar Player. Our expert reviewers spend hours testing and comparing guitar products so you can choose the best for you. Find out more about how we test.
Roland launched the Cube in 1978, and since then, the compact amp has been offered in more than 50 different models that deliver great sound and features in durable enclosures.
As many guitarists know, Cube amps are great for practice as well as performance on the go and onstage, either on their own for intimate settings or connected to a PA.
Since the introduction of the Cube Street in 2021, the line has been offered by Boss, which has introduced the two latest desktop models: the Dual Cube Bass LX, and the Dual Cube LX, which I'll be looking at here.
Image 1 of 4
In addition, there are modes for Mic, when using a microphone, and Stereo In for connecting stereo devices.
As the name suggests, the Dual Cube LX is a stereo amp, one that features a pair of custom-designed four-inch speakers, stereo line outputs for connecting to PA systems and DAWs, and a stereo input mode for use with stereo pedals and modelers.
Boasting an output of 10 watts (five watts per channel) from its stereo power amp, it's plenty loud.
The enclosure is compact, measuring just 13 7/16 x 6 7/16 x 8 1 /2 inches, but it packs some sizable guitar tones as well as useful features like a 45-second stereo looper, a headphone/record out and facility for the optional BT-DUAL Bluetooth Audio MIDI Dual Adaptor (sold separately).
The Dual Cube LX offers seven newly developed amp types: Acoustic Sim, JC Clean, US Combo, Brit Combo, Hi-Gain Stack, Metal Stack and Extreme.
Image 1 of 2
Starting from left on the top-mounted panel, there is a selector for the seven amp types and Mic preamp and Stereo In modes, as well as a memory button for storing and recalling three presets per amp type, for a total of 27.
Moving to the right, we find controls for gain, volume, bass, middle, treble, master output, effects and delay/reverb.
Turning the effects knob lets you select from four modulation effects – chorus, flanger, phaser and tremolo – and heavy octave, which adds a simulated note one octave lower to both single notes and chords for a thicker sound. In addition, as you turn the knob through each modulation effects' range, the effect becomes faster.
The delay/reverb knob works in similar fashion. It has settings for delay, reverb and spring, with the delay rate slowing as you turn the knob clockwise, and the reverb effects growing deeper as you continue spinning the control.
Setting the control to its most extreme clockwise position engages a spring reverb effect with a set depth. In addition, delay has a tap button for setting the time.
Continuing right on the panel, there are three status LEDs – record, play and dub – for the built-in looper.
There are no onboard controls for the looper; to use it, you'll need to connect a foot switch (such as Boss's FS-5U, FS-6 or FS-7 units, sold separately) to the foot switch input on the amp's back.
Below the looper indicators is the headphones/record output. A mini control here can be used to set the mic volume for headsets equipped with one.
Finally, there is a master output volume.
The back panel contains the power switch and DC power input (the amp also runs on eight AA batteries), Bluetooth adaptor jack and a full complement of I/Os – USB, foot switch, stereo line out, and an iCube link/aux-in jack.
This latter I/O is an audio interface built into the Roland amplifiers that lets you connect to the audio jack of your iOS device with a single cable, then blend your instrument's tones and iOS audio together on the amp.
In addition to all of the above, Boss offers the Dual Cube LX Editor app for Apple and Android, which lets you use your mobile device to control the amp, provided it has the optional Bluetooth adaptor installed.
Right out of the box, the Dual Cube LX was an impressive piece of equipment, sporting attractive black vinyl covering, a silver metal grille and controls knobs that are easy to grip and move precisely.
I tested the amp with a few electric guitars, including a Gibson ES-345 stereo and a Fender 60th Anniversary Triple Jazzmaster – both of which provide a broad range of tones – as well as a Malden Mozak with a pair of Alnico V single-coil pickups and a Gibson J-160E acoustic-electric.
Suffice it to say, the new amp models are detailed and pretty tightly dialed in, making the playing experience very much plug-and-play, with adjustments to the three-band EQ made as needed.
The Dual Cube LX's range of amp models meant there was something for everything I threw at it, although in general I found the JC Clean and US Combo settings best suited to my tonal preferences.
The Acoustic Sim sounded great with the J-160E and worked quite nicely as an acoustic simulator with the electrics.
But of course the Dual Cube LX's big selling point is its stereo functionality, and I was especially curious to put it to the test. Plugging in my stereo ES-345, setting the Dual Cube LX to Stereo In and adding a generous amount of reverb, I found the results were immersive, although it took a mix of volume level, amp height and distance to get the best results.
The amp's soundstage is wide enough that I didn't have to worry about being too exact with my positioning, and the stereo experience was impressive. In fact, it made going back to any of my single-speaker mini amps a bit of a disappointment.
The Mic mode was certainly up to snuff for vocals, but I found it provided a useful "blank slate" platform for guitars as well, delivering tone relatively free of coloration.
The Dual Cube LX Editor app is useful for more precise effects settings, but thanks to the Dual Cube LX's full complement of controls, you don't have to be tied to the app.
At the end of the day, the Boss Dual Cube LX is the solid performer we've come to expect from the Cube lineup over all these many years.
The new amp types sound terrific, the range of models and effects is satisfying, and the I/Os and extra features are handy, depending on your needs and setup.
Whether you need a stereo desktop amp is up to you. But if you have stereo outboard effects, want another DAW interface or simply desire a more spatially immersive experience, the Dual Cube LX delivers, and it merits serious consideration.
Specifications
CONTROLS: Amp type (Acoustic Sim, JC Clean, US Combo, Brit Combo, Hi-Gain Stack, Metal Stack, Extreme, Mic, Stereo In), memory button, gain, volume, bass, middle, treble, effects (chorus, flanger, phaser, tremolo, heavy octave), delay/reverb (delay, reverb, spring), mic volume, master volume. Memory button, tap button. Power switch, loopback switch (i-CUBE link/aux in), loopback switch (USB)
POWER OUTPUT: 10 W (5 W+5 W) I/O 1/4-inch guitar input, 1/4-inch stereo inputs, stereo 1/8-inch/rec out jack, stereo 1/8-inch i-Cube Link/aux in, 1/4-inch stereo outputs, 1/4-inch TRS footswitch in, Bluetooth adaptor connector, USB B port, DC in jack
SIZE: 13 7/16" x 6 7/16" x 8 1 /2" (WxDxH)
WEIGHT: 7 lbs 5 oz
POWER: 9v AC adaptor and power cord (included), 8 AA batteries
EXTRAS: 4-pole miniature phone cable
BUILT: China
Visit Boss for more information.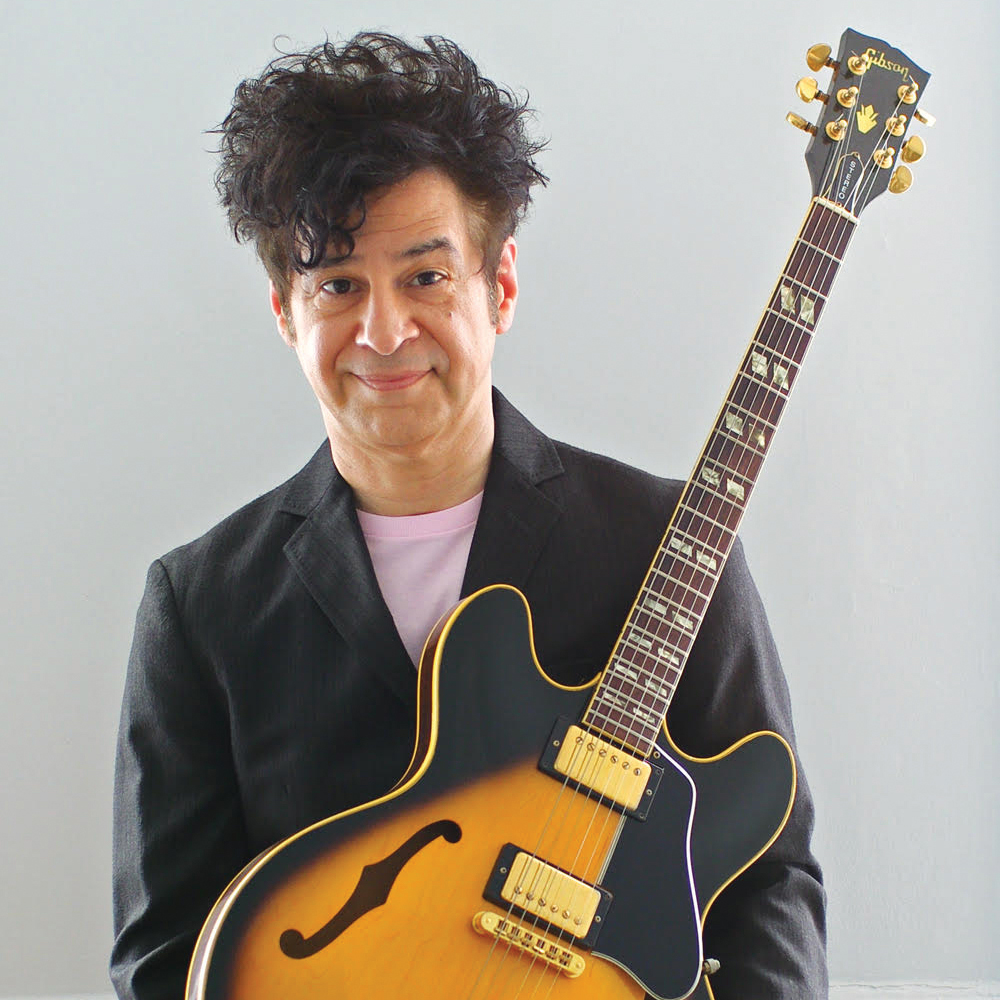 Guitar Player editor-in-chief
Christopher Scapelliti is editor-in-chief of Guitar Player magazine, the world's longest-running guitar magazine, founded in 1967. In his extensive career, he has authored in-depth interviews with such guitarists as Pete Townshend, Slash, Billy Corgan, Jack White, Elvis Costello and Todd Rundgren, and audio professionals including Beatles engineers Geoff Emerick and Ken Scott. He is the co-author of Guitar Aficionado: The Collections: The Most Famous, Rare, and Valuable Guitars in the World, a founding editor of Guitar Aficionado magazine, and a former editor with Guitar World, Guitar for the Practicing Musician and Maximum Guitar. Apart from guitars, he maintains a collection of more than 30 vintage analog synthesizers.