"You Couldn't Get the Information Because People Were Making It up on the Spot": June Millington of Fanny Recalls Life in the Late-'60s Rock Scene
As one of the first all-female rock and roll bands to enjoy major-label status their place in music history is undisputed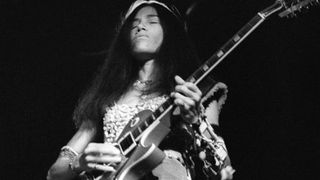 (Image credit: Ian Dickson/Redferns)
***The following appeared in the January 2020 issue of Guitar Player***
I was blown away by the story of Fanny, the band June Millington and her sister Jean formed in the mid 1960s.
The group signed to Reprise and broke out in 1970 as one of the first all-female rock and roll bands to enjoy major-label status.
But Fanny wasn't a gimmick. The group's members were serious about their playing and worked hard to be competent on their instruments and tight as a group.
They came up in the '60's California music scene alongside groups like the Grateful Dead, Santana, Jefferson Airplane and Little Feat.
Although Fanny never broke out with a million-selling hit record, their place in rock history is undisputed.
June has a sage-like wisdom and an extraordinary depth as a player. She spoke with me about being part of the late-'60s rock scene.
Fanny had an amazing run. What was it like chasing a music career at that time?
We were a hard-working band, let me tell you. We worked 24/7. Let's say I did a gig: I would make a point to ask whoever was good on the bill if they wanted to jam, and could they teach me something?
After that, I would go to see a really good band and sit in the front row, and I'd watch how they did it. I remember standing in front of the Grateful Dead at UC Davis, and that was the first time I thought to myself, How does Jerry Garcia do that?
By that time I must have been 16 or 17. I could drive myself to San Francisco, and I'd always stand right in front of the guitar player. So I wound up standing right in front of Jimi Hendrix. Same with Albert King, and Cream. And there would be this little kid standing next to me, and we'd be jockeying for that spot, always standing right next to each other. [laughs]
And then, when the first Santana album came out, I saw Carlos' picture and realized, Oh my God! That's that kid! He and I were doing the same thing.
Back then, there wasn't any place you could get the information, and moreover, you couldn't get the information because people were making it up on the spot. So that's what I did, 24/7, and, essentially, that's what the band did.
Who were your favorite guitar players?
Jimi Hendrix is at the top of the list. I have to say Albert King, too. Actually, other than Jerry Garcia, the first gig I saw was in San Francisco, and it was a double bill with Jimi Hendrix and Albert King. I'm telling you, the top of my head exploded. It was unbelievable.
I was standing right in front of them. So that kind of viscerally put it in my DNA. From that point on, I was nonstop when it came to the guitar. I was probably 17 then.
By the time we went down to L.A., Lowell George had become one of my best friends. We spent a lot of time playing together. He used to come over to our basement and jam. I met Lowell at a jam in the [San Fernando] Valley, and we both enjoyed each other. I mean, we were really close.
I didn't play the blues, and I remember Lowell came over one evening and said, "June, you can't play rock and roll and have this career without learning how to play this kind of music." He pulled out a doobie and got really high, and he put on Howlin' Wolf and Muddy Waters.
With Lowell, it was like being in college. He was a great teacher, 'cause it wasn't just your licks – it was your tone. A whole bunch of us were trying to figure out how to get great sound from amps, and we were always changing amps and fooling around with different tubes. We were developing our sounds.
I had a '57 Les Paul then, and I still do. I still use it. People say I shouldn't even travel with it any more. But that thing plays me in ways that other guitars can't, you know? I don't even really play when I play that guitar. It just, like, happens!
Order Fanny: The Right to Rock here.
For more information about Sue Foley, visit suefoley.com.
All the latest guitar news, interviews, lessons, reviews, deals and more, direct to your inbox!