Watch Jefferson Airplane's Historic "White Rabbit" Woodstock Performance
This classic clip from 1969 captures the band at their finest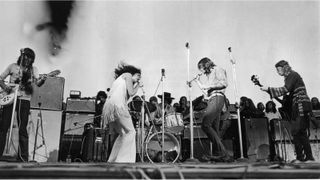 (Image credit: Getty Images/Getty Images)
If the Summer of Love had a poster-child band, it was Jefferson Airplane, who started out playing the folk rock featured on their first album, Jefferson Airplane Takes Off (opens in new tab).
But in 1967, with Grace Slick taking over as lead singer, their album Surrealistic Pillow (opens in new tab) soared into the stratosphere, fueled by "Somebody to Love" and "White Rabbit."
Guitarist Jorma Kaukonen (who gave the band its name) was a folk and country-blues fingerpicker whose style was heavily influenced by having spent his youth in Pakistan, where he would listen to local sitar players, something that was very evident in his snaky phrasing.
"The fact that I had listened to a lot of ethnic music played a role in what I did with the Airplane," he said.
"I also didn't really know how to play the electric guitar, so I was open to adapting a lot of stuff, which is where things like the moderately psychedelic solos on 'White Rabbit' and 'Somebody to Love' were coming from.
"People say, 'How did you figure that out?' My answer is, 'I didn't know any better.' I couldn't figure out how to do a lot of the stuff that I heard people like Michael Bloomfield doing, so I just dicked around until that came out."
Kaukonen says the band's first truly psychedelic album was 1967's After Bathing at Baxter's (opens in new tab), mainly due to the jamming.
"At that time we were getting into the technology of learning how to play electric instruments in the style that became our benchmark, and that was the first time where [bassist] Jack Casady and I really start to stretch out."
Kaukonen also discovered the wah-wah in 1967 and moved from a Guild Thunderbird (as heard on Surrealistic Pillow) to a Gibson ES-345 (opens in new tab) stereo guitar that he ran though four Fender Twin Reverbs (opens in new tab).
"The front pickup was the wah channel and the back pickup was the Ampeg Scrambler (opens in new tab) channel. That was it."
Kaukonen called the 1968 live album Bless Its Pointed Little Head (opens in new tab) "the essence of what the Airplane did." He and Casady formed Hot Tuna in 1969 and have released some 21 albums.
Jefferson Airplane showcased their live prowess during this period at the historic 1969 Woodstock festival.
Following the Who, Sly and the Family Stone, Janis Joplin, Grateful Dead, Santana and other such legends onto the stage that day, the band performed a spellbinding rendition of "White Rabbit" that perfectly encapsulates the sound of the late '60s psychedelic rock era.
Browse the Jefferson Airplane catalog here (opens in new tab).
Browse the Hot Tuna catalog here (opens in new tab).
Thank you for signing up to The Pick. You will receive a verification email shortly.
There was a problem. Please refresh the page and try again.