"I'm Always Searching for Something That Reminds Me of the Early Days in Rock and Roll": Robbie Robertson Raises the Ghosts of His Youth on His Latest Solo Album, 'Sinematic'
"I write songs and record music when I've got something up my sleeve," says the pioneering guitarist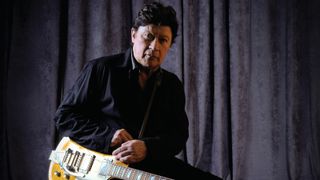 (Image credit: David Jordan Willians)
The following appeared in the December 2019 issue of Guitar Player
"It's thrilling, after all of this time, to be both making new noises and rediscovering things I found stimulating at a very early age," Robbie Robertson says.
That sentence could conceivably sum up the legendary, songwriter/guitarist's artistic career. Before the world had discovered Jimi Hendrix and Eric Clapton, John Hammond's 1965 album, So Many Roads, helped introduce many blues fans to the full glory of the electric guitar. As wielded on that record by Jamie "Robbie" Robertson, the Fender Telecaster became a slashing, piercing sword, eliciting our first thoughts of "What is that, and how do I do it?"
Rife with energy and an almost punk attitude, it was an amalgam of twang and deep R&B roots unlike anything we had heard before – the bite of Muddy Waters' slide interpreted through the fingers of a 22-year-old white boy who had been playing chicken-wire bars from Toronto to Arkansas for six years.
The history has become legend. For the uninitiated, it's recounted in Robertson's autobiography, Testimony. He joined Ronnie Hawkins' group, the Hawks, at 16. In 1964, the Hawks went on their own and eventually backed the newly electrified Bob Dylan. The group then left Dylan and went from being a band to the Band, before breaking up and marking their dissolution with an iconic all-star 1976 concert, immortalized in Martin Scorsese's 1978 film The Last Waltz.
The book leaves off there, but Robertson went on to score music for a number of movies, act in a couple, and make five solo records, including his latest, 2019's Sinematic (Universal). Like his memoir, Sinematic draws from his past. "Dead End Kids" recalls his teen years in Toronto, while in "The Shadow" he evokes a crime-fighting radio show hero from his youth. And in "Once Were Brothers," the guitarist celebrates his time with the Band and mourns its members who have passed on.
For Robertson, the past is never very far away. At a very early age, he found stimulation in the music of Chuck Berry. A recent acquisition is a custom shop version of the Gibson ES-350T that Berry played, ordered for Robertson by his son Sebastian as a birthday present. "The sound of his guitar on those early records was never matched by the ones that he used later," Robertson says. "He went to a 335 [or an ES-355], which is easier on the hands and more comfortable to play. But the sound of this 350 with the original-gauge guitar strings was something. I couldn't wait to plug it in to see if it still had that sound, and it's exactly the same thing."
Back then, of course, guitar strings came in only one gauge – fairly heavy, and with a wound G – but players seeking to play blues and country bends soon discovered workarounds involving the use of banjo strings to create a light-gauge set. Legend has it that the method was invented by James Burton, while playing the Louisiana Hayride television show.
Fred Carter, who also played on the program, may have learned it from him, and he hipped Robertson to the trick when they shared guitar duties with Ronnie Hawkins. Robertson reveals that there were two approaches to the system. "Sometimes they would use banjo strings for just the first and second strings. That way the rhythm wasn't thinner when you were playing on the low strings," he explains. "And sometimes you moved them all down" – by which he means some players would use unwound banjo strings for the highest three strings and then shift the guitar strings such that the wound G became the D, the D became the A, and so on.
These days, he says his favorite strings are D'Addario, with the gauge adjusted for the instrument.
The teenage Robertson actually began in Hawkins' band as a bassist. "The bass player had just left. I was doing that while I was learning the guitar parts," he recalls. "Fred Carter was going to be leaving, and I was taking over for him. When I started, I played a regular Fender bass – a Precision – and then I discovered a six-string bass and played that for a while. When I took over on guitar, the next bassist played a regular bass. But when Rick Danko joined the band, he played the six-string bass for a while because he was originally a guitarist. The six-string bass was kind of a transitional instrument. I love it. I have a couple of them."
Robertson eventually switched to guitar, and by the time he left Hawkins' employ, he had developed a unique voice on the instrument, two hallmarks of which are pinch harmonics, where the string is caught between the pick and the nail of the first finger, and a penchant for pedaling open strings during his solos. Both were already in evidence by the time he recorded with John Hammond.
"Those harmonics usually come about as an accident," he says "I decided to take this accident to the next level and figure out how to play a whole solo like that. It would put the note I was playing up an octave. Sometimes you hit a note like that and it doesn't do anything, and sometimes it does. I got so I could get those harmonics to sing and to ring out for a long time, not just be a little hit. I figured out the distance [between the nut and the bridge] where they really chimed out. It became part of my thing."
You can hear those harmonics on So Many Roads and Hammond's I Can Tell (which contains some of the most blistering Telecaster tone by Robertson, or anyone) and, later, on songs by the Band, like "King Harvest (Will Surely Come)." The pedaling will appear as an open G or E string droning while Robertson works his way up the neck, both filling out the sound and providing additional tension. "That was me trying to pretend I was two guitar players," he says.
Robertson's exploration of new guitar sounds comes from developing his own take on old technology rather than from adopting new gizmos. By the time of the Band's final concert, he had fully switched from Teles to Strats and was soon using the whammy bar in distinctive ways. One method was to wiggle the arm for a vibrato as personal as any other guitarist's finger shake. Another involved using the bar to lower the pitch of strummed chords, giving them a sound almost like bagpipes. "I first started doing that on Planet Waves, with Bob Dylan," Robertson says. "Sometimes I also use it to create a change of pitch like you get with tabla, as opposed to just making the strings quiver. It's still part of the arsenal."
It is indeed. On Sinematic, Robertson occasionally combines his whammy bar work with another old sound: that of the wah-wah pedal. Like the vibrato arm, the guitarist has managed to take an effect used for half a century and somehow put a personal stamp on it. "It's an expression pedal," he says. "To me, it's closer to singing and talking than just playing. I can get more vowels out of it. Sometimes I use it just to get that midrangey squawk. But when I plug into the pedal, I usually have trouble keeping my foot off of it. I want to make it talk. For years, whenever I was doing something with Eric Clapton, he would say, 'Why don't you do your wah-wah pedal thing?' He always enjoyed the way I approach it."
Robertson's drive to wrest new sounds out of old pedals could be compared to a junkie's efforts to experience the rush of that first hit, but in a much healthier way. "I really like interesting sonics, so I'm always searching for something that reminds me of the early days in rock and roll, when I would hear a guitar sound that sent a chill down my spine," he says. Unlike the junkie, he is often successful, and his may be the most emotional use of the wah since Hendrix.
The guitarist even developed a personal approach to the Stratocaster's design to accommodate his right-hand technique. "I used to use a flat pick and National steel finger picks on my middle and third fingers, so I could play three notes at the same time without strumming," he explains. "When I was doing that, the middle pickup of a Stratocaster was always in my way. We guitarists all got used playing around it, but I thought, Why are we doing that? I wasn't a big fan of the middle pickup anyway; it sounded a little doinky."
So for the Band's farewell concert, Robertson decided some changes were in order. In addition to having his red '54 Strat bronzed, he moved the middle pickup next to the bridge pickup, turned it around and had the pair wired together in series, like a humbucker. He left the neck pickup in place and an open space in the middle. Problem solved. "The three-way switch is set so the front position is the neck pickup, center position is all the pickups, and back position is the back two pickups," he says. "I don't like a five-position switch. I find I bump it all the time."
Robertson may also have been one of the first guitarists to replace his Strat's knobs with knurled metal Tele knobs for easier volume and tone swells. In addition to a limited-edition replica of the Bronze Strat, Fender's custom shop has made a number of guitars for Robertson. "One has a Moonburst finish instead of a sunburst," he says. "Then I have one that is Capri blue, and all the hardware is brass, which looks quite beautiful. The pickguard is amber and clear, so you can see all the mechanics inside."
As on Eric Clapton's signature instruments, the guitars Fender makes for Robertson contain a preamp controlled by what is normally the second tone control. The guitarist's grit comes mainly from the amplifier, most recently a Vox AC30. "I have it as a separate top and bottom," he says "I like the top to be beside me so I can play with the knobs."
His evocative wah sounds often come from the pedal pushing the Vox's input. "I adjust the amp so it sings nicely," he explains. "I love it when an amp really speaks and cries out. The horn-like distortion on Sinematic's 'Street Serenade' comes from pushing the amp to a place where it becomes like a trumpet. That's my favorite kind of distortion. I'm not crazy about pedal distortion, though some people use it beautifully."
That said, he has found some non-wah pedals he likes, including a distortion. "I have a BAE Royaltone Fuzz," he says. "I don't know what's going on inside this thing, but I plug into it and I immediately feel like I'm getting somewhere." He also reveals that he uses a compression pedal to create some of the atmosphere on his cleaner noir-style solos. "I use the Electro-Harmonix Platform," the guitarist says. "It's an extreme setting that controls the volume with the compression, almost like a backward effect."
Eight years passed between Robertson's 2011 solo record, How to Become Clairvoyant, and Sinematic, but the guitarist was far from idle in the intervening years. "I was spending a lot of time writing the autobiography," he says. "I was also working on music for Martin Scorsese movies. When I had some time, I would sit down, think about a song idea and mess around with that. Making Sinematic wasn't about, 'It's time for me to make a record. Let's write a bunch of songs, go in and record them.' It happened over time, because I'm not on a schedule of making a record to do a tour. That's not my program. I write songs and record music when I've got something up my sleeve."
Sinematic opens with "I Hear You Paint Houses," featuring a guest appearance by Van Morrison in a vocal duet with the guitarist. The title refers to a euphemism hit men would use when discussing a job. The three stabbing sounds behind the song's hook are typical of the appropriately cinematic sounds Robertson has created throughout his recorded work. Here, the shards are generated through his preferred primal method. "I'm not going into any pedals to make it sound that way," he reveals. "It's just my fingers and the amp."
Though Robertson uses minimal technology when creating his guitar sounds, he takes a broader approach to the recording process. Consider the acoustic guitar part on "Hardwired." For that track, Robertson recorded the instrument and then used the modern method of copying and pasting it over and over again. It's typical of the way this artist manages to stay simultaneously current and timeless. "Some of these tools weren't available years ago," he says by way of explanation. "But now they are." Without being slavish to the technology, he incorporates the latest techniques and manages to still sound like himself.
The credits on Sinematic cryptically list help from Terry and the Octo Pirates, who turn out to be the band of late Microsoft co-founder Paul Allen. "Paul was a guitar player and always had his own band," Robertson explains. "The guitarist, Terry Davidson, was the head of the band for a while. I would sometimes be working on a piece of music and they would be around, and sometimes a couple of them would play on a track that I was doing."
In addition to this solo record, Robertson was also working on a movie, Once Were Brothers, which takes its name from the song on Sinematic. Based on Testimony, the film captures the rise and demise of the band that defined the concept of Americana and influenced everyone from Eric Clapton to Elton John.
Asked if we'll have to wait eight years for the next record, Robertson replies, "I don't think so. I have stuff in the works that might connect with the next movie I'm going to work on. I'm already starting to stir up that pot."
Order Sinematic by Robbie Robertson here.
All the latest guitar news, interviews, lessons, reviews, deals and more, direct to your inbox!