"The Whole Song Turned Into Kind of a Guitar Dialogue Back and Forth": Watch Robbie Robertson and Eric Clapton's Infamous 'Guitar Duel'
"Duel? It was more of a guitar conversation – with a lot of passion," said Robertson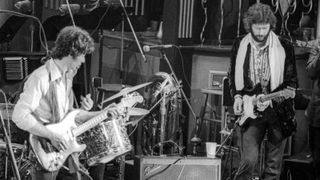 (Image credit: Ed Perlstein/Redferns/Getty Images)
Performed on Thanksgiving Day, November 25, 1976, at San Francisco's Winterland Ballroom, the Band's "farewell concert appearance" was captured in the Martin Scorsese-directed rockumentary The Last Waltz.
Released in 1978, the film featured guest spots from Eric Clapton, Bob Dylan, Neil Young, Joni Mitchell and more.
There are many highlights in The Last Waltz, but chief among them for guitar players has to be the sight and sound of Eric Clapton and Robbie Robertson trading solos on "Further On Up the Road," the Texas shuffle first recorded by Bobby "Blue" Bland.
It was a moment that was totally unplanned.
"We had just kicked off the song," said Robertson, "and Eric was playing his opening solo on it. When you look at the movie now you can see his strap is kind of folded over and it looks like it could come off at any time – and it does. It just slips off, so the guitar just falls down, and when that happened – just like you do when you're playing music in a group – you just cover their back.
"I just jumped in and tried to make so that it wasn't an issue. So then he got his strap back on and came back in and the whole song turned into kind of a guitar dialogue back and forth. People refer to it as a 'duel' but it was more of a guitar conversation with a lot of passion."
It's an unusual piece of pyrotechnics in a sense, because there aren't that many blazing guitar solos in the Band's recorded work. As Robertson explains, that's because he'd already grown out of his 'blazing' phase.
"I started playing professionally on the road for a living when I was 16 years old with Ronnie Hawkins and the Hawks," he says, "and when I was playing with Ronnie, I was blazing. There were guitar solos in almost every song. Because I was 16 and so hot-to-trot, I came out with the pedal-to-the-metal all the time. And after a period of time I started to understand some of the subtleties and cooler ways to approach things than just putting your fist through the ceiling constantly. But I was still blazing.
"Then, after we left Ronnie Hawkins, we went into a bit of a different musical world at that point, playing a lot in the South and – in the music that we heard and the people that we were around – I started picking up some other aspects of guitar playing. I would see the guitar player for Little Junior Parker's band [possibly Pat Hare – Ed], for instance, and it was a style of playing that, the motion of it and the groove of it, played just as big a part as the solos did. And the rhythmic playing – playing different rhythms against the song and, not blazing fills, cool little fills on the lower strings, and I thought, 'Hmm, that's interesting'.
"And I quite liked Curtis Mayfield's playing, just because it was so damn cool. Never nervous. Never trying too hard. Always understated. And I started to appreciate that and was moving somewhat in that direction, and then we hooked up with Bob Dylan. He was just getting on the train of rock and roll so they talked about it back then of him 'going electric'? I'd never been non-electric! I didn't know folk music. I came in on the rock 'n' roll, blues and rhythm and blues train – so when we started playing with him, the idea of blazing guitar solos in the middle of his songs – he really enjoyed that fire in his music.
"So in his songs, he'd sing a verse or two and then he'd nod at me and I'd play a solo, and he'd sing another verse, nod at me and I'd play another solo. He liked this thing. I was going right back – not to the subtle place, more to the blazing place with him, and if you hear the kind of playing on 'The Albert Hall tapes' with Bob Dylan [later released as The Bootleg Series Vol. 4: Bob Dylan Live 1966] the solos are really flailing or burning. I wanted to lean in this subtle direction, but the intensity of the music and the velocity that he wanted to sing it and play it just kinda pumped me back up to that place again."
You were facing a lot of animosity…
"There was anger involved in this too, you're right. If people were going to boo you, you were going to become somewhat aggressive. It's human nature. So it was my way of fighting back or something. Then after that, when we were doing The Basement Tapes and the Band was preparing to do Music From Big Pink, I got to say, 'okay'.
"At that point there seemed to me to be an overload of guitar players. When I first played with Ronnie Hawkins and Bob Dylan that style of guitar playing was somewhat rare. By 1967/68 screaming guitars were becoming quite common, and I'm sure that Jimi Hendrix was one of the main reason for people going in that direction.
"But in this period, there was guitar players coming out of the wood work and everyone was blazing and I felt like I'd already been down that path. When The Band was doing the first record, I really wanted the emphasis to be on the songs, and the way the songs were constructed, the musical parts, the way we played off one another – real subtleties. So I had the opportunity to go in another direction.
"When our first album came out, Eric Clapton became a tremendous supporter of the Band. I mean, he told everybody about the album – he told the Beatles and the Stones and, at the time said, 'And that's the kind of guitar playing that I'm interested in now' and that was when he left Cream, saying 'I want to go in this other direction too'.
"I completely understood his feelings: you can only come out screaming for so long and then finally you're just yearning for something a little more tasty and little more sophisticated musically. Because you grow up a little bit and guitar players like Steve Cropper and Curtis Mayfield really mean something to you. They're so understated. They leave out all the bullshit – all the unnecessary stuff is left out.
"So it was going from one extreme to another. I wanted to be able to prove something that wasn't all about the acrobatics."
All the latest guitar news, interviews, lessons, reviews, deals and more, direct to your inbox!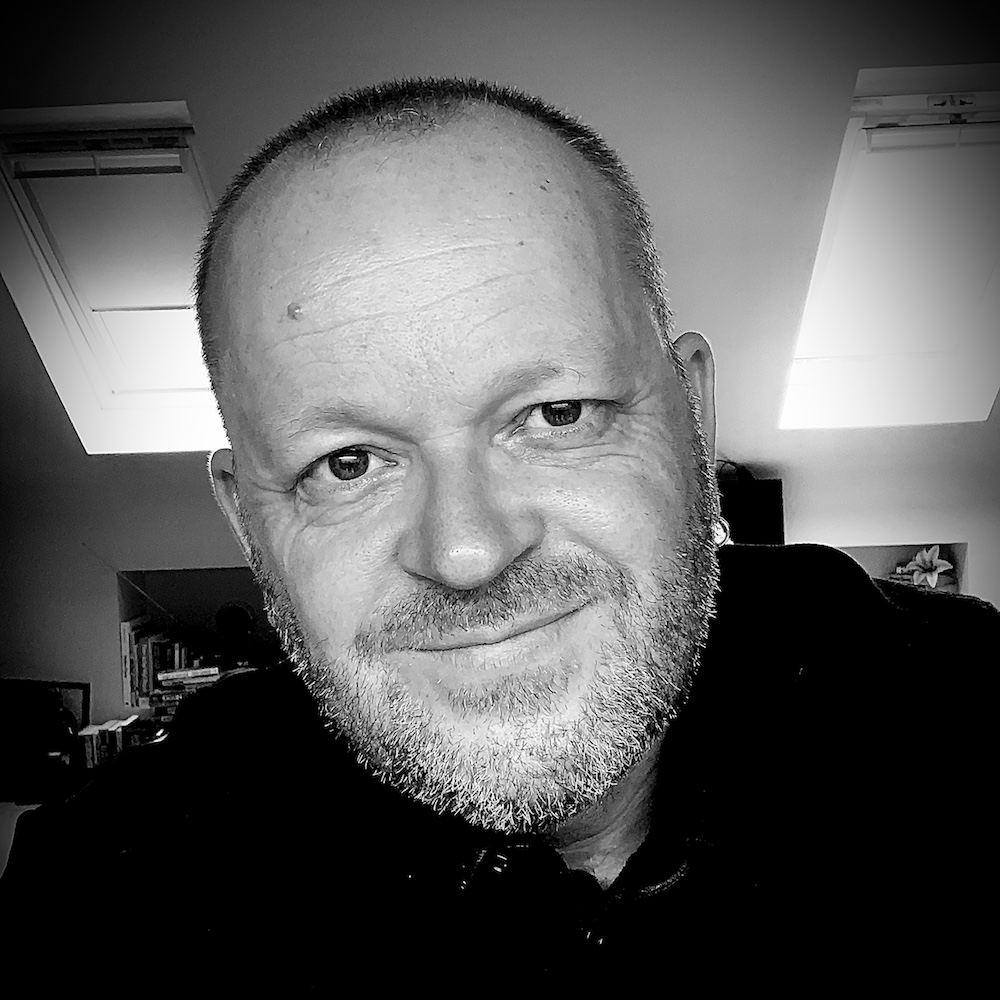 Content Director of Music @ Future plc
Scott is the Content Director of Music at Future plc, responsible for the editorial strategy for online and print brands like Guitar Player, Guitar World, Total Guitar, Louder, Classic Rock, Metal Hammer, Prog, Guitarist and more. He was Editor in Chief of Classic Rock for 10 years and Editor of Total Guitar for 4 years. Scott regularly appears on Classic Rock's podcast, The 20 Million Club, and was the writer/researcher on 2017's Mick Ronson documentary Beside Bowie.
Over the years Scott has interviewed players like Jimmy Page, Slash, Brian May, Poison ivy (the Cramps), Lemmy, Johnny Depp (Hollywood Vampires), Mark Knopfler, Robin Guthrie (Cocteau Twins), Will Sergeant (Echo & The Bunnymen), Robert Smith (The Cure), Robbie Robertson (The Band), Jonny Greenwood (Radiohead), Joe Bonamassa, Scotty Moore (Elvis Presley), J Mascis (Dinosaur Jr), Mick Jones and Paul Simonon (The Clash), Pete Shelley (Buzzcocks) and more.