Bob Dylan and the Band Guitarist Robbie Robertson Passes Away Aged 80
Best known for his work with Dylan and the Band, the famed soundtrack producer/composer also created a wonderful musical legacy as a solo artist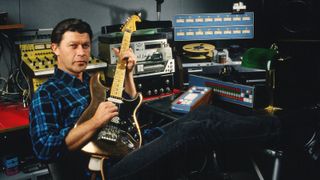 (Image credit: George Rose/Getty Images)
Canadian guitarist Robbie Robertson has passed away aged 80 following a long-term illness. A statement from Robertson's manager published by Variety explains the late musician was, "surrounded by his family at the time of his death, including his wife, Janet, his ex-wife, Dominique, her partner Nicholas, and his children Alexandra, Sebastian, Delphine, and Delphine's partner Kenny. He is also survived by his grandchildren Angelica, Donovan, Dominic, Gabriel and Seraphina.
"Robertson recently completed his fourteenth film music project with frequent collaborator Martin Scorsese, Killers of the Flower Moon. In lieu of flowers, the family has asked that donations be made to the Six Nations of the Grand River to support a new Woodland Cultural Centre."
Robertson enjoyed a decades-long working relationship with Scorsese that began with 1978's The Last Waltz – the Band's "farewell concert appearance" – where he is credited as a producer and performer. A string of Scorsese collaborations followed, from 1980's Raging Bull to 2019's The Irishman.
Most recently, Robertson had composed the music for Scorsese's Killers of the Flower Moon, a film described by Variety as "engrossing from the get-go, the palpable tension methodically echoed by Robbie Robertson's steady-heartbeat score."
Robertson's most recent solo album, 2019's aptly titled Sinematic, was a look back on his own past, with "Dead End Kids" recalling his Toronto teen years and "Once Were Brothers" celebrating his time with the Band.
Remembering his formative years in this WGBH interview, Robertson said, "I grew up in Toronto, and right across the lake, in Buffalo, there was a disk jockey by the name of George 'Hound Dog' Lorenz…And he played a record one night called 'Ain't That Lovin' You Baby' by Jimmy Reed. And the mood, the groove and the sound of this record was something that made me think this is a home for me. I know this thing from somewhere. And I'm going to find out where that comes from.
"It put me on a mission as a very young kid. I wrote songs when I was 15 years old for Ronnie Hawkins, joined Ronnie Hawkins when I was 16, and went to the fountainhead of rock and roll, the Mississippi Delta when I was 16 years old."
Robertson's professional career began during the mid '50s while cutting his teeth on the Toronto music scene. He soon caught the attention of rock and roller Ronnie Hawkins whose band, the Hawks, Robertson worked with extensively, picking up tips from Telecaster master Roy Buchanan during his brief tenure with the group.
Comprising famed drummer Levon Helm, bassist Rick Danko, pianist Richard Manuel, keyboardist/saxophonist Garth Hudson and Robertson, the Hawks parted ways with Hawkins in 1964, later adopting the name Levon and the Hawks.
Although Robertson originally played bass in Hawkins' band, he subsequently switched to playing guitar and developed a unique style notable for pedaling open strings during solos and pinch harmonics, as heard on John Hammond's influential 1965 album So Many Roads. "On that record, the Fender Telecaster became a slashing, piercing sword, eliciting our first thoughts of, What is that, and how do I do it?" wrote GP contributor Michael Ross.
When the Hawks teamed up with Bob Dylan for his 1965/1966 world tour the group drew greater attention, including notoriously hostile reactions from Dylan's acoustic folk diehards.
After a change of name to simply the Band, their debut album Music from Big Pink arrived in 1968. Considered a roots-rock classic, Eric Clapton (with whom Robertson collaborated numerous times) cited the LP as a major inspiration, while Roger Waters called it one of the most influential rock and roll records ever made.
Although the Band reformed in 1983, by this stage Robertson had established a successful career in the film industry while focusing his efforts as a solo artist. Co-produced with Daniel Lanois, his Billboard top 40 self-titled debut solo album appeared in 1987 and received a Grammy nomination.
Speaking of his approach to making music, Robertson told the Toronto International Film Festival, "With the Band, it became like a theater group and I would write something and think, He could play this part. And just when you least expect it [somebody else] comes in and takes over the thing, then boom where are we? Writing and directing these things was an interesting position to me in music. And it was different than other bands.
"It is a storytelling process for me, and after the Band I didn't know how to turn that off, so I did the songwriter version of it. My solo records are like going back to a place – a place where these sounds and these words and everything originate from."
All the latest guitar news, interviews, lessons, reviews, deals and more, direct to your inbox!
Rod Brakes is a music journalist with an expertise in guitars. Having spent many years at the coalface as a guitar dealer and tech, Rod's more recent work as a writer covering artists, industry pros and gear includes contributions for leading publications and websites such as Guitarist, Total Guitar, Guitar World, Guitar Player and MusicRadar in addition to specialist music books, blogs and social media. He is also a lifelong musician.