Five of Roy Buchanan's Best Tips for Guitar Players
Cop a bunch of five knockout pointers from the Telecaster master.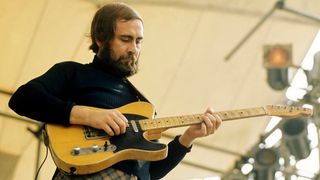 (Image credit: David Redfern/Redferns)
Roy Buchanan (1939-1988) built a cult following, largely comprised of other guitar players.
His distinctive, whining blues licks used to pack venues with what can only be called worshippers.
Buchanan's allure has little to do with stage production or cosmetic appeal, however; he dished it all out with his fingers and a well-worn Fender Telecaster.
Here are five of his best tips for guitarists gleaned from the Guitar Player archive…
1) Mimic Other Instruments
"It's a good idea to listen to other instruments, like a saxophone, and duplicate the notes. It's a different feel, a different attack and rhythm.
"Drums, I've gotten a lot of licks off of drummers. And bass players, singers – especially scatting – anything that makes you expand."
2) Play the Field
"I used to jump from group to group at the drop of a hat. I just liked to play with different guys, different fields of music. It helped me, because every band I played with was another challenge.
"I used to play with a lot of horn groups, and there wouldn't be any other chord man but me. I really learned rhythm guitar."
3) Raise It Up
"I like to wear my guitar high. Les Paul used to do the same thing, wearing it up like a bib. We used to wonder why he didn't wear it low and look cool like the rest of us. But he was playing a hundred times better guitar than we were.
"So I started raising mine up, and I understood. Everything's right there. You can get your wrist around, see everything, and it's like having it in your lap."
4) Tension & Release
"I think the whole thing comes down to creating tension in your playing, using different volumes, working a scale from top to bottom, or bottom to top, and planning ahead a little.
"I set the listener up with something simple to get his attention, then proceed to develop it. I have to beat the licks I've done just before in order to reach a musical climax."
5) One Note Wonder
"Sometimes it boils down to one note. One note can be as effective as dozens. Somehow – and this may sound farfetched – I have the feeling that all notes are contained in one.
"And if it's played with feeling, the reason it has such an effect on everybody is because it does have the other notes somewhere in it. It's the old "bring-the-house-down-with-one-note" thing. I've seen guitar battles won with one note."
Browse the Roy Buchanan catalog here.
All the latest guitar news, interviews, lessons, reviews, deals and more, direct to your inbox!
Guitar Player is the world's most comprehensive, trusted and insightful guitar publication for passionate guitarists and active musicians of all ages. Guitar Player magazine is published 13 times a year in print and digital formats. The magazine was established in 1967 and is the world's oldest guitar magazine.
When "Guitar Player Staff" is credited as the author, it's usually because more than one author on the team has created the story.