"Pops Staples Invented the Americana Tone of Guitar": Ben Harper, Rick Holmstrom and Aaron Livingston Explain How the Pioneering Guitarist Brought Black and White Music Together
The six-string legend created his own genre and the quintessential sound of Americana guitar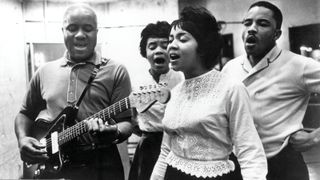 (Image credit: MICHAEL OCHS ARCHIVES/GETTY IMAGES)
It's morning as we drive through Bronzeville, passing soul food restaurants, 19th century mansions, humble brick buildings, Baptist churches and a contemporary arts district. This neighborhood on Chicago's South Side nurtured many American music icons during the Great Migration of 1916–1970: early jazz pioneers King Oliver and Louis Armstrong, electric blues innovators Muddy Waters and Howlin' Wolf, gospel trailblazers Thomas Dorsey and Mahalia Jackson, and the forerunner of soul, Sam Cooke.
Gospel music as an industry was born here when Black congregations took over the churches after the White flight. The new ministers, middle-class and educated, seeking to assimilate with White society, wanted nothing to do with blues. When Dorsey and Jackson became national superstars by embracing their blues roots, the community's church doors reluctantly opened a crack toward secular music influences.
It was in this tension-filled intersection of blues and gospel that, in the 1940s, Roebuck "Pops" Staples gathered his children Cleotha, Pervis, Yvonne and Mavis in the living room of their Bronzeville home to teach them spirituals from his childhood in the Mississippi Delta. "Will the Circle Be Unbroken" was the first. With a pawnshop acoustic guitar, he assigned each voice to a harmony, creating a blend that sounded like no other vocal group. Later, he would accompany himself and his family group on an electric guitar plugged into a DeArmond tremolo unit, creating a signature tone that has influenced generations of guitarists.
"To me, that tremolo, vibrato and deep, rich reverb, paired with his guitar of choice, provided a direct line to the heavens," says Ben Harper, who worked with Mavis Staples as a producer and songwriter on her 2019 album, We Get By. Harper grew up hearing the Staple Singers' albums as a child in his family-run music store, The Folk Music Center, in Claremont, California. "I hear a great deal of Pops in the overarching sonic landscape of what has become Americana. I hear him in Ry Cooder. I would venture to say that Pops Staples invented the Americana tone of guitar as far-reaching as Daniel Lanois, and if I had to, I would bookend that with Jason Isbell."
Besides his one-of-a-kind tone, Pops' masterful sense of time and band leadership is evident on songs like "Freedom Highway" and "Long Walk to D.C.," where his swampy open Eb and E chord licks intertwine with his lead singing while he's directing the group's intricate handclapping patterns, harmony vocals and Mavis's lead vocal.
"Pops was an entire band early on – bass, drums, guitar, bandleader and singer, all in one person," says Rick Holmstrom, Mavis Staples' guitarist and musical director since 2007. He got hooked when a friend gave him a mixtape with the Staple Singers' mid-1950s recordings, which truly showcase Staples' guitarwork.
"Pops grooved like mad, and made a drummer look good. I was just listening to the Vee-Jay stuff in anticipation of talking to you," Holmstrom says, referring to the group's early sides on the Black-owned Vee-Jay label. "Those recordings are basically his guitar, hand claps and the voices. Pop's guitar is percolating under the voices, and he's creating a groove and a key center. But it's all about the songs and the vocals."
Notes Harper, "When I listen to Pops' playing, it's awe-inspiring because I hear him playing chord lines, piano lines... His voicings cover so much at once. You don't notice anything missing, and you don't long to hear one other instrument."
Another key ingredient to Pops Staples' playing is blues, learned straight from the source. Charley Patton's fierce and free guitar playing made a profound impression on Staples when he was a motherless teen with 13 siblings, picking cotton at a plantation near Drew, Mississippi. Staples' grandfather William was a former slave, and his methods for surviving in the Jim Crow south with dignity intact and without buckling were followed by his sharecropping father Warren and the entire family. Comfort was found by going to church and gathering every night to sing hymns. Only spiritual music was allowed at home.
After sneaking out on weekend afternoons to see Patton entertain sharecroppers, Staples – who'd learned to play his brother's guitar and then bought his own – eventually became a promising blues talent himself. Playing at house parties opened up his world and made him more money than the 50 cents he got for a 10-hour day of picking cotton. Yet when Staples got off the bus in Chicago in 1936 to find a better future, it wasn't the blues clubs he sought out.
"Pops is as original as the Chicago sound, but he's one man," Harper says. "He learned from Charley Patton, who learned from Robert Johnson, so he was in that circle. But he took Delta blues and branched it out to an entirely original sonic landscape. I think it's fair to say that the Staple Singers are their own genre. They didn't fit into the gospel sound. Even having come from Chicago, they didn't fit into the Chicago sound, and it would've been very easy for him to subscribe to that."
"You know, he's slippery," notes Son Little, a.k.a. Aaron Livingston, the producer, songwriter and multi-instrumentalist on Mavis Staples' 2015 EP, Your Good Fortune. Livingston was introduced to the Staple Singers through the soundtrack from Spike Lee's 1994 movie, Crooklyn, and was floored when he came upon one of their early '60s recordings on the Riverside label. "Pops reminds me a bit of Hubert Sumlin," he says. "It's maybe not as intricate, but there's a similar approach. I'm not sure what the technical word for this would be, but it's playful. He's such an interesting character, who played this haunting blues while singing gospel songs at the same time."
"Pops' influences, like Son House and Charley Patton, sure, I can hear those," Holmstrom says. "He grew up in Mississippi, and he's playing all the bent, slurred and rubbing blues notes, but to me his playing has as much Lightnin' Hopkins to it as Son House.
"It's getting down to the nitty gritty of the most direct lines. Like Big Bill Broonzy, that's a whole different, sweeter and more uptown style of playing. But Pops was all about those 3rd notes bent up just enough to make you go 'Oooh!' Very eerie. Like in 'Uncloudy Day' or 'Sit Down, Servant' where they get the hand claps going, and then go to off-time hand claps – it's incredible stuff to me. I never get tired of it."
Duke Ellington, who was a huge fan of the group, may have described Pops Staples best when he told him, "You play gospel in a blues key." Staples remained faithful to gospel music throughout his life, even though he came to crosspollinate it with blues, folk and soul. But back in the '50s in Chicago, when the Staple Singers started performing at local churches, gospel artists who played electric guitars raised some eyebrows.
"Pops could've played the Rhodes, Wurlitzer or organ, but he was carrying the tune for the band in a convenient way, with an instrument that he could pick up himself and not rely on others to provide," Holmstrom says. "Mavis told me that it took a while for that guitar to be accepted, as it was not cool. People would walk in and wonder where's the organ or piano, and Pops would explain that this is how the Staple Singers roll. He put the tremolo on around the same time that Bo Diddley did. I have a theory that Pops did it to make the electric guitar sound more palatable to the churches because it didn't stand out as hard-edged, it sounded a little warmer."
Since Pops Staples' guitar playing sets such an evocative mood, we ask Holmstrom for a good first step to learning his style.
"Having a rock-solid E chord vibe is essential," he says. "With Pops, the actual notes and patterns look simple if written out, but the feel is nearly impossible to copy. I've been with Mavis for 15 years, and I still don't have it down exactly. Luckily for me, Mavis isn't dogmatic about everything being just so. She just wants it groovy and spicy. Maybe turn on 'the shakes,'" he offers, using Pops' description for tremolo. "Hammer on that E chord. Do lots of hammering on the open A string up to B, and the open D string up to E. Let the low E string sustain while picking little melodies out on the G, B and E strings. Bend a flat 3 to 3 on the G string."
"You can also leave the skinny E open, while hammering B to C# on the B string, or jockey back and forth from skinny E to the flat 7 on the B string. Change to whatever other chord the song has, keeping that same vibe. Sometimes Pops would play unison licks on guitar along with the vocals, and sometimes he'd answer the vocals. But having rock-solid, open cowboy-position tonic chords is key."
"It's about an attitude," Livingston says. "By listening to Pops both as a player and singer, there's a lot to learn about patience and subtlety. He's a great example of someone who shows the proper restraint and respect. There's nothing rushed."
"With Pops, it's not a Joe Maphis or Chet Atkins thing," Holmstrom says. "There's some fingerpicking going on, but it's never at the expense of the groove. Pops would play some bass-note lick, and then hit the bottom E string so it would ring like a drone while he's playing things over it. When people try to play that, they usually make it a little too countrified. It needs to be relaxed, and it doesn't have to be perfect. In fact, it shouldn't be. It has everything to do with getting over the vibe of the lyric and singing."
The guitar-powered Staples Singers may have struggled to illicit a warm response from some Chicago ministers in the late '50s, but the group's rustic style and lack of self-importance in a city of fiercely competitive gospel divas appealed to parishioners. The harmonies struck a nostalgic chord, the handclaps and guitar sounded down-home, and the melodies were easy to sing along with. In a way, their songs had a folk music quality, but with deep grooves, catchy hooks and sanctified vocals. In the '60s, it would become "soul folk."
Word spread quickly about the four charming teens who seemed to be gifted with the voices of old souls, and their sharply dressed father, who captivated Black and White audiences with his Delta blues guitar and gentle way of singing and speaking that still carried so much authority.
"I've never heard any musician with that depth of soul to present with such ease," Harper says. "As far as blues, soul and gospel go, traditionally there's a bit of an urgency that can come out as being 'reached' for. It never felt to me like he was having to push it. It's the authority of an Otis or an Aretha, but with such an ease. There are very few people who can do that."
The Staple Singers began touring in the late '50s, often through hostile parts of Jim Crow country, joined by a young Sam Cooke and Aretha Franklin, who hadn't yet crossed over to R&B. As the '60s arrived, they performed at jazz and folk festivals. Everyone from Elvis Presley to Bob Dylan and the Band were smitten. One recording that stands out from this era is the group's devastating version of Bob Dylan's "Masters of War."
At the heart of Pops' artistry is service and activism. The Staple Singers' first meeting with civil rights leader Martin Luther King Jr., in 1963, may have crystallized his musical purpose and life mission. Gathering his family afterward, he famously said, "If he can preach it, we can sing it." The violent confrontations in Selma, Alabama inspired him to write the title track for their powerful 1965 live album, Freedom Highway.
"When I hear Pops' music, I hear as much of a calling as I do hear music," Harper says. "And that calling is what pulled him close to Dr. King, where music led him and the group to the forefront of the civil rights movement. Because when you start doing that type of work, with boots on the ground, that is God's work. It's a cultural higher calling that very few musics ever have the opportunity to reach. And he not only reached it but defined it. For me."
Both Harper and Staples are known for writing social commentary songs that resonate with wide audiences. As Harper wrote the songs for We Get By, he naturally continued the lyric themes that Mavis has championed for six decades: civil rights, faith, spiritual comfort and perseverance. But it's a challenge to write message songs without coming off as clunky. How does one pull it off?
"Early on, there was a moment where I would question that," Harper says. "But you have to be ready to lay it on the line – comfortable with supporting your narrative and taking a stand, and also with the pushback. And I've always been comfortable with that. It's the tradition I come from. And I'd like to think that had I been writing the songs I've been writing for the last 30 years, but 30 years earlier, I would've been shoulder to shoulder with him. But I came up at the time that I came up, and I feel honored to be doing this interview in honor of that tradition." Harper pauses. "I don't know what's harder: to get to be mentioned in the same breath, or to be worthy."
The Staple Singers' commercial peak arrived four years after they were signed to Stax, as their 1972 album, Be Altitude: Respect Yourself, featured two of the group's biggest hits, "I'll Take You There," and "Respect Yourself." Although these fabulously grooving songs are most people's introduction to the group, most of their Stax releases won't get you hip to Pops Staples' guitar playing. Sadly, he was shut out from playing at the sessions by Stax executive/co-owner Al Bell, as the label tried to crank out potential hits for their artists, relying on the Swampers, the Muscle Shoals Rhythm Section, to cut finished rhythm tracks at a non-stop pace. There was no time to integrate Staples' quirky playing with the well-oiled session player machine.
Supposedly, the decision greatly disappointed Jimmy Johnson and Eddie Hinton of the Swampers, who were huge disciples of his guitar style. Hinton's guitar solo on "I'll Take You There" is a tribute to Staples, who was hurt by being shut out, but open to Stax's efforts to broaden his family's career success.
The down-home gospel quintet from Bronzeville had become an international act, playing theater and arena stages. After leaving the sinking ship of Stax and signing with Warner Bros., they agreed to team up with another Staples disciple, Curtis Mayfield, to record Let's Do It Again, the sexually powered song and soundtrack for the 1975 comedy, starring Sydney Poitier and Bill Cosby. It became their last hit. They toured in Africa; were offered an opening slot on the Rolling Stones' Exile on Main St. tour, performed for 112,000 people at Wattstax in Los Angeles, and made an appearance in Martin Scorsese's 1978 music documentary, The Last Waltz. They lost their footing afterward, in the era of disco and throughout the '80s, although Prince's production of two solo albums with Mavis Staples helped to slightly reignite appreciation for her and the group.
Pops Staples also experienced something of a second act in the '90s, when he got work as a theater actor in Chicago and recorded two solo albums, including 1992's Father Father. Featuring guest appearances by roots music admirers, the album won a "Contemporary Blues" Grammy and brought Pops some deserved attention at a time when he was in his 80s. After he became ill in 1997, he painstakingly completed the sessions for one more solo record, handing Mavis the master tapes with the words "Don't lose this."
At the turn of the millennium – one year after the Staple Singers were inducted into the Rock and Roll Hall of Fame and the frail patriarch got to claim a last moment of recognition – he passed away. His final album – rightly titled Don't Lose This – came out posthumously in 2015 on Wilco's dBPM label, just two months before Mavis released the Your Good Fortune EP.
What can Pops Staples offer us in this day and age, in a guitar community of players showing everything they've got in short TikTok or Instagram videos, with so much value being placed on chops and flash?
"That's a really good question," Holmstrom says. "I see little pockets of young folks that I know, who are looking for a certain kind of authenticity in the things that they do. To them, the early stuff of the Staple Singers is inspiring. Remember that this initially was a group created in their living room to bring joy to their family, friends and church. It wasn't about million-miles-an-hour licks. To me, it has everything to do with the vocals and getting the point of the song across."
"Guitar playing has an infinite number of lanes," Harper says. "And there's only so much study in a lifetime on any subject or style on your instrument. But if you are all the way to the opposite side of what Pops does, and flash and fast lead guitar playing is your lane, but you're interested in learning how to accompany yourself as a singular ensemble, I would say Pops is the first point of entry. Freedom Highway is a great place to start. That's where I started."
"You always want to have a range, because people express themselves in so many different ways, whether it's John McLaughlin or Slash," Livingston adds. "Pops is showing you another way, but he's really playing in his own style. It's not flashy, but it gets the message across. He's setting the scenery. There's space for his own voice, and he's laying a foundation for Mavis's glorious voice to happen.
"This applies not just to guitar but to anyone working in a group: You have to be aware of how the other group members are doing, how they're feeling. You have to pay attention, and listen not just the first time, but every time.
"Those are the things that really separate the greats from the skilled."
All the latest guitar news, interviews, lessons, reviews, deals and more, direct to your inbox!