Jason Isbell's Top Five Life-Changing Riffs
The multiple Grammy-winning maestro's journey intersected some serious guitar techniques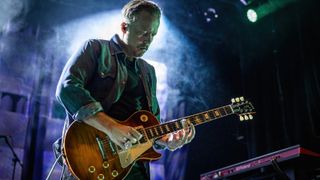 (Image credit: Per Ole Hagen/Redferns)
A quartet of Grammy Awards underscores Jason Isbell's reputation as a singer/songwriter, but his extensive catalog also finds him flexing his six-string strengths.
Along the way to mastering his mix of melody, ferocity, and restraint, Isbell's journey intersected some serious guitar techniques.
Here are the five riffs that changed his life...
1. "The Bells of St. Mary's" by Chet Atkins
"My uncle was into the Chet Atkins/Merle Travis style of picking," says Isbell, "and this song was a big deal for me when I was seven years old.
"When I started writing singer/songwriter stuff, and I was depending on an acoustic guitar to accompany myself, having an understanding of these alternating thumb-picking patterns really helped me out."
2. "Cortez the Killer" by Neil Young
"When I started coming up with melodies and chord changes on my own, this song kept coming back to me, because of the tension and release created when you hold that D note from one chord to the next.
"It creates this kind of cool suspension."
3. "I Know a Little" by Lynrd Skynrd
"In my house, there was a big love of early Lynyrd Skynyrd – especially the guitar playing of Steve Gaines – because the band took pride in playing things that were complicated.
"This intro blew my mind, and it still does. In fact, my wife [songwriter/fiddle player Amanda Shires] showed me how similar it is to a lot of jazz-influenced Texas swing.
"If you work up to a point where you can play that kind of guitar, you can do a whole lot of stuff."
4. "Salt Creek" by Bill Monroe and the Bluegrass Boys
"From a very early age, my grandfather would have me play rhythm guitar for him while he played mandolin, banjo, or fiddle. I got interested in bluegrass music that way, but I have my own bastardized version of it.
"I thought I had a handle on bluegrass flat picking before I moved to Nashville and discovered the checker at the grocery store is probably a better picker than you are!"
5. "Running On Empty" by Jackson Browne With David Lindley
"I started out playing slide guitar listening to people like Duane Allman, and then going back and listening to Elmore James.
"But when I heard David Lindley's lap-steel part on this song, it really opened my eyes to a different, more melodic way of playing slide that wasn't based of the standard licks I'd heard in blues music."
All the latest guitar news, interviews, lessons, reviews, deals and more, direct to your inbox!
Jim Beaugez has written about music for Rolling Stone, Smithsonian, Guitar World, Guitar Player and many other publications. He created My Life in Five Riffs, a multimedia documentary series for Guitar Player that traces contemporary artists back to their sources of inspiration, and previously spent a decade in the musical instruments industry.