Ben Harper Reveals Intimate Details About His Solo Lap-Style Affair, 'Winter Is for Lovers'
How the Californian multi-instrumentalist's search for a unique sound put a special John Monteleone archtop lap-style guitar in his hands and paved the way for a record like no other.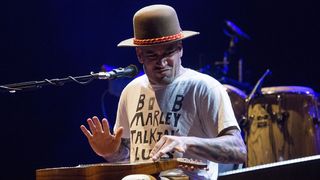 (Image credit: LOIC VENANCE/AFP via Getty Images)
When your voice is as strong as Ben Harper's, it's only natural to sing with all your heart, all the time. How many other guitar aces could fathom winning a gospel Grammy singing with the Blind Boys of Alabama?
So maybe it's not crazy to consider how Harper waited this long to record an instrumental showcase of his other divine gift, a signature sound on lap steel. Sophisticated, sexy, revealing and rewarding, Winter Is for Lovers (Anti-) was worth the wait.
The two-time GP cover artist has a long history in these pages, and in 2018, when he announced that an instrumental record had been on his mind for a long time, he also said he had a new lap steel created by archtop icon John Monteleone. No one figured it would completely win the day in the studio over the two lap steels he's most famous for playing: the Weissenborn acoustic and his signature electric Asher.
Imagine a jazzy vintage archtop combined with a bountiful Hawaiian lap steel, plus the sparkling richness of a traditional flattop, and you'll start to understand the essence of the Monteleone Radio City Special Deluxe. Now imagine what a guitarist who grew up in a historic folk music shop — Claremont, California's Folk Music Center — and was exposed to a whole world of influences might do with such an instrument.
Composed like a solo lap-steel symphony, Winter Is for Lovers is an ode to some of Harper's favorite places, as reflected in song titles like "Joshua Tree," "Paris," "Montreal" and "Istanbul." These sonic snapshots were taken with no flash, and that's an impressive exercise in restraint coming from a cat with razor-sharp chops.
Harper's prowess is often overlooked because he plays overhand and sitting down, rather than in the more familiar bottleneck style. But make no mistake — Harper owns the lap steel as much as Robert Randolph does the pedal steel. This new passion project is all about touch, nuance, tone and melody.
The mood varies widely, but it's generally chill. In fact, Winter Is for Lovers may be the best meditation/yoga guitar album ever. It sounds as if Harper is right there in the room as he plays tour guide on a trip around the world, with one tune spinning seamlessly into the next for about a half hour, all in the same deep, hypnotic tuning. Anyone can appreciate such an experience, especially players, and it's quite unlike anything this one has ever encountered.
Is there another album in history that you looked to for inspiration?
I love that you even had to ask, because it's proof the answer is no. If neither of us knows of another one, then it's not out there. I'm hopeful that it stakes its claim. History will tell, but for now I'm excited that it's singular in that way.
Playing the Weissenborn was at least part of the original intention for doing a solo lap-steel album. What happened along the way?
I met John Monteleone, and it was game on. Since the beginning, I had been reaching for a sound. Growing up in a music store, you get to hear what instruments have which qualities. The Folk Music Center has instruments from all over the planet. There are instruments with bowl backs of all sorts, from ouds to sitars to lutes.
You recognize the power and projection in an arched back as well as a resonance and reverberation that flat instruments just don't have. Flattops have a certain sonic complexity. I've always chosen archtops and flattops that have at least a toe, if not a foot, in each camp. I had never found one that spoke both languages until the Monteleone.
Where does that story start?
I was playing at Rudy's [Rudy's Music in SoHo, New York City] when Rudy handed me an instrument mid-chord while I wasn't even looking and said, "Try this." I didn't even look down, but I could tell something was different from the first note. It was an archtop that had the depth and breadth of a flattop. It wasn't just about the projection of the frequencies but the richness. It flipped the script. I said, "I have to go see the maker of this guitar."
I would imagine it was different for Monteleone to work with a lap-style player coming from an extensive Weissenborn background.
I actually sent John a Weissenborn, because we were in discussions about going the distance and giving the guitar a hollow neck. John kept me on track. He reminded me about the tone I'd heard at Rudy's. He believed that with a half inch longer scale of 25.5 inches and a properly carved back and top, he could go beyond that and bring me a new sonic palette.
All hail the Weissenborn's roar on the low end, but I needed more bell-like chime in the high end, and I found it with John's instruments. Weissenborn made a model early on with a longer scale that was just less than 25 inches, so I had that to experiment with, and I still have it in my archive. The longer the scale, the tighter the pitch, the more pronounced the frequency range. But I tried heavier strings on this long-scale Weissenborn, and I still wasn't able to pull out the sound I heard in my head.
The Weissenborn is one of my all-time favorite acoustic guitar sounds, but the quest is never over. I am not indebted or devoted to any instrument; I am indebted and devoted to tone and the living quest that it presents to all of us players. That's my gospel. The Indian cats like Debashish Bhattacharya and Vishwa Mohan Bhatt were onto that bell-like quality, which affirmed it was possible. John promised there was a way to get it without losing an ounce on the low end, and, thank goodness, he nailed it.
Can you detail its special combination of specs and features?
It's an archtop made of figured maple back and sides, with an Italian spruce top, that's 16 inches wide at the waist, with a solid, square neck that has a little stand on the back to make it more suitable to lap-style playing. There's an extra tone port that sets it all the way off in a couple of ways.
When you open up its little metal door and place a microphone in front, the port brings you inside the instrument in a unique way. With the door closed, it adds just a tiny bit of the shimmer of a metal-bodied instrument. I asked John to add the cleanest-sounding humbucker, and he found one made by Kent Armstrong.
We wound up putting the volume and tone knobs in the tailpiece, which John was super proud of, and it was a revelation for a lap-steel player like me to have those handy and accessible without having them in the top.
It appears that the biggest technical difference between playing lap steel and bottleneck slide is having to skip over the bottom strings so that the bass notes can ring freely, and therefore having to angle the solid bar down, sometime severely, to focus on a single string.
The angle is everything. You have to tip the bar at exactly the right angle to focus on a single string or double strings, either to get specific chord structures involving the open strings, or even just the harmonies between two single strings. You're always ducking and dodging the bottom two strings.
Isn't that inherently harder than flipping it up the other way, where you encounter the treble strings first?
I highly recommend no one ever try to do it. [laughs] It's crazy. In addition to the angle, the weight of the bar on the strings has to be just right. I'll get used to one nickel-plated brass Sheerhorn bar in medium thickness and use it until I've worn it out, because if another one is just a nano-ounce lighter, it makes a difference. I find just the right touch with light D'Addario EJ16 Phosphor Bronze strings. Using heavier strings with a longer scale was a little too much work. Lighter strings got me moving a bit faster without having to think about pressure.
It seems the upside of sitting down playing lap-style with the strings high above the fretboard is plucking-hand freedom. Watching your thumb and index finger is kind of like watching a figure skater bouncing up and down on the ice, occasionally incorporating a fancy twist involving another digit.
That's it!
What would you call the sound that happens on tunes including "The Inland Empire" that's like a slide whistle ascending while your slide melody descends?
I know what you mean. A reverse harmonic, maybe? It happens when you're doing something you technically shouldn't do: lifting the back of the dampening hand from the strings. But I do it to create those every so often. Sometimes they just jump out and get you.
The extended, melodically meandering glissandos, such as the one at the outset of "Lebanon," are exotic and can sound almost like a Theremin. Are those easier to execute on lap steel?
They are there for the taking on all slides, but I can focus that bouncing around on an individual string on the lap steel in a way I couldn't on a bottleneck.
Can you explain how you arrived at a more driving acoustic sound on the subsequent track, "London," which seems to reflect more of a Celtic, Bert Jansch type of tone?
That's it, 100 percent. Once we got set up to re-record the album at the Carriage House, producer Sheldon Gomberg had a close mic about a foot and a half off the soundboard, plus an ambient mic, and a mic in another room on a Fender Deluxe Reverb. We used the same settings and mic positions for the entire album. Even the tuning is the same. It's open D, and from strings six to one that goes: D A D F# A D. The difference is that I played the rest of the album fingerstyle, and I played "London" using a Fender medium pick.
What was the original recording like?
The first version of the record was a larger production and more of an exploration. I used different instruments, acoustic and electric, in different tunings with different reverbs and textures on the original sessions, which were done over a week at Capitol Studios. I was all over the place and needed to get out of my own way. I ended up reeling all that in for the final recordings.
The original sessions also had bass, piano, percussion, string orchestration and the whole nine. I'm equally proud of those tracks, and I'm excited that Anti- is going to release two of them as B-sides, hopefully soon. It was a difficult decision, but not an exercise in ego. It was an exercise in figuring out what was best for the music, period.
I knew I had to bring it down to just guitar, but I had no plans on it being one instrument. That was Sheldon's idea. This record had to be a conversation with just me and the Monteleone.
Winter Is For Lovers is out now via Anti-.
All the latest guitar news, interviews, lessons, reviews, deals and more, direct to your inbox!
Jimmy Leslie has been Frets editor since 2016. See many Guitar Player- and Frets-related videos on his YouTube channel, and learn about his acoustic/electric rock group at spirithustler.com.