"I've Had an Amazing, Unbelievable Career": Elton John Guitarist Davey Johnstone Names His Top Five Tracks
With a new solo album – 'Deeper Than My Roots' – under his belt, Elton's primo axe slinger picks out the deepest cuts from his glittering musical legacy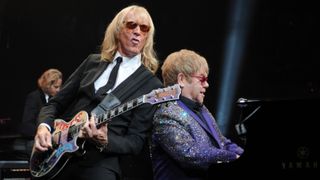 (Image credit: Larry Marano/Getty Images)
In 1971, 20-year-old Davey Johnstone was just starting to get his career as a professional guitarist off the ground when he got a call from his producer friend Gus Dudgeon that literally changed his life.
"Gus asked me to meet Elton John, whom he was producing, and the next thing I knew I was playing on Elton's new album, Madman Across the Water," Johnstone recalls.
"I played on four cuts – 'Tiny Dancer,' 'Levon,' 'Holiday Inn' and the title track. A week after the sessions, I was asked to join the band."
Johnstone didn't have to be asked twice. Although John wasn't yet a huge star, his music appealed to the Scottish-born guitarist.
"Elton was writing such beautiful songs with Bernie Taupin," Johnstone says. "Plus, you had Gus Dudgeon and [arranger and conductor] Paul Buckmaster working with them, and they were both so damned cool and talented.
"The whole situation felt right to me. There was a terrific atmosphere surrounding Elton – he was a wonderful piano player and singer, and now he was getting his shot at being a frontman and not just a studio musician.
"You could tell things were going somewhere."
Along with John and Johnstone, the new band included drummer Nigel Olsson and the late bassist Dee Murray – a rhythm section that the singer had begun working with a year earlier.
The quartet jelled quickly, and no matter which style of music they were presented – country-rock, soul, blazing rock and roll, lush ballads or symphonic pop – they tackled it like seasoned pros, instinctively playing the right lick at the right time, adding nuance and depth to each recording.
For his part, Johnstone didn't overplay his hand but made each riff, phrase and solo stand out.
"Musically, it was a blank canvas, and I got to do whatever I wanted," he says. "I was the only guitar player in a four-piece group, and I loved the kind of freedom I had."
Shortly after Johnstone joined the band, the hits started coming…and coming.
Between 1971 and 1976, the group recorded eight studio albums (nearly all of them stone-classic multimillion sellers), and when they weren't laying down tracks, they were jetting across the globe on tours that got longer and more elaborate.
Not surprisingly, the band's exhaustive schedule didn't allow for a lot of time to labor over recordings.
For example, the double album Goodbye Yellow Brick Road took all of 16 days to make.
"We worked very quickly," Johnstone says. "That's how things were done in those days, and we didn't think anything of it.
"We did 'Rocket Man' in three takes, and 'Saturday Night's Alright for Fighting' only took two passes to get it right. I know that probably sounds astonishing to a lot of people, but the truth is, we knew what we were doing. The creativity just flowed.
"We were recording and touring all the time, but we were having the time of our lives. It really was such a brilliant era for making music."
A key aspect of Johnstone's job – one he relished – was coming up with guitar riffs. He points to songs such as "Love Lies Bleeding," "Saturday Night's Alright for Fighting" and "The Bitch Is Back" as key examples.
"Those are definitely mine," he says. "We'd be running down a song, and somebody would say, 'We need a great guitar thing for the beginning, and after the chorus we'll come back to it."
He singles out "Candle in the Wind," however, as a rare – and memorable – instance in which John himself had a firm idea for what he wanted to hear.
"Elton came up with a great guitar riff, but to be honest, I didn't think it was going to work," he says.
"His idea was that every time he would sing the words 'candle in the wind,' I would play the guitar lick underneath. I didn't think that would sound right; in fact, it went against my grain of playing a guitar lick over such an important line.
"But Elton was very keen on it: 'David, I really want you to try that.' I said I would give it a shot. The part came up, I did the overdub, and sure enough, I thought, Oh, actually, that sounds pretty good.
"We kept it in and I doubled it." He laughs. "I have to admit, to this day, it sounds pretty good."
In stark contrast to his discography with John (21 studio albums), Johnstone's solo work includes just two albums – 1973's Smiling Face and his just-released set, Deeper Than My Roots (Cherry Red Records).
The guitarist had long planned on recording a new album of his own material, but touring commitments with John relegated the idea to back-burner status.
However, in March 2020, when he was halfway into the singer's three-year Farewell Yellow Brick Road tour, the COVID pandemic not only curtailed the band's shows but also shut down the entire concert industry.
Facing an extended period at home, he decided to get cracking. Johnstone recruited Nigel Olsson to play drums on one track, the soaring melancholic ballad "Melting Snow," and he tapped onetime Wings drummer Denny Seiwell for several other tracks.
For the bulk of the album, it's a family affair, with the guitarist's children performing a number of duties: Youngest child Elliot supplied lead vocals on all but one cut; Charlie Johnstone engineered, played keyboards and sang background vocals; Jesse Johnstone played drums and joined his father and eldest sibling, Tam, on writing, recording and producing the album's two instrumentals, "Black Scotland" and "Walt Dizney"; and daughter Juliet Johnstone conceived and designed the packaging.
It's a rich set that covers a lot of musical ground.
The shimmering album opener, "Go Easy on My Heart," has echoes of Roy Orbison, while the laid-back acoustic gem "Meu Amor" has a distinct Latin feel.
"Boxer in the Corner" is an edgy, almost lo-fi alt-rock number with moments of absorbing psychedelia, and toward the end Johnstone swoops in with a sparky, rousing lead.
A pair of tracks reveal more than a passing mid-to-late-period Beatles influence: "One Look in Your Eyes" is bathed in dreamy keyboards that bear a striking resemblance to "Blue Jay Way" and the lush harmonies sound reminiscent of the three-part vocals on Abbey Road's "Because."
(And just in case the Fab Four nods go over anyone's head, there's even a bonus cover of "Here, There and Everywhere," which features Johnstone's exquisite mandolin playing.)
Throughout the record, the guitarist doesn't showboat – indeed, even on the two instrumentals, he always plays in service to song and melody – and without reservation, he points to George Harrison as his North Star.
"George is one of my biggest idols, no doubt about it," Johnstone says. "I learned so much about what to play and what not to play from listening to him.
"He was a master of great guitar parts that always meant something. You would never hear him just soloing blindly; his parts came in and out, and they wove throughout a song and made the whole thing better.
"That's always been the way I approached playing, and it's something Elton has talked about in terms of how I play, which, of course, is a great compliment."
Earlier this year, Johnstone rejoined John to resume the second half of the farewell tour, with the final show booked for July 2023 in Sweden.
Asked if he considers the end of his performing days with the singer a bittersweet experience, the guitarist says, "No, no, not at all. I would call it a sweet experience. I'm happy to be almost done with touring.
"I've had an amazing, unbelievable career. I can't think of many bands who have been able to tour at this level over all these decades.
"It's especially nice to have Nigel back in the band – there were years when he wasn't playing with us. The same goes for [percussionist] Ray Cooper. So we've got Elton, Nigel, Ray and me finishing this wonderful thing together. I think that's pretty cool."
Bearing in mind that it would have been easy to come up with 100 or so tracks, we asked Johnstone to share his memories of recording five cuts with John.
1. "Mona Lisas and Mad Hatters" from 'Honky Chateau' (1972)
"Elton didn't really make demos back in the early days. Frequently he would simply play us a new song he'd just written, and a lot of times Dee, Nigel and I would be right there while he wrote. As he'd play, we'd start to work out our parts so that we knew what to do when it came time to lay down the track.
"Elton never said, 'I want you to do this,' or 'Please, don't do that.' We all did what we wanted. Gus Dudgeon would spur us on: 'Oh, that sounds amazing. Let's double-track that. Let's quadruple-track that.' It was all very fun.
"With 'Mona Lisas,' I remember Elton playing it, and I thought, Oh, wow, mandolin would be beautiful here – not only because of the Italian idea of Mona Lisa but also for the shimmering sound of the mandolin. I thought it would work well mixed with a bit of acoustic fingerpicking.
"Straight away, I knew what I was going to do. I was a skilled mandolin player, as I'd played it since I was 15. Plus, I had a background in traditional folk music. Mandolin, tenor banjo, dulcimer – I picked all that up in my teens. Elton appreciated that I would come to him with this tapestry of sounds.
"It was an easy track to lay down. I used an Ovation Spanish-style nylon-string acoustic guitar. It was a beautiful guitar. Actually, I used it again on Elton's [1988] album Reg Strikes Back. It wasn't a highbrow guitar, but it played beautifully and sounded great."
2. "Crocodile Rock" from 'Don't Shoot Me I'm Only the Piano Player' (1973)
"As Elton played it for us, it was obvious that it was a tongue-in-cheek send-up of rock and roll. He sang that high-pitched part [sings] – laaaa la-la-la-la-laaaa – like it was from [Pat Boone's 1962 hit song] 'Speedy Gonzales.'
"We were stealing little things. So I started thinking, Oh, how about some twangy Duane Eddy guitar parts? The song gave me a lot to work with.
"I have parts where it's very cool and clean, like the Shadows or the Ventures, and then in the chorus it's very crunchy and distorted. I think I did about eight or 10 tracks of guitar; I'd just pick my spots when I wanted to do them.
"I can't stress how much fun it was in those days, because it was just Elton, Dee, Nigel and me. We would do a track and somebody would go, 'Oh, you know what? Let's do some hand claps here.' Then we'd all run to the mic and do them. And we didn't spend more than a day on a song.
"For the clean parts, I used a black Stratocaster that I picked up in London in 1967. It was one of my favorite Strats, and it's now in the Rock and Roll Hall of Fame. Actually, I have a bone to pick with the people running the place because they never inducted the band into the Rock and Roll Hall of Fame, only Elton. So I want my guitar back!
"Anyway, I used that guitar, and on the crunchy sections I played a Les Paul goldtop.
"It's a good-time song. As soon as people heard it, they knew it was just fun, straight-up rock and roll. There were many years when we didn't play it live. It had become this thing where some people said, 'Well, it's a huge hit, but it's not very cool, is it?' I would tell Elton, 'Screw it. It's a great nod to rock and roll.'
"I'm glad we're doing it again in the set. All these songs are valid in their own way."
3. "Funeral for a Friend/Love Lies Bleeding" from 'Goodbye Yellow Brick Road' (1973)
"It's been a staple in our set for a long time. Of course, the song starts with that symphonic synthesizer section that David Hentschel did such a brilliant job on. [Hentschel, the album's engineer, wrote the intro using elements of various songs on the album and performed it on an ARP synthesizer.]
"Then we come in with the slow part, and it's just Elton on acoustic piano and me doing volume pedal slides that sound kind of like Indian flutes or something. From there, we continued straight on because we wanted 'Love Lies Bleeding' to come in after 'Funeral for a Friend' seamlessly.
"I did a bass guitar part during the whole of 'Love Lies Bleeding' on my Les Paul. It was a three-pickup Custom that Elton had bought at Manny's Music in 1972. I picked it out for him because he wanted a guitar. However, I unfortunately had some guitars stolen, so he said, 'Use this one for a while.' I ended up playing that guitar a lot, and it's on this song.
"I worked out a very specific guitar riff because Elton wanted a recurring part that was kind of ringing and chimey. It became sort of a theme of the song. There's also those big power chords that I play.
"A lot of people have said to me, 'That's so iconic,' which is always nice to hear. People have grown up hearing these parts. There's a lot of rhythm guitar throughout – that's the Les Paul going through a couple of 50-watt Marshall tube amps.
"For the solo section, I went back to the goldtop. I can't tell you how much fun it was to play a part like that. Elton was a huge guitar fan, but he'd never been in a band like ours, so he was loving it. He would always say, 'Do another guitar. Double-track that!'
"He didn't even put a piano on 'Saturday Night's Alright for Fighting' until after I did all the guitars. He was very enthusiastic, so we would layer four tracks of guitar, and the sound would get bigger and bigger."
4. "All the Young Girls Love Alice" from 'Goodbye Yellow Brick Road' (1973)
"It opens with that really cool guitar volume swell. That's through a Uni-Vibe, which I've used for various sounds since way back. In those days there was very little hardware available for guitarists. You maybe had a volume pedal, a Cry Baby wah pedal, a fuzz pedal and a Uni-Vibe.
"That was kind of it. But I loved the Uni-Vibe. When you put it to the upright position, you would get this beautifully slow phasing sound. Conversely, when you flattened it out, it would create this fast wobbly sound, almost like a guitar through a Leslie cabinet.
"I found out that if I used the Uni-Vibe in conjunction with my volume pedal, I got this wonderful singing sound as it got louder.
"Then I went into the guitar riff. It needed something kind of harsh and aggressive. Elton loved that one. It's another part that I came up with and he went, 'Oh, shit, that's great.' It's a very pumping song, so I pretty much jumped on what Elton was playing on the piano. I clicked off the Uni-Vibe and we just went to a straight crunch sound for the basic structure of the song.
"Then at the end, I did all kinds of overdubs, using, believe it or not, a bottle on my guitar strings. That's how I got all those phasing sounds. They sound like cars going by, which we did overdub as well, but a lot of them are guitar effects that I did."
5. "I've Seen That Movie Too" from 'Goodbye Yellow Brick Road' (1973)
"It's such an atmospheric song. For the bulk of the track, it was mostly acoustic rhythm guitar because I thought that gave it that nice darkness. Paul Buckmaster began writing this great string arrangement, and I didn't want to get in the way with too many electric guitars.
"However, Gus said, 'Look, I really feel that this should have a guitar solo.' So I said, 'Okay, why don't you flip the tape over?' I wanted to try a backward guitar solo. It wasn't so easy. You literally had to turn the tape over on the spools, rewind it and rewrite the track sheet so that we'd know which track the guitar was going to come up on. And you never knew what you were going to come up with when you played it back.
"Getting a backward guitar part is really hit or miss, but I've always loved the effect of it after I first heard the Beatles create it on songs like 'I'm Only Sleeping.'
"Gus got the tape all ready and marked it up where the beginning and end would be. My plan was to make half of the solo backward so it would be all cool and different, and at the end I'd bring in some straight-ahead electric stuff. I thought that would really tear people's hearts out. That's the way we did it, and it came out great. Obviously, there was some luck involved.
"When we all heard it back in the control room, everybody was screaming, 'Holy shit! That's it!' It was exactly what I wanted, and it sounded beautiful. There were a lot of good, happy accidents like that. Sometimes we tried things that didn't work out so well, but we had the luxury of experimenting.
"We were very fortunate to be able to do whatever we wanted on those recordings."
Browse the Elton John catalog here.
All the latest guitar news, interviews, lessons, reviews, deals and more, direct to your inbox!
Joe is a freelance journalist who has, over the past few decades, interviewed hundreds of guitarists for Guitar World, Guitar Player, MusicRadar and Classic Rock. He is also a former editor of Guitar World, contributing writer for Guitar Aficionado and VP of A&R for Island Records. He's an enthusiastic guitarist, but he's nowhere near the likes of the people he interviews. Surprisingly, his skills are more suited to the drums. If you need a drummer for your Beatles tribute band, look him up.