Duane Eddy: My Career in Five Songs
His twangy guitar has helped Eddy travel across decades and genres. These are the top cuts from his long-running journey.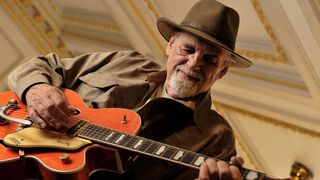 (Image credit: Future / Jesse Wild)
Duane Eddy has something only the greatest guitarists can claim: an instantly identifiable sound. The word twangy was coined to brand his sonic signature way back in the 1950s, and the tag has stuck ever since, thanks to its repetition in album titles like Have 'Twangy' Guitar Will Travel and The "Twang"s' the "Thang."
Remarkably, a record company executive rejected his first single for "sounding like somebody trying to string telephone wire across the Grand Canyon" – which is a pretty cool description of Eddy's magic.
Awarded Guitar Player's Legend award in 2004, Eddy was just the second recipient of the prize, beaten only by Les Paul the previous year. In the years before and since, he's enjoyed no shortage of justly deserved accolades. With one of the longest careers in rock and roll, Duane Eddy is a living legend.
Since scoring his first hit back in 1958 with "Movin' 'n' Groovin'," Eddy has chalked up numerous successes in the intervening 63 years, with no sign of slowing down. Bringing things right up to date, he got considerable airplay in 2020 with "Mendocino," Jeremy Fetzer's evocative spaghetti-western-flavored instrumental, which spotlights the inimitable sounds of his Gretsch 6120.
Eddy has a solid global fan base and regularly tours the world; his U.K.-based fan club, the Duane Eddy Circle, has been running since the '70s and still holds an annual convention. Eddy has had periods when chart success eluded him as trends changed, but the mark of a true artist is the ability to maintain the thing that makes them special, regardless of favor and fashion.
For Eddy, continuing to do what he does best has brought collaborations with a vast array of artists and self-confessed fans, including Paul McCartney, John Fogerty, and Jeff Lynne. He has his own theory about how he's maintained such a long-running career.
"I think it's important to be prepared to take a chance and do something oddball or off the wall," he says. "My hit with Art of Noise in the '80s [a remake of his his signature tune "Peter Gunn"] was a good example of that. I've played on some unlikely things over the years, such as 'Rock and Roll Lullaby' with B.J. Thomas. I even played music behind a cowboy poet once while he recited his poetry at rodeos. You have to be unafraid. Fear not and forward blunder!"
Anyone who's seen Eddy onstage in recent years will know that he is still delivering the goods and never tires of playing those timeless classics.
"There was a period, a long time ago, when I got bored and couldn't think of any fresh ideas," he admits, "but I worked my way through that and got myself on track again. I've been very lucky, I think. I didn't have anything else that I could do anyway, except maybe mow a lawn." He laughs. "I tried producing and publishing and neither one was satisfying, so I went back to being an artist."
"Movin' 'N' Groovin'" – Duane Eddy, Have 'Twangy' Guitar Will Travel (1958)
"As one review said, I burst upon the scene with 'Movin' 'n' Groovin'.' A big part of the song is based on the use of the Bigsby on my Gretsch. That kind of established my signature sound. I'd been playing a Les Paul, but I knew I really wanted a guitar with a vibrato arm.
"I traded the Les Paul in for a Gretsch 6120 at Ziggy's music store. I knew right away that it was what I wanted. It had the best neck I'd ever played. Everybody who ever tried it – from Buddy Holly, Merle Travis, Chet Atkins through to Larry Carlton – has commented on that neck.
"I was in England in 1960 at the same time as Eddie Cochran, not long before he died in the car crash, and we tried each other's guitars. He had a real nice neck on his, but he said to me, 'I think the neck on yours might just be better than mine.' If you buy a Duane Eddy model today from Gretsch, it has that same neck shape.
"That 6120 of mine is at the Musical Instrument Museum in Arizona. As I'm from Phoenix, they wanted to borrow it and put it on display there. They've even reconstructed the old studio where we recorded 'Movin'.' The engineer, Jack Miller, donated his old equipment, and it's set up just like we had it. I guess that must be one of the most iconic guitars from the rock and roll era."
"Three-30 Blues" – Duane Eddy, Have 'Twangy' Guitar Will Travel (1958)
"I'd seen some people play blues by the time I wrote this song, and I thought it would be a nice addition to the record. We could do whatever we wanted on an album for six or seven tracks.
"We'd put a couple on that we thought might be hits, like 'Peter Gunn,' which started out as an album track but became a hit because somebody pulled it off the record to release as a single. I wanted to do something different. I didn't want to play what I'd already played.
"I had my first fight with Lee Hazlewood, my producer, over that. He wanted to release another track as a single, and I said no, because I thought it was too similar to 'Rebel Rouser.' I said it'd be the death of me. He didn't understand it at first, but he thought about it and said, 'You could be right.' I met B.B. King not long after 'Three-30 Blues' was released, and he told me that he really liked it, so that was a fantastic seal of approval.
"Over the years, some people have suggested the song was influenced by [Bill Doggett's] 'Honky Tonk' and that kind of structured blues instrumental, but I don't think it is anything like it in terms of feel or tempo. It never occurred to me when I was writing it. I actually did record 'Honky Tonk' later on for RCA, and it's a great track."
"Peter Gunn" – Duane Eddy, Especially for You (1959)
"This was written by Henry Mancini and was originally a theme tune for the TV series of the same name. I guess it's possible that he may have been influenced by my sound for the main riff. I met him after I'd had my hit with it, although I didn't realize it was him at first.
"He ran up to me and said, 'Hi, I'm Hank Mancini. Thank you for doing 'Peter Gunn.' You've made a lot of money for me!' [laughs] That was one of those moments in life that you cherish.
"When we were recording the album, we were looking around for a final song when Steve Douglas, who played sax with me, suggested 'Peter Gunn.' I think he really wanted it out there because it was a great showcase for his playing and would help boost his profile.
"I thought that there wasn't really anything for me to do on it besides play that riff repeatedly, so I couldn't see it working. Then I came up with the idea of playing the low open E with the Bigsby depressed a half step before the band kicked in, and I guess that gave it something of my signature.
"When we recorded it, something went wrong with the equipment and we couldn't remix anything, but it sounded perfect the way that it was. I guess it mixed itself. Fast forward 25 years later and U.K. dance act Art of Noise asked me to play on their version, and it was a hit all over again. We were about as far apart as we could be in genres, but I think my sound can work against anything, and that was a great example."
"Don't Think Twice, it's All Right" – Duane Eddy, Duane Does Dylan (1965)
"This was the first Dylan song that I attempted, and I liked the way it turned out so much that it made me think I could do more like it. This is my favorite track on that album. I really liked Bob's songs, so we picked seven that seemed to work real well and added a few by other artists that were in the same vein, like 'Eve of Destruction' [written by P.F. Sloan and made famous by Barry McGuire].
"I realized that I'd got enough to put an album together, and then Lee suggested the album title. The guitar sound on this was a little different from my usual tone. The big thing in those days was the fuzz tone. I used that on most of the songs because that was what was happening on a lot of records, and I think it helped to make it sound a bit more contemporary.
"When I was working on the songs, I was actively looking for ways to arrange them to incorporate low open strings, to really capitalize on the Bigsby. This track was recorded with the 6120.
"I think I used the Dano six-string bass on a number of the other songs on the album. When I'm arranging, I try to be aware of using as many different keys as I can and utilize open strings. It helps keep it sounding like me, but of course there are limits to what keys you can effectively use and still make those low open strings work."
"Mendocino" – Jeremy Fetzer & Duane Eddy (2020)
"I already knew Jeremy from about five years before we recorded together. He has a band called Steelism, with a really great steel player from England named Spencer Cullum. He got my email address from Charlie McCoy, the harp player, and when he sent the email to me, Jeremy implied the email was from Charlie, as he thought I might not recognize his name and just disregard it.
"That worked, and he sent me a rough mix of the track with a piano outlining the main theme. I reproduced that part and added some of my own ideas for fills. I'd call Jeremy up and sing some of the melody lines over the phone, so he knew what I had in mind. Between us, we worked the rest out in the studio. It turned out great.
"His playing on there is just fantastic. It's a very atmospheric piece of music. It has been getting a lot of radio play, which I guess was a little unexpected, but it's nice to still be on the radio over 60 years after my first hit. I've been working on some new material of my own as well recently, so hopefully that will do as well as 'Mendocino' when it gets released."
All the latest guitar news, interviews, lessons, reviews, deals and more, direct to your inbox!
Mark is a freelance writer with particular expertise in the fields of '70s glam, punk, rockabilly and classic '50s rock and roll. He sings and plays guitar in his own musical project, Star Studded Sham, which has been described as sounding like the hits of T. Rex and Slade as played by Johnny Thunders. He had several indie hits with his band, Private Sector and has worked with a host of UK punk luminaries. Mark also presents themed radio shows for Generating Steam Heat. He has just completed his first novel, The Bulletproof Truth, and is currently working on the sequel.