Here's How the Doors Turned Their Vision of Psychedelic Music Into a Pop Phenomenon
Why the sum of the parts made the magic happen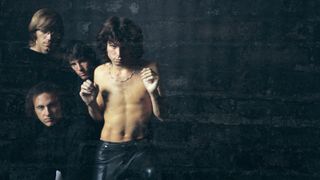 (Image credit: Mark and Colleen Hayward/Getty Images)
Formed in Los Angeles in 1965, the Doors turned their vision of psychedelic music into a pop phenomenon that resulted in millions of records sold in the wake of recording six studio albums in five years.
The Doors didn't ride the same wave that buoyed rock bands from the San Francisco scene, and, perhaps because of that, the music that Jim Morrison, Ray Manzarek, Robby Krieger and John Densmore created is timeless.
Innate talent may have been the main reason why the band developed so quickly, although having a residency at L.A.'s London Fog – where they played four to five sets a day – as well as becoming the house band at the Whisky A Go Go on Hollywood's Sunset Strip certainly helped them forge their sound.
However, to account for what the Doors accomplished, one has to appreciate how the sum of the parts made the magic happen.
"Jim told us at the very beginning, 'I've got this concert in my head. I'd like you guys to help me get it out,'" John Densmore recalls.
Morrison's behavior was unpredictable, to be sure, but he was a poet who possessed a voice like no other.
As Krieger says, "Jim had the most amazing vocal range I've ever heard. And not only the range but the power – and he was never out of tune. Jim was a total natural."
Krieger was influenced by players that ranged from flamenco-master Sabicas to Chuck Berry, Albert King, Wes Montgomery, Bob Dylan and Ravi Shankar (to name a few), but it's not easy to pin down where outside influences show up in his songs, even the early ones he wrote, such as "Light My Fire," "Love Her Madly," "Touch Me" and "Love Me Two Times."
"Honestly," Krieger says, "I only stole guitar ideas to write songs out of them, never to copy someone else's playing style.
"The only exception to that might be Duane Allman, whose slide style I really dug."
What we know is that Robby came into his own with astonishing speed after moving from flamenco and folk to electric guitar, where his jazz-inspired playing and round, rich tone quickly become sonic signatures for the Doors, particularly on "Light My Fire," where Krieger's melodic lead so perfectly balances Manzarek's charging, harpsichord-like organ work and Morrison's charismatic crooning and screaming.
On the early albums, Krieger played a 1964 Gibson SG Special with P-90s, which he mainly ran through Fender Twin Reverbs, often adding a Maestro Fuzz-Tone for grind.
In the studio, he says, "I always like to be really near the amp, to keep the dynamics going between the guitar and amp.
"Engineers would always want to put the amp in an iso booth, but that never worked for me."
He also varied his fingerstyle technique to get the sounds he was after, such as, intentionally or not, making the solo on "Roadhouse Blues" sound like he was using a pick.
"Robby never played with a pick," Densmore recalled. "He had these long fingernails on his right hand from playing flamenco, so when he'd take a solo or play a riff, he would play it with his fingers.
"They'd sort of crawl across the strings like a crab. It gave him this very unique, liquid style, a gloriously impressionistic sound."
Browse the Doors catalog here.
All the latest guitar news, interviews, lessons, reviews, deals and more, direct to your inbox!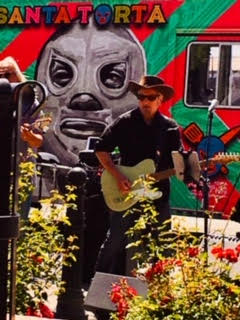 Art Thompson is Senior Editor of Guitar Player magazine. He has authored stories with numerous guitar greats including B.B. King, Prince and Scotty Moore and interviewed gear innovators such as Paul Reed Smith, Randall Smith and Gary Kramer. He also wrote the first book on vintage effects pedals, Stompbox. Art's busy performance schedule with three stylistically diverse groups provides ample opportunity to test-drive new guitars, amps and effects, many of which are featured in the pages of GP.