30 Classic Acoustic Albums You Must Hear
30 classic acoustic albums handpicked to inspire your playing.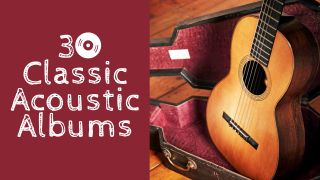 (Image credit: Future)
If you want to immerse yourself in some of the finest acoustic guitar albums recorded over the past 60 years, these discs are a great place to start.
For this list of 30, the GP team refrained from collections, and thus excluded some obvious selections from masters like Robert Johnson and Django Reinhardt. But we also made sure to include artists over a range of genres, including folk, rock, country, singer-songwriter and even New Age.
While it's by no means comprehensive, this list will open your ears to some acoustic artists and albums you may have forgotten about and others you may not be familiar with. Dig in and see if anything here inspires your own creativity.
JOAN ARMATRADING
JOAN ARMATRADING (1976)
Already two albums into her career, Armatrading was struggling to connect with listeners at a time when her brand of singer/songwriter folk was considered passé. For her self-title third LP, producer Glynn Johns brought in members of Gallagher & Lyle, Fairport Convention and the Faces to lend elements of rock, country and disco to her music, giving it both power and a contemporary sound. The result was an album that effortlessly blends eclectic folk songs with sophisticated pop. It also boasts the classic "Love and Affection," a big hit single on which the album blazed a trail both commercially and artistically.
MARTIN CARTHY
MARTIN CARTHY (1965)
Carthy's self-titled debut album revolutionized folk in the U.K. His pure and simple approach to the genre influenced many folksingers, notably Bob Dylan, who gave props to Carthy in the liner notes to The Freewheelin' Bob Dylan. The record features many of the traditional and contemporary folk songs Carthy would go on to perform regularly throughout his career. Highlights include the 17th century–style tune "And a Begging I Will Go," the emotional Irish revolutionary ballad "The Wind That Shakes the Barley" and a version of "Scarborough Fair" from which Paul Simon famously borrowed. It's a classic offering from a forgotten hero of the '60s folk era.
CHET ATKINS AND JERRY REED
ME AND JERRY (1970)
Atkins and Reed had been picking together for years before they teamed up for this acoustic album. Their easy interplay is obvious on Me and Jerry's collection of 10 songs, on which they smoothly trade licks, seamlessly finish each other's phrases and engage in some slick interweaving lines. While the musical selections are heavy on pop tunes, the duo also burn up their frets on Merle Travis's "Cannonball Rag" and Reed's "Stump Water." The two paired up again in 1972 for Me and Chet, but it lacked the easygoing charm of this first collaborative effort.
JOHNNY CASH
AT SAN QUENTIN (1969)
Coming one year after his Live at Folsom Prison album, this quintessential live album was recorded at the height of Cash's fame. Playing to a receptive audience, Johnny is clearly at one with the crowd as he tears through jailhouse ballads like "Starkville City Jail" and "San Quentin," not to mention rockabilly songs and classic hits like "I Walk the Line" and "Ring of Fire." But the standout track is undoubtedly his version of Shel Silverstein's "A Boy Named Sue," on which Cash shows his absolute mastery of the storytelling song genre. The full concert has since been issued as a double-disc set by Sony Legacy.
JOAN BAEZ
JOAN BAEZ (1960)
After her first appearance at the 1959 Newport Folk Festival, Baez was signed to Vanguard, at the time a relatively small folk label. This self-titled affair was her first studio album for the company, and it's a record with deep material and plenty of emotion. Most of the songs have their origins in "the old country," which in the folk world can mean England, Africa, Spain or deepest Appalachia. Baez's version of "Silver Dagger," an Appalachian ballad, is haunting and compelling, while "Preso Numero Nueve" foreshadows the strong political views she would later espouse, particularly in response to the Vietnam War.
TRACY CHAPMAN
TRACY CHAPMAN (1988)
One of the most stunning debut albums of all time, this record established Tracy Chapman as a major musical force. The songs cover such controversial issues as domestic violence, racial division and economic injustice, all the while maintaining immediacy and integrity of purpose. One of the most endearing features of Chapman's lyrics is her optimism that change is possible. There are many highlights, but the hits "Talkin' 'Bout a Revolution" and "Fast Car" are standout tracks that remain both topical and timeless. Chapman continued to release critically acclaimed and award-winning albums throughout her career, but her debut remains essential listening.
ERIC CLAPTON
UNPLUGGED (1992)
Clapton's first album release following the tragic death of his son, Conor, Unplugged came out just as MTV's acoustic concert series was starting to gather momentum. Fans were keen to hear how — and if — Clapton's songs would hold up when stripped of slick studio production, and the results were shockingly good. The artist was himself baffled by the album's tremendous success. The obvious highlight is the heartbreaking "Tears in Heaven," an elegy to his young son, as well as a reworked version of "Layla." In reality, though, Unplugged is also a fine blues album and includes great versions of several classics from the genre, including Robert Johnson's "Walkin' Blues."
BOB DYLAN
THE FREEWHEELIN' BOB DYLAN (1963)
This landmark album showed Dylan emerging as the most distinctive and poetic voice in American popular folk music. You could be forgiven for thinking of this as a greatest-hits album, as it features some of his most memorable songs from the early part of his career, including "Blowin' in the Wind," "Masters of War," "A Hard Rain's A-Gonna Fall," "Don't Think Twice, It's All Right" and "I Shall Be Free." The folksinger strums and picks his acoustic guitar with a sense of urgency, and his harmonica has a baleful sound that underscores his lyrics' darker aspects. This is early Dylan at his acoustic best.
NICK DRAKE
PINK MOON (1972)
Nick Drake was left hopeless by his lack of acclaim and commercial success. He tragically committed suicide nearly three years after releasing Pink Moon, his third and last album. Decades later, it finally achieved the recognition it deserved. Unhappy with the polished sound of his previous records, Drake made Pink Moon on his own, playing acoustic guitar and piano, and singing. The result is a nakedly honest and heartbreakingly beautiful record. The starkness of the music has drawn frequent comparisons to the work of blues legend Robert Johnson, whom Drake greatly admired.
TOMMY EMMANUEL
CENTER STAGE (2008)
There's no shortage of excellent acoustic releases in Tommy Emmanuel's catalog, but Center Stage gets the nod for being a live album on which the Australian fingerstylist puts his flawless guitar skills to work. Recorded for the PBS television series Sierra Center Stage at Sierra Nevada Brewery in Chico, California, it finds Emmanuel performing 24 cuts, including workouts of Beatles tunes, the standard "Georgia on My Mind," Merle Travis's "Nine Pound Hammer" and plenty of his own fine tunes. Better still, the entire show was filmed and is available on DVD, allowing you to watch Emmanuel's fingerwork up close.
AL DI MEOLA, PACO DE LUCIA & JOHN McLAUGHLIN
FRIDAY NIGHT IN SAN FRANCISCO (1980)
Recorded at the Warfield Theatre on December 5, 1980, this Grammy winner is considered by many to be one of the best live acoustic guitar albums ever released. It's strongly influenced by flamenco, and the only instruments played are the trio's three acoustic guitars. Highlights include "Mediterranean Sundance/Río Ancho" and the Egberto Gismonti piece "Frevo Rasgado," which features stunning improvisation leading into an apocalyptic finale. The album concludes with a studio recording of McLaughlin's "Guardian Angel," captured at Minot Sound in New York.
JOSÉ FELICIANO
FELICIANO! (1968)
José Feliciano found fame with this record, on which he presented his languid classical guitar interpretations of mid-'60s classic songs. The highlight is his soulful Latin-infused version of the Doors' "Light My Fire," a hit recording that became an international success. But Feliciano! features many other stellar covers, including the Mamas & the Papas' "California Dreamin'," Bacharach and David's "Always Something There to Remind Me" and instrumental versions of the Beatles' "And I Love Her" and "Here, There and Everywhere," where Feliciano's sense of melodic improvisation shines. With its stunning performances and well-chosen songs, Feliciano! is a classic.
BEN HARPER
WELCOME TO THE CRUEL WORLD (1994)
Harper's devotion to vintage acoustic guitars and use of the Weissenborn lap slide guitar imbued this outstanding debut album with sonic warmth and a bluesy vibe. Harper had been inspired by Bob Marley's activist music and Blind Willie Johnson's slide playing, and on Welcome to the Cruel World he merges these influences in a stew of socially aware rock, funk and soul. Two such numbers, "Like a King" and "Don't Take That Attitude to Your Grave," burn with conviction, while the tender ballad "Forever" demonstrates his emotional range. But it's his work on Weissenborn, Dobro and acoustic guitar that shine above all else.
LEO KOTTKE
6- AND 12 -STRING GUITAR (1971)
Leo Kottke belongs to that rare breed of virtuoso composers who broke new ground for the acoustic guitar while achieving enormous popularity in their lifetime. 6- and 12-String Guitar (also referred to as the Armadillo Album for its cover illustration) demonstrates his strikingly original guitar style, a melting pot of blues, bluegrass, classical and pop music. Upon its release, the album was rightly praised for the fact that it sounded vastly different from the work of other acoustic players. Kottke was clearly a master of inimitable acoustic steel-string fingerstyle pieces, one whose virtuosity could be both impressive and pleasing to the ear.
MICHAEL HEDGES
AERIAL BOUNDARIES (1985)
With his extensive use of alternate tunings and unusual techniques, including right-hand hammer-ons, slap harmonics and percussive tapping of his guitar's body, Hedges was a remarkably unique and inventive player. For many fans, Aerial Boundaries is the late guitarist's best album as well as being one of the most ground-breaking LPs in acoustic guitar history. It amply demonstrates how Hedges opened a new chapter in steel-string guitar playing. With its haunting melodies and trance-inducing guitar work, Aerial Boundaries sounds like nothing that came before it and remains a milestone.
LED ZEPPELIN
LED ZEPPELIN III (1970)
Led Zeppelin III saw the band leave the thunderous blues riffs of their first two albums behind and delve into pastoral acoustic folk. Granted, there are a few heavy rockers here, including "Immigrant Song" and "Celebration Day." But by side two, the record settles into English folk with "Gallows Pole," and the country hoedown romp "Bron-Y-Aur Stomp." "That's the Way" and "Tangerine" have country leanings, but the real deal here is "Hat Off to (Roy) Harper," a bottleneck blues based on the Bukka White song "Shake 'Em on Down." Originally a letdown to their rock fans, Led Zeppelin III has since been warmly reassessed.
BERT JANSCH
BERT JANSCH (1965)
The Scottish folk guitarist's list of celebrity admirers includes Jimmy Page, Neil Young, Noel Gallagher, Bernard Butler and Johnny Marr. Anyone who wonders why need only listen to this impressive self-titled debut solo album, on which his groundbreaking virtuoso acoustic guitar playing is in full evidence. Jansch recorded the album in a South London flat using a borrowed guitar and a tape recorder, and it deservedly earned him praise for his innovative technique and powerful songs. This particular album also features his biggest hit, the haunting "Needle of Death," written about the passing of a friend from a heroin overdose.
LINDISFARNE
NICELY OUT OF TUNE (1970)
Little known in the U.S., Lindisfarne are a five-piece British folk-rock act. Nicely Out of Tune, their debut album, is a platter full of guitarist Alan Hull's literate acoustic songs and is best remembered for the shimmering hit single "Lady Eleanor." Often compared to Fairport Convention — thanks to their similar use of mandolin, fiddle and harmonica alongside delicate acoustic picking and occasional electric guitar — it's actually quite hard to pin a tag on Lidisfarne, as they quickly developed their own unique sound. This ramshackle debut has become a classic, and Elvis Costello singled out the cut "Winter Song" as one of the greatest tunes of all time.
JOHN MARTYN
SOLID AIR (1973)
John Martyn began his career as a purveyor of American blues and traditional English folk. But with Solid Air, his fourth album, he merged elements of jazz, blues and rock without entirely obliterating the acoustic folk at the core of his sound. Martyn wrote the title track as a tribute to his friend Nick Drake, then suffering with debilitating depression that would wind up having fatal consequences. Another number, "May You Never," is a favorite of Eric Clapton, who covered it on his 1977 album, Slowhand. Though Martyn's genre blending cost him some listeners, it also won him new legions of fans and resulted in an album that is today considered a landmark in British folk.
JONI MITCHELL
BLUE (1971)
Many regard Blue as Mitchell's best album, one that introduced the confessional singer-songwriter's original style to a mass audience. One of the many highlights has to be the eerie, doom-laden "This Flight Tonight," which was later covered by heavy rockers, Nazareth. But in truth, almost every song on it is a classic, in particular the tracks "The Last Time I Saw Richard," "A Case of You" and "California." The music alternates between acoustic guitar and piano-dominated arrangements, and Mitchell is supported by heavyweights like Stephen Stills and then-current flame James Taylor. Popular folk music just doesn't get much better than this.
RALPH McTELL
SPIRAL STAIRCASE (1969)
McTell, like Don "American Pie" Mclean, is usually associated with one particular major hit single. In his case it's "Streets of London," originally from his second album, Spiral Staircase. This low-key acoustic version is more sparse than the mid-'70s re-recording that made it a huge success in the British charts. The tone of the album is largely acoustic, with occasional orchestral arrangements by Manfred Mann's Mike Vickers. As with several other folkies at the time, McTell offers a smattering of blues, notably Robert Johnson's "Kind Hearted Woman Blues," alongside a selection of hauntingly ethereal songs.
VAN MORRISON
ASTRAL WEEKS (1968)
Recorded in New York City with a team of seasoned jazz musicians and a string quartet, Astral Weeks defined Van Morrison's sound even as it defied easy categorization. Over this eclectic backdrop, Morrison plays acoustic guitar while plying his elastic vocal style to wring passion and meaning from every syllable. The result is a sort of Celtic folk-blues-jazz that feels organic despite the inherent disparities in those styles. Among the highlights are "Madame George," which captures the mixture of joy and sadness that comes with the loss of innocence, and "Cyprus Avenue," a song about unrequited love.
DON McLEAN
AMERICAN PIE (1971)
No one expected much of American Pie. Its lengthy title track — an allegory about the history of rock and roll — had a catchy chorus, but it seemed unlikely to find an audience on radio. How wrong they were. "American Pie" became a huge hit, making Don McLean a star. This album, his second, is noteworthy for containing not only that tune but also "Vincent," his heartfelt tribute to Van Gogh. American Pie ultimately remained on the charts for 48 weeks and went Gold, making it one of the most famous folk albums of all time. But as "The Grave" and "Babylon" prove, there's more here than just the hits.
NIRVANA
MTV UNPLUGGED (1994)
It might not be an obvious choice for a classic acoustic album roundup, but Nirvana's MTV Unplugged revealed the grunge giants' vulnerable side, forcing those put off by the band's heavier hits to reassess their opinions. The urgent, unsettled sounds of Nirvana's electric tunes are replaced by a relaxed, toned-down vibe. Kurt and company tackle several covers, the best of which has to be their heartfelt rendition of Lead Belly's "Where Did You Sleep Last Night." Before MTV Unplugged, Nirvana could have been a cultural phenomenon stuck in their time. This album showed the world that wasn't the case.
PAUL SIMON
PAUL SIMON (1972)
It must have been nerve racking to follow Simon & Garfunkel's masterpiece Bridge Over Troubled Water with a solo venture. A far more modest affair, Paul Simon's solo debut is all the better for it. He recorded it with an eclectic crew of players — including jazzmen Stephane Grappelli, Jerry Hahn and Ron Carter — resulting in its varied musical palette. The reggae "Mother and Child Reunion" and the Latin-inflected "Me and Julio Down by the Schoolyard" are highlights, reflecting the LP's uptempo charms. Simon offers such an range of moods on this album that it remains one of the best in his solo catalog.
CAT STEVENS
TEA FOR THE TILLERMAN (1970)
Cat Stevens was always seeking some form of spirituality. He eventually found it later in life in the form of Islam. But back in 1970, on Tea for the Tillerman, he crafted songs about rejecting the modern world in favor of spiritual fulfillment. Of all the Brit folk-rockers, Stevens was perhaps the most gifted tunesmith, perfectly illustrated by standout tracks such as "Wild World," "Hard Headed Woman," "Father and Son" and "Where Do The Children Play?" Rendered with simple, sparse arrangements of guitar, piano, bass and drum, the songs are timeless and carry messages that still resonate today.
SIMON & GARFUNKEL
PARSLEY, SAGE, ROSEMARY & THYME (1966)
Following the success of their folk-rock single "The Sound of Silence," Simon & Garfunkel hurriedly recorded the uneven Sounds of Silence album. Determined to do better, they took three months to craft this, their third album, and the results speak for themselves. Parsley, Sage, Rosemary & Thyme was a breakthrough on which they successfully merged folk with rock and roll. Its high point is the opening cut, "Scarborough Fair/Canticle," a beautiful piece relying simply on acoustic guitar and harpsichord to convey its haunting marriage of English ballad and antiwar plaint.
JAMES TAYLOR
SWEET BABY JAMES (1970)
Following a brief stint with the Beatles' Apple Records, Taylor landed at Warner Bros., where he recorded this, his second album. At times reminiscent of the Band, the Byrds and Dylan (in his country phase), Sweet Baby James is widely regarded as the folk-rock classic that made James Taylor a household name. The songs "Country Road" and the title track hint at Taylor's personal demons and desperation, but the album's heart is "Fire and Rain," a song inspired by his stay in a psychiatric institution and the suicide of a fellow patient. For lovers of folk-pop, this is a benchmark album.
ELLIOTT SMITH
EITHER/OR (1997)
Arguably the best alternative acoustic solo artist of his time, the late Elliott Smith wore his influences on his sleeve. They included Beatles-esque melodies, Arlo Guthrie–style fingerpicking and dark, Nick Drake–inspired lyrics. Like his first two albums, Either/Or was made largely at various homes, the melancholy acoustic tunes and sparse arrangements benefiting from the lo-fi limitations of the recording equipment. His ethereal fingerpicking on "Angeles," a tune featured in Good Will Hunting, is a prime example of how Smith used his acoustic guitar to underscore the emotion and mood at the heart of his music.
NEIL YOUNG
HARVEST (1972)
When Neil Young found himself in Nashville in 1971, he decided to lay down some newly penned numbers with an impromptu band featuring steel guitarist Ben Keith, bassist Tim Drummond and drummer Kenny Buttrey. Known as the Stray Gators, they recorded Harvest, one of Young's most enduring and best-loved albums. The songs — including "Heart of Gold," "Old Man" and "The Needle and the Damage Done" — are about loneliness, loss, despair and longing. While the styles range from country to rock to folk to orchestral, Harvest is unusually (for Young) melodic and accessible.
All the latest guitar news, interviews, lessons, reviews, deals and more, direct to your inbox!
Guitar Player is the world's most comprehensive, trusted and insightful guitar publication for passionate guitarists and active musicians of all ages. Guitar Player magazine is published 13 times a year in print and digital formats. The magazine was established in 1967 and is the world's oldest guitar magazine.
When "Guitar Player Staff" is credited as the author, it's usually because more than one author on the team has created the story.