"I'm Definitely Not a One-Guitar Person": Carlos Santana Pulls out His Favorite PRS, Gibson and Fender Axes
"It may look nice, but if it doesn't have the tone I want, I'm not interested," says the discerning six-string master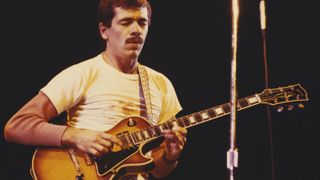 (Image credit: Michael Putland/Getty Images)
"When it comes to marriage or relationships, I'm a one-person person," says Carlos Santana, who married his drummer, Cindy Blackman, after proposing to her onstage at a gig in Illinois. "But when it comes to guitars," he adds, "I'm definitely not a one-guitar person."
However, Carlos has been pretty brand-loyal over the course of his almost 50-year career. He was a staunch Gibson man in the years following his eponymous band's debut at Woodstock. The SG he played at that historic 1969 festival didn't last very long, but one magical Les Paul served him through Santana's classic golden period, from 1970 to 1972, when he made Abraxas, Santana III and Caravanserai.
Carlos switched to Yamahas in the mid Seventies, designing his own model in collaboration with the Japanese guitar-making giant. But ever since the early Eighties, he has been one of the foremost advocates of Paul Reed Smith guitars.
He rode a PRS to fame on his phenomenal 1999 comeback album, Supernatural, and on many other outstanding recordings. Smith himself will tell you that Santana can be demanding when it comes to guitars. Much like the renowned guitar maker, Carlos has a great ear and can assess a guitar's tonal virtues after playing just a few notes or chords on it.
"As soon as I hear it, I can tell if it's gonna be a lamp or something that can go onstage," he says, and laughs. "You can tell when a guitar sounds all nasal and weird. All you can do with it is wire it up for a light bulb and put a lampshade on it. That's all it's good for. It may look nice, but if it doesn't have the tone I want, I'm not interested.
"Some people might add a lot of pedals to fix the tone, but that's not for me. It's gotta be straight from my fingers to the amplifier. If it don't sound good like that, you're not gonna fix it with a mixing board or computers."
Still, Santana isn't averse to picking up the occasional Strat or other guitar, as long as the tone is there. Pulling out some of his finest instruments, he just can't resist plugging a few into an amp and letting rip.
1968 Gibson Les Paul Custom
This instrument, a refinished maple-top Les Paul, is pretty much the holy grail of Santana guitars. Carlos purchased it at Prune Music in San Francisco in 1970, shortly after his group's big breakthrough. It was a replacement for the red Gibson SG he played at Woodstock.
"That SG wouldn't stay in tune, so I destroyed it," he says. "At the time, if I wanted a new guitar, I had to ask the band, 'cause we were all paying for it. The band didn't want to get me a new guitar, so I destroyed the SG. Then I had to get a new one. This guitar was my main workhorse for at least seven albums. It's got the tone, the feel. You grab it and it's ready to go."
This is the guitar that generated the fiery leads on "Black Magic Woman/Gypsy Queen," "Oye Como Va," and, indeed, just about everything else on the classic Abraxas album from 1970, as well as the inspired discs that followed in its wake.
PRS Santana Model Prototype
Master guitar builder Paul Reed Smith began showing Santana his guitars in 1976, just as Smith was launching his business. The instrument that hooked Santana was the legendary Paul Reed Smith Golden Eagle, the first maple-top guitar Smith ever built, owned by Heart's Howard Leese.
Carlos borrowed the guitar to play the leads on his 1981 Zebop! album and fell in love with the instrument.
"It had a very rich, low, masculine tone," he recalls. It was like, 'Ooh, I've been playing a soprano, and this is a tenor.'"
Santana commissioned Smith to start building guitars for him. The guitars that Smith custom-built for Santana in the Eighties would eventually become the basis for the PRS Santana II model. The one guitar that particularly pleased Carlos was the model seen here, known in the Santana camp simply as Number Two.
PRS Santana II "Supernatural"
"This guitar really is supernatural. I played most of the Supernatural songs on it. There is the Woodstock guitar and there is the Supernatural guitar. Those are huge doors to walk through."
Of the many guitars that Paul Reed Smith has made for Carlos, this one holds a very special place in the guitarist's collection. It arrived just as Carlos was beginning work on Supernatural, which would usher in an exciting new phase of his career.
Carlos has often spoken of being divinely guided in creating Supernatural, and the guitar's appearance seems providential.
Carlos calls it his Red Coral guitar. He knew there was something unique about it as soon as he picked it up. "It was the tonality, the weight of it, and the feel of it," he says. "And the color: a beautiful orangey, salmon red. A lot of times, the color of a guitar changes the mood for me. And what can you do without the right mood?
1952/1953 Gibson Les Paul
Another historic Les Paul in Santana's collection is this instrument that belonged to the late blues master Mike Bloomfield. "He was one of my first heroes," Carlos says. "Before I heard Eric Clapton or Jimi Hendrix, I heard Bloomfield and Elvin Bishop in the Butterfield Blues Band in 1965. So I treasure this guitar."
It was Bloomfield who gave Carlos his first shot at notoriety, inviting him onstage to jam at the Fillmore West. The event led to Santana's discovery by Fillmore owner and entrepreneur Bill Graham.
Also notable is the fact that this Les Paul was originally a gold top and was subsequently refinished with a flame top. In addition to the refinish job, the original trapeze tailpiece has been replaced with a Tune-o-matic, and humbuckers have taken the place of the original P-90s.
1963 Fender Stratocaster
Carlos picked up this Strat at a Guitar Center sale several years ago. He recalls, "They told me, 'Some guy in Ukiah [California] had this under his bed for years.'" He bought the guitar on the spot and used it to play his interpretation of "Little Wing" on Guitar Heaven.
Carlos has fond memories of a recent gig at which he played this Strat through Stevie Ray Vaughan's legendary Dumble Steel String Singer amp.
"When I got this guitar, I had the same dream over and over, where Stevie Ray came to me," he says. "In the dream, Stevie Ray said, 'Listen, Carlos, you know where I am, man. I'm not in the body anymore. And where I am, I have no fingers. I'm just pure light. But I miss the sound and feel of my guitar. Please call my brother Jimmie and ask him to lend you my Steel String Singer. I need to feel your fingers through this amplifier.'
"A few nights later, I had the dream again. So I called Jimmie Vaughan and asked to borrow the amp, and he was like, 'Hell no!' But then René Martinez, who was Stevie Ray's guitar tech, had the same dream too. He called Jimmie and told him. Next thing I knew, the amp arrived.
"The amp and the Strat came in time for a gig at Madison Square Garden. I plugged the guitar into the amp at soundcheck, and it was like...whoosssh! I said, 'I wanna play the whole concert with this!'"
All the latest guitar news, interviews, lessons, reviews, deals and more, direct to your inbox!