"I Wanted to Please My Wife and the Music": How Carlos Santana Recorded 'Give the Drummer Some'
The guitar legend talks Cindy Blackman Santana's star-studded long-player.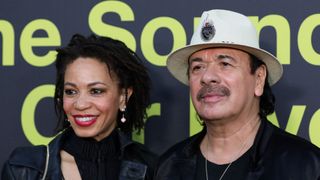 (Image credit: JB Lacroix/ WireImage)
With guest spots from Vernon Reid, John McLaughlin, Kirk Hammett and Carlos Santana, drummer Cindy Blackman Santana's latest album – Give the Drummer Some – has its focus firmly on guitarists.
It might surprise people that your wife, a drummer, created such a weighty electric guitar record.
Perhaps, but I can see it quite clearly because of the core principles of who she is. She's Tony Williams Lifetime, so that's John McLaughlin. But there's also Cream and Led Zeppelin, Jimi Hendrix. She's all of that.
Is there any difference in how you two work when she's playing in Santana or when you're playing on her music?
You know, it's different for me, because for the last 25 years I've been the director or the producer. Playing on Cindy's album was very relaxing for me, because all I had to do was listen to the music and do my best to complement each song. I wanted to please my wife and the music, so that came easily. [laughs] It was a privilege. And I mean that with honor and with zest and joy. Cindy's record was presented before me as a gift, and I liked being in a position to be directed or pointed toward something.
Your playing throughout is spectacular, particularly what you did on "Imagine."
That track blew me away. I had no idea what was going to be coming out of the speakers when they played it for me. I had no preconceived thoughts about what I was going to do. So when they turned it up, I immediately felt like a kid who could jump up and down on a bed. I looked at it like, Okay, I'm in AC/DC or Led Zeppelin. I'm in Queen! I was given the chance to tear it up, and that's what I did. I brought the energy. I mean, we have reverence for the Beatles and John Lennon, but I wasn't thinking of those confinements
Can you talk a little bit about playing with Vernon Reid on "Black Pearl"?
Oh, that was great. I loved Vernon from the beginning. I think one of the main things that Vernon and I have in common, besides playing the guitar, is that we both love Dionne Warwick and Sonny Sharrock – Dionne for the way she carries a melody, and Sonny Sharrock for how he was this tornado, a force of nature.
One thing I'm looking to do is make an album that honors his music. I would have Sonny's band but also invite different musicians – Vernon, Jeff Beck, Eric Johnson, Kirk Hammett – just playing nothing but Sonny Sharrock music. It's a dream I have.
It's interesting that John McLaughlin is on Cindy's album. You guys go back a long way, to at least 1973, when you recorded Love Devotion Surrender together.
That's true. I'd love to do something else with him in the future. Maybe I'll invite him to participate in this Sonny Sharrock adventure. But I love what he did on Cindy's record. Everybody played so beautifully.
And you know, something else I want to say: Thank you for having the passion to keep the six strings alive. Your spiritual frequency, the frequency of this magazine, is very much needed. We need to create a whole new army of guitar players – not guitar heroes, not that. We need real guitar players. I'm watching a new wave of youngsters, under 12 years old, coming out with some divine, mean intentions. So that's encouraging.
Visit Cindy Blackman Santana's website to order Give the Drummer Some.
All the latest guitar news, interviews, lessons, reviews, deals and more, direct to your inbox!
Joe is a freelance journalist who has, over the past few decades, interviewed hundreds of guitarists for Guitar World, Guitar Player, MusicRadar and Classic Rock. He is also a former editor of Guitar World, contributing writer for Guitar Aficionado and VP of A&R for Island Records. He's an enthusiastic guitarist, but he's nowhere near the likes of the people he interviews. Surprisingly, his skills are more suited to the drums. If you need a drummer for your Beatles tribute band, look him up.