Here's Why Santana's 'Abraxas' Is a Lesson in Finding Your Own Voice on Guitar
The band's 'Billboard' number one album remains the most focused and concise album from Carlos's group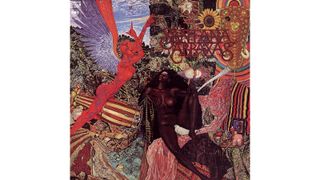 (Image credit: Columbia)
Santana issued Abraxas, their second studio album, in 1970. Although the release isn't always perfect, pound for pound it remains the most focused and concise album from Carlos Santana's group, which at the time featured keyboardist Gregg Rolie, bassist David Brown, drummer Michael Shrieve, and percussionists José "Chepito" Areas and Michael Carabello.
Consider Carlos' iconic solo on "Black Magic Woman." Most of us know it by heart, and it rings like a familiar nursery rhyme we've heard since childhood. It's the melodic centerpiece of the tune, and a wank-free zone at that.
"Samba Pa Ti," my personal favorite track, made a huge impact on me. It's a powerful, melodic performance, retaining the song's core mood without losing its ability to captivate, something Santana did so well.
To me, this instrumental is almost on par with Santo & Johnny's "Sleep Walk": It conjures distilled emotions and captures one's imagination so well that it could almost inspire a book or movie. I still marvel at how Carlos never self-indulgently leaves the scripted mood while effortlessly walking a tightrope of melodic understatement.
On "Samba Pa Ti," we are offered a front-row seat to his talent for musical storytelling. If I were to make the perfect Santana group record, I might Frankenstein Abraxas and Santana III, the latter of which has some "out of the park" home runs.
They include "Jungle Strut," which sounds like what you might get if the Allman Brothers were born in Cuba and started a revolution.
Guitarist Neil Schon, then new to the group, comes on like gangbusters and elevates Carlos to new shredding heights.
Schon's solo on "Everybody's Everything" sounds like Eric Clapton after drinking three gallons from the Fountain of Youth. That said, Abraxas is a more realized body of work than Santana III, with the group's ambitious musicality caged within catchy pop structures.
The tracks are played by a band accustomed to facing an audience, and determined to move its listeners. In essence, the Santana group is one of the greatest bar bands of all time.
Carlos Santana's elegant melodicism and sensibility made a deep impression on my own approach, and I still apply the tools he gave me. I try to remain close to the integrity of the song, and soulfulness is best when wrangled intimately from the fretboard.
The most important lesson I derived from him is that having your own distinct voice is the ultimate goal.
On some of his post-Santana group playing, Carlos let notes sustain to the point where a listener might go make a sandwich and come back without missing anything.
But his solo work on Love Devotion Surrender with John McLaughlin, the title track to 1973's Welcome, and the songs "Promise of a Fisherman" (from 1974's Borboletta) and "Europa" (from 1976's Amigos) stand as examples of an artist successfully seeking to grow.
Carlos remains a master storyteller who expresses himself through his instrument.
Order the Santana classic Abraxas here.
All the latest guitar news, interviews, lessons, reviews, deals and more, direct to your inbox!
Jim Campilongo has 14 critically acclaimed instrumental records available on vinyl, CD and digital download here.