Neal Schon on Finding His Voice as an Instrumentalist, Learning Groove with Santana, and Recording Without an Amplifier
Schon casts his guitar in the role of lead singer on 'Universe,' his new instrumental album.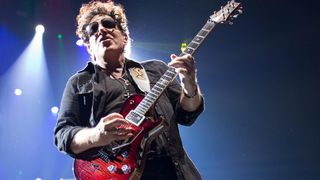 (Image credit: Photo by Brian Ach/Getty Images for Journey)
You can't lock Neal Schon down. Sure, his band, Journey – one of the highest-grossing rock groups of all time – has put touring on pause as the world struggles with its first major pandemic in a century.
But as you can tell from the epic solos and backing-track jams Schon posts nearly every day on Instagram, nothing gets between him and quality time with his favorite guitars.
"I love doing that, man," Schon says. "Playing every day is something I need to do. And I think as a guitar player, the more you use your muscles in your hands and everything that is attached to them, the better they work. It frees you up. I believe playing everyday has helped me avoid joint problems, carpal-tunnel problems, and all that."
But if you think rocking out like a teenager on social media is all Schon has been doing since lockdown, think again. The San Francisco–based guitarist's impressive career – a wild ride that earned him national renown in 1971, when, at age 17, he joined Santana – continues. And, pandemic or not, he's been quite busy.
First, Schon has partnered with the "augmented reality" scanning app StraxAR. "It's a brand-new thing that reacts to images," Schon says. "When you hold your phone up to the image of, say, one of my solo records or a Journey record, I appear in front of you, updating you on stuff happening that day, or playing something for you.
"I think it's going to be great for artists on tour, because it will be a cool way to fill people in on where you are, how things are going or what you're working on." Second, he's has been making some exciting investments.
In addition to purchasing a residence in Nashville to complement his West Coast digs, he has added several vintage guitars to his stable, including Gibsons – "everything from Les Pauls to jazz boxes" – and various Fenders.
"One cool acquisition was getting back my late-'70s Les Paul Pro, the guitar I used in Journey all those years, from the guy I sold it to," Schon says. "I'm so glad he still had it. I have a lot of fun picking up one of my old axes after I haven't played it for a while. This one is a '77 or '78 model I got from Don Wehr's Music City, and it had P-90s on it, but I had never paid much attention to its construction.
"Turns out that the neck, which I had always assumed was mahogany, is maple, and the fretboard is ebony. That's the guitar on a lot of Frontiers, Escape, and other albums, and on solos like 'Who's Crying Now.' It has a nice, natural compression to it."
For guitar players, though, the most exciting Neal Schon news is that he opened up an arsenal of his favorite guitars – some of which are outfitted with guitar-solo-friendly accoutrements such as Floyd Rose locking tremolo systems and/or Fernandes Sustainer circuits – and released Universe, a new album comprising 15 blazing guitar-powered covers and original tunes.
Many of the songs were written and produced by one of Journey's new members, famed drummer/producer Narada Michael Walden. Even if you casually keep up with the latest rock news, you probably know Schon announced last year that, going forward, Walden and former Journey member Randy Jackson will take over the drum and bass chairs, respectively.
This comes after lawyers for Schon and longtime Journey keyboardist Jonathan Cain filed a lawsuit alleging that former drummer and bassist Steve Smith and Ross Valory attempted "a coup to assume control of one of the band's corporate entities, Nightmare Productions, Inc."
"The legal stuff has lasted a lot longer than I wished it would have, but I believe we're very close to coming up with an amicable, fair resolution for all," says Schon, who offers this free legal advice to anyone who's in an up-and-coming band: "Make sure you meet up with a great trademark attorney and that everything is done correctly from the get-go, because people like to do handshake deals in these kind of situations," he says.
"Even going back to '72 or '73, our trademarks were never really done correctly. Get those things tied down."
You're known for your melodic, highly singable solos. But having been to a few of your soundchecks and watched you alone on big stages playing rhythm parts to songs such as "Lights," "Don't Stop Believin,'" and "Mother, Father," I'm also amazed by your great pocket as a rhythm guitarist. Can groove that deep be consciously developed, or is it something you have to be born with?
For me, I think the groove comes from playing with great drummers, and it goes all the way back to playing with Santana, which featured an army of great drums and percussion. The beauty of being on stage with that band is that the rhythm section was led by [José] Chepito Areas, the multitalented timbale player. He was the cat, man.
Back then, lots of bands were using click tracks or machines to make the time sound perfect on records, but we had Chepito. He sounded like a metronome with soul.
He was the one driving the groove for us, and we all had to fight to keep up with him. And though everybody was good in their own right, not everybody has the impeccable timing that he has, so there was magic in some of the discrepancies here and there between the different players.
There was this whole energy that arose from that, and I started to see why it was working. Being in a group like that teaches you how to put people together in ways that will make musical sense. Sometimes you see cats try to put together superstar bands with famous players who all have chops beyond belief, but while the result doesn't sound bad, it doesn't make magic, you know?
It now seems only fitting that your new album is produced by a great drummer. Tell us about Narada Michael Walden.
Narada was first known for being a great fusion drummer. I learned about him when he got the Mahavishnu Orchestra gig with John McLaughlin after Billy Cobham left. And back in the early days of Journey, we actually opened up for McLaughlin on a couple of dates when Narada was on drums.
And of course, with both of us living in Marin County, Narada and I would run into each other over the years, whether it was Christmas time at the mall or at Starbucks, and we even jammed from time to time. And I watched his career bloom beyond drums into becoming a phenomenal songwriter. I knew he wrote well, but I had no clue what a great producer he was until I started working with him.
He approached Universe differently from other records I've done in the sense that he treated me as a vocalist. Most of the original songs on the record are his, so he gave me demos to take home and learn. He's a fantastic keyboardist, but as for the melodies he wanted me to play, he just sang those, and that's how I learned them.
At first, I took his vocal melodies to be just a roadmap for me to veer off of and do my own thing, and I started doing that almost immediately. That's when he stopped the session and said, "What are you doing, man?" And I said, "Well, I'm playing."
He goes, "Where's my melody?" And I go, "Well, I think it's there." He says, "No, no, man, we're going to go back learn this melody exactly. Why do you think I sang it?" It was the first time anybody had done that to me, because usually I'm working on Journey material where there are songs with a vocalist.
Doing Universe, I learned a lot about how to simplify things and stay really tuned in to the melody. When I came in to do the first song, "Something in the Heart," it wasn't hard, but it wasn't super easy, either, because there aren't a lot of notes to it, which means you really have to stretch those notes out – you have to play everything in the right place phrasing- and intonation-wise, with the right vibrato and the right tone.
Of course, you've had a distinctly vocal style of lead guitar since the beginning, it seems. Did you actually sit down and learn to play vocal melodies when you were a teenager?
Yeah, I did, but I was more trying to cop the vibrato of a vocalist – like Aretha [Franklin]. I'd sit there for hours trying to capture that soulful vibrato of hers and some of those blues turns she would do. She sings blues over the top of everything, you know, and I really love the blues. So she was really prominent in inspiring me.
And when I was 12 or 13, I started going to see her at the old Fillmore West in San Francisco, and in her rhythm section would be Cornell Dupree, Bernard Purdie, and Chuck Rainey. I'd be like, "Wow, this is insane. This band is so good." Of course, it wasn't until much later that I learned how really good these guys were.
The covers on Universe are powerful, too – like your "Voodoo Child"/"Third Stone from the Sun" medley, which has a lot of wild feedback on it. Were you in the room with an amp?
Actually, there are no guitar amps on the whole record. Aside from a mini pedalboard that pretty much just had a Dunlop Cry Baby wah and a Dunlop Fuzz Face on it, I did most of the album with the Fractal Axe-Fx – version II, I believe. And that feedback you're talking about is the Fernandes Sustainer.
I think at the time I started using Sustainers, nobody else really was, and I was installing them in all kinds of different guitars.
I love Fernandes. I'm fortunate that they've been cordial enough to keep making them for me like they did years ago. I know Satch and Vai and Phil Collen use the Sustainiac – which sounds great and does its own thing, but it's completely different than the Fernandes.
To me, the Sustainiac feels more like you've got an EBow right on the strings. I mean, when you turn it on, it really vibrates, as if there's a motor on in there. But I can roll back the Fernandes with a tone knob – like if I want to barely turn it on.
I love that you did "Purple Rain" all the way through, including the psychedelic, floating-in-space end section.
For that song I played my Paul Reed Smith NS-15 – a beautiful semi-hollow guitar with a Floyd – into a Kemper. The inspiration for doing that song came from playing a Journey concert in the Twin Cities area, Prince's hometown, in 2016, not long after he had passed.
Since I'm always creating loops on the fly in my solo sections and playing over them, I decided that night that I would lay down some "Purple Rain" chords and see what happened. The audience loved it, and I think they were really moved by it. The moment stuck with me, so I decided to record a version of it as a dedication to Prince.
I contacted [Nashville producer] Gary Cirimelli, and said, "Can you please orchestrate this? Let's do the long version." Nowadays, I use my Fractal to do spur-of-the-moment loops onstage, but that night in St. Paul, I was using a Boss Loop Station pedal.
It's fun to do things like that live – like the "Hey Jude" bit, which is also on the new album – because audiences recognize what you're playing and start singing along.
What stage are you, Narada, and the rest of the guys at in the creation of the next Journey record?
We've got three songs mixed and ready to go, and plan to gradually release them this year. And then, by the end of '21, we plan on bringing the whole album out, followed by a worldwide tour in '22. Even though we're talking about my record today, I'm very excited about this new Journey record. It's sounding very, very strong.
Universe is out now via Neal Schon Music.
All the latest guitar news, interviews, lessons, reviews, deals and more, direct to your inbox!
Los Angeles Editor, Guitar Player
Whether he's interviewing great guitarists for Guitar Player magazine or on his respected podcast, No Guitar Is Safe – "The guitar show where guitar heroes plug in" – Jude Gold has been a passionate guitar journalist since 2001, when he became a full-time Guitar Player staff editor. In 2012, Jude became lead guitarist for iconic rock band Jefferson Starship, yet still has, in his role as Los Angeles Editor, continued to contribute regularly to all things Guitar Player.
Watch Jude play guitar here.