Stellar delay and reverb emulations in a package that gives players quick-and-easy access to the Starlight and Golden Reverberator sounds
Pros
+

Ideal for adding delay and reverb to an amp with no built-in effects, as well as in the studio for processing tracks with gorgeous delay and reverb
Cons
-

Not exactly a concern, but the effect options available via UAFX Control only pertain to Analog DMM and Spring 65
You can trust Guitar Player. Our expert reviewers spend hours testing and comparing guitar products so you can choose the best for you. Find out more about how we test.
On the heels of the Dream '65 Reverb-Amp, Ruby '63 Top Boost Amplifier and Woodrow '55 Instrument Amplifier come three new UAFX pedals: the Del-Verb Ambience Companion, Galaxy '74 Tape Echo & Reverb and Max Preamp/ Dual Compressor.
As with previous UAFX pedals, which also include the Astra Modulation Machine, Golden Reverberator and Starlight Echo Station, these units have metal housings, stereo ins and outs, and dual foot switches, as well as the ability to add bonus effects (on some models), change foot-switch assignments and access other functions via the UAFX Control mobile app (iOS and Android).
All three pedals require an optional nine-volt DC power supply rated at 400mA minimum.
Del-Verb Ambience Companion
Based, like all UAFX pedals, around dual-engine processing for enhanced sonic authenticity, the Del-Verb delivers emulations of classic delay and reverb effects lifted from the Starlight and Golden Reverberator, which are selected via two mini-toggle switches.
The left-hand switch offers Tape EP-III, Analog DMM and Precision (respectively a '70s Maestro EP-III, EHX Memory Man and UA's own pristine delay with studio-grade chorusing and flanging). The right-hand switch offers Spring 65, Plate 140 and Hall 224 reverbs that model the tank and circuitry of, in order, a 1965 Fender Deluxe Reverb, an EMT plate reverb (from the Record Plant in Sausalito) and an '80s Lexicon 224 digital processor.
The top row of controls are delay time, feedback (delay repeats) and mix (delay level). The bottom row controls are Color, mod and reverb. Depending on the delay selected, Color alters the Tape EP-III record level, the Analog DMM input gain or the Precision delay tone. Mod sets modulation amount and is off at 12 o'clock. Mod also affects other parameters depending on the selected effect: Tape EP-III is N.O.S tape when mod is turned to the left and worn tape when turned to the right; Analog DMM is vibrato when turned left and chorus when turned fully right, and Precision is flanger when turned left and chorus when turned right. Finally, reverb adjusts an effect's level up to 100 percent wet at maximum.
The left and right foot switches both feature an LED and toggle, respectively, delay and reverb on/off. Note that this can be changed via the UAFX Control app to toggle delay and reverb on/off with the left foot switch and have delay tap tempo on the right foot switch. You can also select whether the trails stay on when the delay and reverb are bypassed (which is the default) or have the trails stop when the effects are bypassed. Another great function of UAFX Control is the ability to change the voicing of the delay and reverb – 12 choices for Analog DMM and 12 for Spring 65 – which provides numerous ways to shape sounds to suit your needs.
As we've previously stated in reviews of the Starlight Echo Station and Golden Reverberator, the delay and reverb emulations are stellar, and the Del-Verb delivers this same level of performance in a package that gives players quick-and-easy access to those sounds.
Running the Del-Verb though a new Fender '48 Dual Professional JB edition 2x10 combo, a Fender Tonemaster Princeton Reverb, as well as through studio monitors, showcased how effectively echo sounds can be shaped via the delay time, feedback and mix knobs, and especially the Color and mod controls, which provide useful variance for the selected delay – for instance, adding texture to the Tape EP-III model by turning the recording level up past one o' clock with the Color control and using mod to give the repeats a touch of graininess when set to the worn-tape side.
This sounded very hip through the Dual Professional amp and especially with a healthy dose of the righteous-sounding spring model. It's like a melding of Fender circuits from decades apart, with a vintage Echoplex along for the ride, and it's super-cool to play through.
I could also indulge in beautiful ricocheting, flanged delays using Precision in stereo, as well as trippy sci-fi effects from Analog DMM with Color (gain) cranked, feedback at maximum and the delay time swept manually. UAFX Control can also take Analog DMM into seriously twisted places via presets like Sync Oct X Dirty Try, Square Mod Octave and Dirty Double Octaves. Conversely, the tamer offerings, like Warm Slower Mod Speed, Extra Bright Attack and the colorful AM Radio, open the door to delay sounds that are different and very inspiring because of it.
The reverb choices should satisfy most needs without necessarily diving into the app, but when you do you'll find plenty of alternate voicings for Spring 65 that are all based on the sounds of three different tanks (labeled A, B and C), with some standouts being Symphonic Reverb (a cavernous 'verb with pitch-shifted modulation), Spring C Rotato (reverb with lush rotary-speaker vibrato) and Spring Tube Drive B, which emulates another hand-picked tank with luscious reflection and decay characteristics.
Specifications
CONTROLS: Delay time (echo rate), feedback (delay repeats), mix (delay level; 100% wet at max), Color (delay character), mod (modulation amount; off at noon), reverb (reverb level; 100% wet at max). Switches: Delay select (Tape EP-III, Analog DMM, Precision); Reverb select (Spring 65, Plate 140, Hall 224)
FOOT SWITCHES: Delay on/off (left), reverb on/off tap
I/O: Stereo inputs and outputs, USB Type-C (connect to computer for firmware updates), pair button (activates Bluetooth for UAFX Control mobile app) 9VDC adapter jack (400mA, adapter not included)
EXTRAS: Buffered bypass. Turn delay and reverb trails on or off, add tap tempo and download custom voicings via the UAFX Control mobile app
SIZE: 3.5" deep x 5.5" wide x 2" tall
WEIGHT: 1.8 lbs
BUILT: Malaysia
Visit Universal Audio for more information.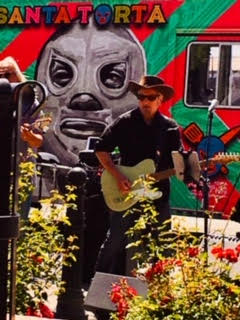 Art Thompson is Senior Editor of Guitar Player magazine. He has authored stories with numerous guitar greats including B.B. King, Prince and Scotty Moore and interviewed gear innovators such as Paul Reed Smith, Randall Smith and Gary Kramer. He also wrote the first book on vintage effects pedals, Stompbox. Art's busy performance schedule with three stylistically diverse groups provides ample opportunity to test-drive new guitars, amps and effects, many of which are featured in the pages of GP.