From the Studio to the Stage: Sublime Effects for the Discerning Guitarist
How Universal Audio crafted the ultimate vintage tones for its UAFX pedals.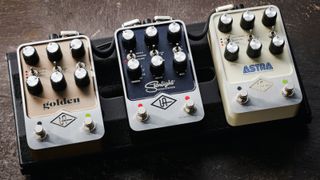 (Image credit: Universal Audio)
Universal Audio is a dominant force in analog and digital recording tools, so the Northern California company was well equipped to create a trio of effect pedals that borrow from the best of both worlds.
Introduced last year, UA's Astra Modulation Machine, Golden Reverberator and Starlight Echo Station were designed from the ground up to deliver the most authentic classic modulation, delay and reverb effects ever put into stomp boxes.
These pedals feature dual-processing engines, true-stereo operation, a knob-based interface, and foot-switchable Live and Preset modes that effectively give you two completely different sounds that you can recall in real time.
Live reflects the current settings of the knobs and switches, and Present reflects the stored setting regardless of the knob/switch positions (that is until you move a knob or switch, and the unit automatically updates to those settings).
Other details include dual ¼-inch input and output jacks, and USB for downloading additional effects that are available free of charge upon registration via the UAFX app.
Additional operating modes, including bypass routing (True or Buffered) and preamp coloration, are also available via the mobile app.
Each pedal offers three effects (selected using the left-hand mini toggle switch), and you can switch between three variations of each with the right-hand switch. The center switch is used for saving custom sounds.
The included effects are as follows:
Astra Modulation Machine: Chorus Brigade (1976 Boss CE-1 Chorus Ensemble), Flanger/DBLR (late-'70s rackmount MXR Flanger/Doubler) and Trem 65 (mid-'60s Fender amp tremolo)
Golden Reverberator: Spring 65 (models of three different reverb tanks from three vintage Fender amps), Plate 140 (three late-'50s plate reverb units sourced from the Plant Recording Studio in Sausalito, California) and Hall 224 (Lexicon 224)
Starlight Echo Station: Tape EP-III (early '70s Echoplex tape delay), Analog DMM (late-'70s/early '80s Electro-Harmonix Deluxe Memory Man and Precision (hi-fi studio-grade delays, chorusing/flange and ping-ponging repeats)
UA's design team painstakingly modeled vintage effects for each pedal. For example, the Golden Reverberator's Spring 65 selections represent not only the three different reverb tanks from mid-'60s Fender amps but also the tube circuitry on the drive and recovery sides.
UA's senior product developer James Santiago told GP, "Many pedals do just a preamp of an effect or a signal modeling of the sound, but we decided to do full circuit models of every effect, including all tubes, transistors and more inside each original unit. Our benchmarks are always tone and feel."
As a result, you get different timbres as you toggle the three settings with the left-hand switch. The "A" (up) position captures a tank that had a fairly sharp attack and a nice, smooth decay – a classic "blackface" reverb sound, if you will – while position "B" is smoother at the leading edge and more resonant overall, with a bit longer decay. The "C" tank is the oddity, because it emphasizes certain note resonances and has an absurdly long decay.
You can further expand on these sounds by using the mod control to add chorusy color and widen the soundstage when running in stereo, and create dramatic effects using the decay, mix and pre-delay controls, sculpting the tones as needed with the bass and treble knobs.
"The Spring 65 in Golden and Trem 65 in Astra are both based on those classic Fender AB763 tube amp circuits," Santiago explains. "We found our favorite 'A' tank in a 1965 Deluxe Reverb I got at Norman's Rare Guitars.
"It has the perfect classic bright, springy and drippy sound. That, plus a long time spent circuit modeling all the tube stages to and from the tank, gives it the harmonics, compression and air those tanks need to sound right with an electric guitar.
"Some of that mojo applies to the tube tremolo as well. Since you're dealing with a lamp and photocell, the tremolo can sound different at slow and fast speeds. A similar setup is in all old Uni-Vibe phasers, and that's why no two sound alike."
The Starlight Echo Station's Tape EP-III setting models three different solid-state Echoplexes: "A" is a pristine vintage unit with a new tape and a compression circuit that was originally added to mitigate input-stage overload. Its sound is clear and well presented without noticeable dropouts or excessive hiss.
The "B" setting reflects an earlier Echoplex with a used tape and no compressor circuit, while the "C" setting is a model of a heavily used Echoplex (also without compression) with worn tape that has dropouts and lots of hiss.
One of the important features here is the color knob, which adjusts the input level to the preamp. On Echoplex units, this was a trim pot that you adjusted to accommodate hot pickups or line-level signals.
"One of the things that makes these old delays so great is that the preamp shapes lows and mids, and attenuates the trashy high frequencies," Santiago says. "Now that's a horrible audio spec, but it's musical once you're going into an overdriven amp. Every once in a while you find one that's smooth and has a tiny bit of extra gain. That's the one I went with.
"The tape cartridges are a whole other journey. We ended up using three different EP machines and tape formula versions in Starlight, so you can decide which one best suits your needs."
The Astra Modulation Machine's Analog DMM setting (left switch/middle position) offers a model of a vintage EHX Deluxe Memory Man, as used by The Edge, Eric Johnson and others back in the day.
It had the ability to layer vibrato or chorus on the delay, and the Astra provides three choices via the right-hand switch: vibrato (up/A), modulation off (B) and chorus (C).
You can create dramatic stereo modulated-echo effects in real time by manipulating the delay, feedback and mix knobs as well as the six-position rotary division control, which is normally used for setting delay tempos with the tap switch.
Being able to add distortion was another key part of the DMM, and the Astra's color control lets you dial in the desired amount of distortion (or none) and compensates for level changes with the mix knob.
"A really great analog delay can almost sound like reverb if done right," Santiago says. "The repeats should degrade naturally, giving you a nice ambient trail.
"Another great thing is how the chorus/vibrato is done by modulating the clock speed. That gives you this really consistent vibrato on the delays that players like The Edge and Eric Johnson usually dial in.
"I did use one of my own Deluxe Memory Man pedals with the original Panasonic bucket-bridge chips, but I also went through a few more to look for any standouts in the bunch."
There's also much to like about the Astra Modulation Machine's Chorus Brigade setting, a superb rendition of the vintage Boss CE-1 Chorus Ensemble, which has a single control for speed and depth.
That function is on the Astra's Intensity knob, and the "A" setting on the left-hand switch gives you classic chorusing, with dry on one side and chorusing on the other side, and the dual-processing allows for greater expansion of the effect because you're running two chorus units if you're going stereo.
The vibrato section is on the "B" setting (this is a two-position switch), and the Astra uses the speed and depth to control the effect.
The Intensity knob does not affect the vibrato, only the chorusing, and you can add gain to the chorus and vibrato with the shape control.
In addition to modeling, the pedals feature dual-processing architecture that offers other sonic benefits.
"It gave us the ability to add some cool sonic features," Santiago says. "For example, the Live side runs separately on another processor from the Preset side, and each processor is discrete stereo.
"So let's say you have an Analog DMM Live in stereo, so there are two fully running units going. And then maybe your Preset side is an EP-III, so you've got two discrete left and right EP-IIIs. And when you're switching between them, they trail off, like having an A/B switch before each signal chain.
"In essence you're really running four effects in total to pull that off."
For more information head over to Universal Audio.
All the latest guitar news, interviews, lessons, reviews, deals and more, direct to your inbox!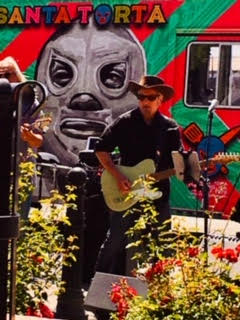 Art Thompson is Senior Editor of Guitar Player magazine. He has authored stories with numerous guitar greats including B.B. King, Prince and Scotty Moore and interviewed gear innovators such as Paul Reed Smith, Randall Smith and Gary Kramer. He also wrote the first book on vintage effects pedals, Stompbox. Art's busy performance schedule with three stylistically diverse groups provides ample opportunity to test-drive new guitars, amps and effects, many of which are featured in the pages of GP.