Set the knobs wherever you like and just bliss out on playing this super-interactive tone machine
Pros
+

Stackable compressors provide dynamic and tonal options that are a blast to deploy on the fly
You can trust Guitar Player. Our expert reviewers spend hours testing and comparing guitar products so you can choose the best for you. Find out more about how we test.
On the heels of the Dream '65 Reverb-Amp, Ruby '63 Top Boost Amplifier and Woodrow '55 Instrument Amplifier come three new UAFX pedals: the Del-Verb Ambience Companion, Galaxy '74 Tape Echo & Reverb and Max Preamp/ Dual Compressor.
As with previous UAFX pedals, which also include the Astra Modulation Machine, Golden Reverberator and Starlight Echo Station, these units have metal housings, stereo ins and outs, and dual foot switches, as well as the ability to add bonus effects (on some models), change foot-switch assignments and access other functions via the UAFX Control mobile app (iOS and Android).
All three pedals require an optional nine-volt DC power supply rated at 400mA minimum.
Max Preamp/Dual Compressor
Two is always better than one, right? That's the premise of the Max Preamp/Dual Compressor which features two identical and stackable sets of classic compressors: the MXR Dyna Comp, Teletronix Opto LA-2A and Universal Audio UA 1176 (labeled here as FET 1176), along with an emulation of UA's 610 tube preamp/EQ (in fact, one for each side), which adds its own sonic charms to the brew.
The upper controls are preamp, comp and output (makeup gain), and just below them are three switches.
At left is Comp 1, with settings for Dyna, Opto LA-2A and FET 1176. The middle switch is Comp Select, which selects whether Comp 1 or Comp 2 is controlled by the knobs (even when both comps are on, only one is affected by the knobs). The switch on the right is Comp 2, which has the same compressor selections.
The lower row of knobs are attack, which works on FET 1176 only and controls onset speed; ratio, which produces harder compression when turned clockwise; and release, which is recovery speed – turning it clockwise gives a faster release.
Comp 1 drives into Comp 2 in serial fashion, and the left and right foot switches turn them on and off in that order.
If desired, you can change to parallel configuration in the UAFX Control app, in which the input signal is split to feed both comps and then mixed at the output stage.
There is also an Exclusive mode in which the input signal is fed into both comps, but only one can be turned on and off by either the left or right foot switches.
Lastly, the Control app provides low and high EQ adjustments (up to 6dB boost/cut) for each of the two UA 610 preamps, and you can also configure a side-chain bass filter (FET 1176 only) to reduce compression and pumping on bass-heavy signals without affecting tone.
The LEDs above each foot switch show on/off status and change color to indicate how the compressor is responding to input signal: Green is no response, amber is moderate and red is heavy. The metering on the early review sample I received wasn't working, but fortunately that was easily fixed by updating the software via UAConnect, which requires an optional USB-C cable for the computer connection.
Max works great using Dyna to impart crush to an overdriven guitar riff or make your slide solos sound smooth and liquid.
The studio comps up the game from here as both have distinctive coloration that can impact your tone in compelling ways: Opto LA-2A offers its signature tube warmth and soft limiting, and the added ratio control lets you increase compression beyond that of the original unit or the UAD plug-in. FET 1176 is a classic UA squeeze-box with a hallowed reputation as a go-to studio limiter for recording guitar. You've likely heard it on some of your favorite solos.
But it's when you start stacking different comps with various amounts of compression and preamp drive that Max really comes into its own as you explore the different tonal and dynamic textures that can be created by running, say, Dyna into FET 1176 with its controls set for heavy squash, quick attack and a long release; or Opto LA-2A with the compression turned up, ratio around 20 and release at noon (where it matches the original's non-adjustable release time) into FET 1176 set for moderate compression and a fast release.
Turn up the 610 preamp to inject a little graininess, add distortion and delay, and it doesn't get much cooler, because with Max you can set the knobs wherever you like and just bliss out on playing this super-interactive tone machine.
Specifications
CONTROLS: Preamp (UA 610 tube preamp), comp (amount of compression), output (makeup gain), attack (onset speed; FET 1176 only), ratio (turn clockwise for harder compression), release (recovery speed). Switches: Comp 1 (Dyna, Opto LA-2A, FET 1176); Comp select (1, 2); Comp 2 (Dyna, Opto LA-2A, FET 1176)
SWITCHES: [see above]
FOOT SWITCHES: Comp 1 and comp 2, each with an LED that indicates on/off and also functions as a meter for compression amount
I/O: Stereo inputs and outputs, USB Type-C (connect to computer for firmware updates), pair button (activates Bluetooth for UAFX Control mobile app) 9VDC adapter jack (400mA, adapter not included)
EXTRAS: Buffered bypass. Compressors can be configured in series (default) or parallel via UAFX Control app. Exclusive mode allows left or right foot switches to toggle Comp 1 or Comp 2 on/off (only one comp active at a time). Also provides adjustable low and high EQ for each of the two UA 610 preamps. FET 1176 also has a configurable side-chain bass-filter to mitigate pumping on bass-heavy signals
SIZE: 3.5" deep x 5.5" wide x 2" tall
WEIGHT: 1.8 lbs
BUILT: Malaysia
Visit Universal Audio for more information.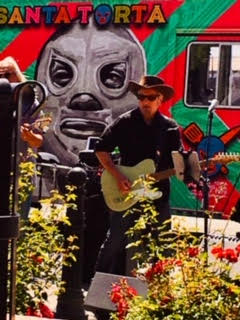 Art Thompson is Senior Editor of Guitar Player magazine. He has authored stories with numerous guitar greats including B.B. King, Prince and Scotty Moore and interviewed gear innovators such as Paul Reed Smith, Randall Smith and Gary Kramer. He also wrote the first book on vintage effects pedals, Stompbox. Art's busy performance schedule with three stylistically diverse groups provides ample opportunity to test-drive new guitars, amps and effects, many of which are featured in the pages of GP.