Another great-sounding unit in the UAFX line offering everything from rockabilly/slap-back sounds to soaring, richly textured echoes
Pros
+

A cool take on the classic Space Echo that gives players multiple options for shaping echo tones
You can trust Guitar Player. Our expert reviewers spend hours testing and comparing guitar products so you can choose the best for you. Find out more about how we test.
On the heels of the Dream '65 Reverb-Amp, Ruby '63 Top Boost Amplifier and Woodrow '55 Instrument Amplifier come three new UAFX pedals: the Del-Verb Ambience Companion, Galaxy '74 Tape Echo & Reverb and Max Preamp/ Dual Compressor.
As with previous UAFX pedals, which also include the Astra Modulation Machine, Golden Reverberator and Starlight Echo Station, these units have metal housings, stereo ins and outs, and dual foot switches, as well as the ability to add bonus effects (on some models), change foot-switch assignments and access other functions via the UAFX Control mobile app (iOS and Android).
All three pedals require an optional nine-volt DC power supply rated at 400mA minimum.
Galaxy '74 Tape Echo & Reverb
UAFX's alternative option in the delay/reverb category is Galaxy '74 Tape Echo & Reverb, which is based on a mid-1970s Roland Space Echo.
The pedal features echo rate, feedback and echo volume controls; a Head Select switch (cycles through three tape-head combinations) and a two-position switch for Main and Alt, the latter of which activates tape age, bass and treble as alternate functions, respectively, for the bottom row of knobs: input volume, dwell and reverb volume.
The left foot switch is on/off, and the right switch is either tap tempo, or, by pressing and holding, a "performance mode" function in which Head 1 (on the Head Select switch) is a dotted 16th note, Head 2 is a dotted eighth and Head 3 is a dotted quarter note.
Even better, these tempo effects swell with feedback volume until you release the switch and the delay tempo reverts to what was set by the tap switch or echo rate knob.
This is a lot of fun to play with, as the ability to swell notes at different tempos can make even simple lines sound amazing, and when you release the foot switch the trails slowly fade out as you keep playing on top on them.
If you prefer, the bypass routing can be set for trails off by using the UAFX Control app, which also lets you change the foot-switch order so the left switch is delay on/off and the right switch is reverb on/off.
There are no alternate sound effects offered within the app for Galaxy.
The delay sounds are juicy and organic and can be beautifully textured with grainy wow and flutter as you turn up the input level when the right-hand switch is in the Alt position.
It really sounds like changing speeds on a motorized tape drive as you sweep the echo rate control, and, true to form, here's where you can deploy runaway-echo mayhem by cranking up the feedback knob.
The Galaxy made it easy to get everything from rockabilly/slap-back sounds (think Brian Setzer with his Bassman/Space Echo rig) to soaring, richly textured echoes that sound amazing through a stereo setup with the Head Select switch on position three, where you can enjoy delay times of up to 974ms.
The Space Echo always seems somewhat overlooked in the world of tape delays, so it's awesome that Galaxy puts its own spin on this classic to become yet another great-sounding offering in the UAFX line.
Specifications
CONTROLS: Echo rate (delay time for active tape heads), feedback (echo repeats), echo volume, input volume (tape recording level. Alt function is tape wear, wow & flutter); dwell (drive into reverb tank; Alt is echo bass – flat at noon); reverb volume (Alt is echo treble – flat at noon
SWITCHES: Head select (cycles through three tape-head combinations); Alt select (activates the alternate tape age, bass and treble controls)
FOOT SWITCHES: On (toggles echo and reverb on/off), Tap/Hold (sets echo tempo; hold for sustained performance FX: Head 1 dotted 16th note, Head 2 dotted 8th, Head 3 quarter note
I/O: Stereo inputs and outputs, USB Type-C (connect to computer for firmware updates), pair button (activates Bluetooth for UAFX Control mobile app) 9VDC adapter jack (400mA, adapter not included)
EXTRAS: Buffered bypass. Turn delay trails on or off and change foot-switch order via the UAFX Control mobile app
SIZE: 3.5" deep x 5.5" wide x 2" tall
WEIGHT: 1.8 lbs
BUILT: Malaysia
Visit Universal Audio for more information.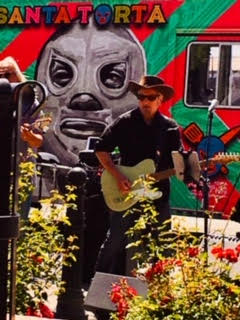 Art Thompson is Senior Editor of Guitar Player magazine. He has authored stories with numerous guitar greats including B.B. King, Prince and Scotty Moore and interviewed gear innovators such as Paul Reed Smith, Randall Smith and Gary Kramer. He also wrote the first book on vintage effects pedals, Stompbox. Art's busy performance schedule with three stylistically diverse groups provides ample opportunity to test-drive new guitars, amps and effects, many of which are featured in the pages of GP.