Each pedal is capable of standing in for the real thing while providing sonic options galore
Pros
+

Excellent tones and feel

+

Awesome array of options via the UAFX Control mobile app
You can trust Guitar Player. Our expert reviewers spend hours testing and comparing guitar products so you can choose the best for you. Find out more about how we test.
The growing family of UAFX pedals from Universal Audio now includes three amp-emulator models that join the Astra Modulation Machine, Golden Reverberator and Starlight Echo Station we previously reviewed.
As with those pedals, the new Dream '65 Reverb-Amp, Ruby '63 Top Boost Amplifier and Woodrow '55 Instrument Amplifier feature stylish metal housings, stereo ins and outs, dual foot switches, and the ability to activate and manage factory and user presets via the UAFX Control mobile app (iOS and Android), where you can download artist sounds, edit amp tones and even change the functions of the foot switches. (Eight foot-switching combinations are available on all but the Woodrow, which has three combinations.)
Bonus! These amp-emulator pedals also offer the ability to use 4-Cable mode with any amplifier that has an effects loop, allowing for switching between the amp's preamp section and sounds in the pedal (or all three of 'em if you like), with 4-Cable mode being one of the foot-switching options.
For testing I plugged in either a Strat or a Les Paul and ran the three UAFX pedals daisy-chained together into either a compact live rig with a small power amp and a 1x12 cabinet, or direct into a PA, usually in mono.
Dream '65 Reverb-Amp
On all three pedals, the controls follow the standard UAFX format of six knobs and three mini toggle switches. However, they perform different functions depending on the model.
Starting out with the Dream '65 Reverb-Amp there's volume, reverb, output, bass, treble and boost, the latter two doubling as speed and intensity when tremolo is active.
The three toggle switches perform several functions: The speaker switch selects the mic's speaker cabinets – GB25, Oxford and EV12 – and pressing the switch down cycles though all six cabinets, plus bypass, which may be prefereable when running into your own amp/speaker rig.
The middle switch has Alt, Amp and Store functions. When Alt is selected, the tremolo speed and intensity controls (a.k.a. treble and boost) are active. In Amp mode, the standard amp controls are available. To store a preset, hold the switch in the down position until the green LED blinks rapidly.
The right-hand mod switch selects Lead (OD Special mod), Stock (standard Fender circuit) and D-Tex (SRV mod).
With pedal set clean in the Stock position, it was easy to get very realistic Fender Deluxe Reverb tones that sounded excellent, with lush reverb adding a beautiful wash of airiness.
Now you have the convenience of grinding things up via the boost knob, which can deliver up to 10dB of clean level to the front end.
For heavier grind the Lead setting (which cuts out the bright cap) sounds formidable when boost is turned up to 10 o'clock and higher, where midrange from the tone stack is added to yield increasing amounts of fat, juicy distortion.
Lastly, D-Tex (the aforementioned SRV mod) has both more gain and midrange. It's a sweet setting that has a mildly compressed response at low boost numbers and a good deal of gain as the boost is turned up – which also reduces the effect of the tone stack (down to zero effect at maximum boost) – yielding a richly detailed and vocally inflected distortion tone that's really satisfying for lead.
As per the original circuit mod, vibrato is only available when the boost knob is off.
Ruby '63 Top Boost Amplifier
Based on a Vox AC30 platform, the Ruby '63 Top Boost has a control layout consisting of volume, cut, output, bass, treble and boost.
The left-hand speaker switch has Silver, Blue and Green settings, and here too you can cycle though all six mic'd cabinets (or bypass) by holding down the switch.
The middle switch's Alt position selects room amount (ambience), vibrato intensity and speed, which are available, respectively, on the bass, treble and boost knobs.
The Amp position activates the standard control complement for an AC30, while the Preset position is used to store custom sounds.
The channel switch on the right side selects the following: Brilliant, based on the Brilliant channel of a '63 top-boost amplifier (the boost knob adds gain from the preamp of an EP-III tape echo); Normal, based on a '61 non-top-boost amplifier (the boost knob adds gain from a germanium treble booster circuit); and Vibrato, based on the vibrato channel of a '63 top-boost amplifier (the boost knob adds clean boost to the amp's input).
The Ruby's Brilliant channel is a blast to play through, as it models the original "top boost" circuit's extra tube to deliver more gain and treble.
The cut, bass and treble knobs work in the usual fashion and provide plenty of range to dial-in tactile, "blizzard of nails" tones from humbuckers and single-coils alike.
You can summon more dirt via the boost knob, which adds front-end gain from the preamp section of an EP-III Echoplex, but even with boost all the way up there's not a huge amount of distortion here.
UA recommends the combination of the Blue speaker selection with the Brilliant channel as a pairing used by the Beatles and U2, which is certainly a good start for exploring the other five mic'd-speaker combinations, a good one for distortion tones being "Match," a 2x12 Matchless cabinet with Celestion G12-H speakers mic'd with a Shure SM-57.
True to form, the Normal channel is a relatively clean affair that sounds awesome for smashing out big kerranged chords, and cranking up the boost knob ups the dirt factor with fat grind that sounds great for blues and anything needing a dirty-sweet rhythm sound.
And although the cut control is the only EQ for the Normal channel, it accommodated guitars with single-coils and humbuckers with no fuss, yielding killer tones with a selection of distortion pedals that included a TWA SH9.
Here too, UA's recommended pairing of a Silver speaker with the Normal channel for a classic Brian May setup will inspire you to check out the other mic'd-speaker combinations on offer here.
With the Vibrato channel selected, the treble and boost controls are used to adjust speed and intensity respectively, and it's interesting with the intensity knob set low, as you get a more pitch-shifty, harmonic-tremolo sound.
In addition, the Ruby can go slower than the stock circuit, which makes for some happening in-between textures as it transitions into choppier, volume-modulating tremolo when the intensity (a.k.a. boost) is turned past noon.
This is also where added input gain from a germanium-style treble-boost circuit gives a bump to the midrange and treble without increasing distortion.
Woodrow '55 Instrument Amplifier
Designed to deliver American tweed amp tones, the Woodrow '55 Instrument Amplifier features yet another different control set that includes instrument volume, mic volume, output, room (ambience), tone and boost.
Starting on the left side is the speaker switch which has settings for Blu15, JP12 and GB25, and you can cycle though all six mic'd cabinets by holding the switch down.
The middle switch is only for storing presets, while the right-hand boost switch has positions for KP-3k, Stock and EP-III.
The Woodrow takes you straight to the '50s zone by virtue of its two channels, which are internally jumpered to facilitate blending the brighter more aggressive instrument channel with the cleaner-, bassier-sounding mic channel.
The three selections on the right-hand Boost switch play a big role in shaping tones.
At the top is KP-3k, which models a preamp boost from the Korg SDD-3000 digital delay as famously deployed by The Edge. It uses the lower-gain mic input to provide a clear, bright sound that's cool for rhythm playing with the boost knob set low (turn it up for more grit), or to push an overdrive pedal into meaty sustain.
The Stock position uses the instrument input and adds clean gain at low settings, although there's plenty of graininess available when the instrument volume knob is turned up. And while the boost knob increases gain too, it's more of a tone shaper that adds midrange and treble.
The bottom setting is EP-III, which models the preamp from a solid-state Echoplex tape echo. It uses the instrument input for extra gain and sounds great for lead, with the boost knob bringing on some fuzzy edge at higher settings.
As with all the UAFX amp emulators, the various cabinet pairings greatly affect the Woodrow's tones, as it can go in a warm, vintage direction via Blu15 (15-watt Celestion Blue in a 1x12 tweed combo, mic'd with a Nuemann 67 condenser), veer into muscular rock tones courtesy of Vee30 (Marshall 4x12 with Celestion V30 speakers, mic'd with a Sennheiser MD 421), or cop a more hi-fi attitude with B-Man selected (Fender 4x10 Bassman with Jensen P10R speakers, mic'd with a Shure SM-57).
The tones provided by these pedals makes one appreciate the ears and engineering of the UAFX developers to create pedals that accurately replicate the best-sounding vintage amps that were cherry-picked for each model.
The Dream '65 Reverb-Amp, Ruby '63 Top Boost Amplifier and Woodrow '55 Instrument Amplifier are stompboxes, sure, but they are painstakingly rendered amps in their own right, each capable of standing in for the real thing while providing sonic options galore, and they all receive an Editors' Pick Award.
Specifications
FOOT SWITCHES: On/off, preset
EXTRAS: True bypass. stereo inputs and outputs, USB Type-C, pair button (activates Bluetooth for UAFX Control mobile app), 9VDC adapter jack (400mA, adapter not included)
SIZE: 3.5" deep x 5.5" wide x 2" tall
WEIGHT: 1.8 lbs
BUILT: Malaysia
Visit Universal Audio for more information.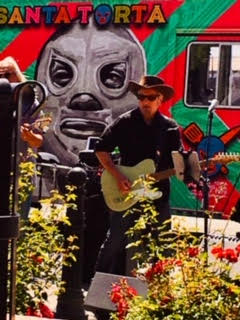 Art Thompson is Senior Editor of Guitar Player magazine. He has authored stories with numerous guitar greats including B.B. King, Prince and Scotty Moore and interviewed gear innovators such as Paul Reed Smith, Randall Smith and Gary Kramer. He also wrote the first book on vintage effects pedals, Stompbox. Art's busy performance schedule with three stylistically diverse groups provides ample opportunity to test-drive new guitars, amps and effects, many of which are featured in the pages of GP.