The Fender Vibratone Brought Acid-Tinged Sonics to Recordings by Jimi Hendrix, the Byrds, Cream, Pink Floyd, Todd Rundgren and Stevie Ray Vaughan
Here's why many guitarists will never settle for anything less than the sound of a true rotary-speaker cabinet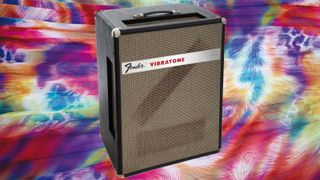 (Image credit: Future/Heritage Auctions)
Most guitarists who have plugged into a whirling, sound-warping, Doppler effect-inducing Fender Vibratone can recall the major impression that playing through a rotary-speaker cabinet made on them. It's unlikely any compact electronic rendition of the effect will fully satisfy them.
The occasionally crosspollinated worlds of vibrato and chorus have been immensely popular with guitarists in their many forms since they first became available. From the late-'60s Univox Uni-Vibe to the mid-'70s Boss CE-1 Chorus Ensemble and today's contemporary re-creations of those and other beloved analog pedals, each is an electric guitar classic in its own right.
But the trail begins with the granddaddy of them all: the Fender Vibratone. Produced from 1967 to 1972, it's a hulking electromechanical sound swirler that produced what is still the most hypnotic and enveloping version of this effect.
Fender licensed the Vibratone from an original rotary-speaker design by inventor Don Leslie, who introduced his rotary-speaker cabinet for use with Hammond organs in the 1940s. The most popular of these units were formidable beasts that contained their own power amplifiers as well as two different types of rotary speakers.
That trenchant swirl you hear from a great Hammond player like Jimmy Smith, Booker T. Jones, the Heartbreakers' Benmont Tench and the E Street Band's Danny Fenderici is most often the result of a big Leslie Model 122, 142 or 147.
Aptly called Tone Cabinets, these beasts weighed upward of 150 pounds, were housed in louvered wood cabinets, and included a built-in tube amp, a 15-inch woofer firing downward into a ported rotating drum, and a dual-horn tweeter that spins on a horizontal plane. (One of the horns is a dummy that simply acts as a counterweight to its partner to maintain balance.)
A crossover splits the lower and higher frequencies between the woofer and horn, respectively, and both the drum rotor and horn spin, speed up and slow down at different rates, creating a veritable maelstrom of sound when the drum and horn are spinning at full tilt.
Standing in a room or onstage amid such a storm of sound can be a heady experience. Indeed, play through a Leslie and you'll discover why many guitarists will never settle for anything less than the sound of a true rotary-speaker cabinet.
While guitarists have lusted after the rotary-speaker effect virtually since its incarnation, and occasionally adapted Leslies for use with the six-string, these cabinets really weren't well suited to the instrument. Aside from being huge and monstrously heavy, the contribution of the upper tweeter section was often regarded as less than ideal for reproducing the guitar's frequency range, and the built-in amp was seen as redundant, since most guitarists were already plugged into standard amps that they liked. What's more, the Leslie cabinet took its power through a cable connected to the organ, making the adaptation of one for guitar a particularly complicated endeavor.
As it happened, the Fender Vibratone was based on the somewhat smaller, black Tolex-covered Leslie Model 16, which required the use of an external amplifier and contained only a single 10-inch speaker firing forward into a rotating 15-inch foam drum, which threw the sound out through ports in the sides and top of the cab. The result was a sound that lived in the guitar's midrange band and emanated via a more portable and user-friendly unit.
Like the Model 16, the Vibratone included a devoted cable set and interface/crossover, which connects between the speaker output of a traditional guitar amp and the rotary cabinet. This was equipped with a two-button foot switch for changing between the cab's slow (chorale) and fast (tremolo ) speeds, and switching your amp's signal between its internal speaker and the Vibratone speaker.
Introduced at the height of the psychedelic-rock movement, the Vibratone was one of several popular effects that helped bring acid-tinged sonics to many prominent recordings.
Jimi Hendrix tapped one for "Little Wing" and "House Burning Down," and the Byrds, Cream, Pink Floyd, Todd Rundgren and scads of other artists all dove in, too.
Later, Stevie Ray Vaughan famously broke out a Vibratone for several songs on his album Couldn't Stand the Weather, the title track included, although it's relatively low in the mix and he doesn't appear to have found the speed switch.
If you're looking to acquire the real thing for use today, be sure it's in good mechanical condition and has a fully functioning foot switch and interface. And make sure that you're prepared to haul around a 70-pound, 29 x 21 x 15-inch box in an age where such things are no longer considered compact and portable.
Alternatively, try to forget that addictive, unreproducible, in-the-room sound and make do with a modern Uni-Vibe clone – which, of course, is why the Uni-Vibe was invented in the first place – or Fender's Pinwheel rotary-speaker pedal, which features three different rotary-speaker emulations, including the Vibratone.
Essential Ingredients
Ported rotating drum
10-inch speaker
Chorale (slow) and tremolo (fast) speeds
Cable set and interface between amp and cab
Two-button foot switch
All the latest guitar news, interviews, lessons, reviews, deals and more, direct to your inbox!
Dave Hunter is a writer and consulting editor for Guitar Player magazine. His prolific output as author includes Fender 75 Years, The Guitar Amp Handbook, The British Amp Invasion, Ultimate Star Guitars, Guitar Effects Pedals, The Guitar Pickup Handbook, The Fender Telecaster and several other titles. Hunter is a former editor of The Guitar Magazine (UK), and a contributor to Vintage Guitar, Premier Guitar, The Connoisseur and other publications. A contributing essayist to the United States Library of Congress National Recording Preservation Board's Permanent Archive, he lives in Kittery, ME, with his wife and their two children and fronts the bands A Different Engine and The Stereo Field.