The Dirtbike Royale is well crafted, lightweight and tuneful, and one of the best realizations of a modern P-90 axe currently available
Pros
+

Excellent playability and tones

+

MojoTone Soapbar pickups are quiet and very responsive
You can trust Guitar Player. Our expert reviewers spend hours testing and comparing guitar products so you can choose the best for you. Find out more about how we test.
Reeves Gabrels has a long list of credits that includes stints with Tin Machine, David Bowie and, since 2012, the Cure.
The Dirtbike Royale is his latest Reverend Guitars signature model. It joins the clan as the only non-vibrato guitar among a group that includes the Dirtbike, Signature and Signature RG-SUS – all equipped with Wilkinson WVS50 IIK vibratos – and the semi-hollow Spacehawk, which has a Bigsby B-50 with a roller bridge.
Dressed in cool Feline Gray or Royale Red, and decked out with full binding, the Dirtbike Royale is a sleek guitar with an offset double-cutaway korina body, and a set, three-piece korina neck that carries a 24 ¾–inch scale (12-inch radius) ebony fretboard.
The neck's medium oval shape has just the right amount of girth for a very comfortable grip, and the medium-jumbo frets are polished and evenly crowned.
The nut is also very smooth on the ends and perfectly notched to route the strings to the pin-lock tuners without requiring a string tree.
The action on our review guitar was low and free of buzzing, and the intonation was tuneful throughout the span of the neck. This setneck design has a nice rounded heel for your hand to push up against, and the deep cutaways allow full and easy access to the high frets.
The Dirtbike Royale differs from the original model in two ways: It has a Wilkinson GTB wraparound tailpiece with an adjustable B-string saddle, which helps steer it in a Les Paul Junior direction, and to further the LP leanings it has P-90-style pickups, specifically a MojoTone Hot Quiet Coil P-90 Soapbar in the bridge and a MojoTone Regular Quiet Coil P-90 Soapbar in the neck.
It's a combination that delivers the performance Gabrels has long sought.
"I wanted something that would bark when I wanted it to and also be low noise," the guitarist says. "I had a band called Modern Farmer when the first Mesa/Boogie Dual Rectifier heads came out. I had a '56 Gibson Les Paul Junior and a '59 Les Paul Special, and my whole thing was, 'The volume control is the noise gate!' So the idea of having a good hum-canceling P-90 is something I've been trying to do for 25 years.
"These MojoTone pickups are stock, too. Sometimes you want to have a signature model pickup, and then you realize you're just going to have them make the thing they're already making. On the bridge pickup, with the bass full up, you get a cocked-wah sound, but not so much that you can't use a cocked wah with it!"
The tones that the Dirtbike Royale dishes out range from very clear with a touch of twanginess to rich, mids-forward growl when you unleash the beast.
MojoTone's patent-applied-for Quiet-Coil P-90 is a hum-canceling design that features low-gauss Alnico magnets to provide vintage tone without the noise. They're an excellent match for this guitar, which delivers supremely cool clean and overdriven tones that have great dynamic sensitivity and clean up beautifully when the guitar volume is turned down.
Played though Fender Deluxe Reverb and Victoria Double Deluxe 2x12 tube amps, the Dirtbike Royale easily covered territory that ranged from James Brown funk to Chris Stapleton-style alt-country dirt to '70s/'80s hard-rock grind.
The fact that Gabrels deploys this electric guitar onstage for all the textures that Cure tunes require is a testament to the DBR's versatility.
The volume control preserves highs when rolled back, and the tone control is well voiced and can be run super low if needed, without muddying the sound. The bass contour control is highly effective too, as it allows you to get stringy single-coil tones at low settings and beefy, humbucker-like sounds when you turn it up.
It's an extremely effective control that lets you very easily dial-in the guitar to your liking. Setting it about three-quarters up sounded great with our test amps, but there's plenty of range to adjust for any rig you're playing through.
The Dirtbike Royale is well crafted, lightweight and tuneful, and one of the best realizations of a modern P-90 axe currently available.
We're giving it an Editors' Pick Award and suggest you give one a spin.
Specifications:
NUT: Bonite, 1.692" wide
NECK: Three-piece korina. Medium Oval shape
FRETBOARD: Ebony, 24.75" scale, 12" radius
FRETS: 22 medium jumbo
TUNERS: Reverend Pin-Lock
BODY: Korina
BRIDGE: Wilkinson GTB wraparound
PICKUPS: MojoTone Hot Quiet Coil P-90 Soapbar (bridge) and Regular Quiet Coil P-90 Soapbar (neck)
CONTROLS: Volume, tone, bass contour. Three-way selector
FACTORY STRINGS: D'Addario .009-.046
WEIGHT: 7.5 lbs (as tested)
EXTRAS: Available in Feline Gray and Royale Red
BUILT: Korea
The Reverend Reeves Gabrels Dirtbike Royale is available here.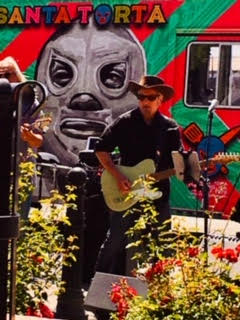 Art Thompson is Senior Editor of Guitar Player magazine. He has authored stories with numerous guitar greats including B.B. King, Prince and Scotty Moore and interviewed gear innovators such as Paul Reed Smith, Randall Smith and Gary Kramer. He also wrote the first book on vintage effects pedals, Stompbox. Art's busy performance schedule with three stylistically diverse groups provides ample opportunity to test-drive new guitars, amps and effects, many of which are featured in the pages of GP.