Compact, lightweight and affordable, the PRS HDRX 20 gives more players the opportunity to experience old-Plexi tone in a package that really makes sense for working musicians
Pros
+

A super simple delivery system for those seeking old-school Plexi tone

+

Light and compact
Cons
-

Some might wish for a standby switch
You can trust Guitar Player. Our expert reviewers spend hours testing and comparing guitar products so you can choose the best for you. Find out more about how we test.
Small amps that kick ass are always welcome, and PRS just made it a whole lot easier to enjoy what their bigger HDRX 50- and 100-watt amps have to offer by introducing the new HDRX 20.
It's a smaller and lighter version of the behemoth 100-watt head that PRS based on a particular Marshall Super Lead amplifier used by Jimi Hendrix at Woodstock and which now resides in Seattle's Museum of Pop Culture.
I tested the HDRX earlier this year, and at the time it was hinted that a lower-powered version would eventually be offered.
Naturally, the reaction here was: bring it on!
Right off the bat, the HDRX 20 threw me a curve. I expected to see EL84 or 6V6 output tubes, because they're so ubiquitous to amps of this power class. Instead, it uses a pair of very American Tung-Sol 5881 tubes (running in Class AB), which are actually rated at 25 watts apiece.
When I think of Hendrix and Marshall, I think British valves, but PRS obviously had good reasons to go with 5881s, and I'm guessing it had to do with headroom, resistance to compression and just a more muscular presentation.
Inside the Tolex-covered birch-ply cabinet, a steel chassis houses a large PCB and a smaller one for the rear-panel speaker jacks, bias test points and bias pot. The power-tube sockets and the transformers and choke are chassis-mounted and hand-wired to the PCB.
As on the 100-watt HDRX, there's only an on/off switch. PRS says the high-value electrolytic filter caps provide sufficient charging ramp to prevent the tubes from being smacked with high voltage when the juice is flicked on, and that's why there's no standby switch.
Starting from the left side of the front panel, the controls are presence, bass, middle, treble, high-mid gain switch, master volume, treble volume (with bright switch), bass volume and single input jack.
The two channels are internally jumpered, so you can use them individually or combined to get extra gain and take advantage of their different voicings.
The rear panel has five speaker jacks (see the specs chart below for impedance choices), three bias test points (V4, V5, common) and a screwdriver-adjustable bias pot.
It's a simple procedure to bias the tubes when a new set is installed: Set your DVM to millivolts (mV), stick the black probe into common and the red probe into V4 or V5, and look for a reading of 25 to 30mV, adjusting the pot if necessary.
After unboxing the HDRX 20 and firing it up to check that everything was in order, I took the head and PRS cabinet (which measures 24 by 18 by 10 ½ inches) to an outdoor gig where I could turn it up reasonably loud and spend some quality time with it.
I set all the controls halfway and kept the high-mid gain switch on and the bright switch either off, with a Fender Vintage II Tele, or on, with a Gibson Memphis 1961 ES-335.
The HDRX 20 proved a formidable little beast that delivered plenty of volume and had enough clean headroom to keep everything sounding clear, tight and dynamic with a selection of distortion pedals, in this case a Warm Audio Centavo and Warmdrive and a Fulltone OCD.
I barely touched the amp's EQ knobs and mainly adjusted the presence to suit single-coils or humbuckers, so the HDRX definitely passes the no-fuss test when switching between different guitars.
The HDRX 20 is really in its element when you crank up both volumes, the tone controls and the presence knob, which itself adds a bit more gain when dimed. It's a majestic sound, with the amp revved up enough to appreciate that low-end thump and crunching upper-midrange bite.
The amp is designed so that you can really push the treble without it sounding harsh, and this is also where you can appreciate how Paul Reed Smith and amp designer Doug Sewell took great care to develop vintage-sounding transformers, especially the output transformer, which contributes so much to the HDRX's smooth, late-'60s Plexi tone, and how the amp responds so musically to your playing touch and guitar volume changes.
In keeping with the Super Lead formula, the HDRX 20 stays tight at high volume, and the master volume (which is not present on the HDRX 50 or 100) is a good addition here as it allows for tailoring the output to smaller rooms without the need for an attenuator, which was an absolute necessity with the bigger HDRX amps.
The HDRX 20 is great choice for anyone who loves classic Marshall tone and wants it in the purest form possible.
This compact, lightweight amp is a pleasure to take on gigs, and it's quite affordable too, considering what many boutique 20-watters will set you back.
Kudos to PRS for creating an amplifier that gives more players the opportunity to experience old-Plexi tone in a package that really makes sense for working musicians.
Some amps may have a ton of functions, but the HDRX 20 is a ton of fun, and that's why it gets an Editors' Pick Award.
Specifications:
CHANNELS: Two (internally jumped)
CONTROLS: (from left) Presence, bass, middle, treble, high-mid gain switch, master volume, treble volume, bright switch, bass volume
POWER: 20 watts TUBES Three JJ ECC83S (12AX7) preamp tubes, two Tung-Sol (Electro-Harmonix) 5881 power tubes
SPEAKER: Tested with PRS closed-back 1x12 with Celestion G12H-75 16Ω speaker ($999)
EXTRAS: Bias jacks and pot. Five speaker jacks: 1x4Ω or 2 x8Ω; 1x8Ω or 2x16Ω; 1x16Ω
WEIGHT: 19.78 lbs head; 25.18 lbs cab (tested)
BUILT: Indonesia (designed in Maryland, USA)
Visit PRS for more information.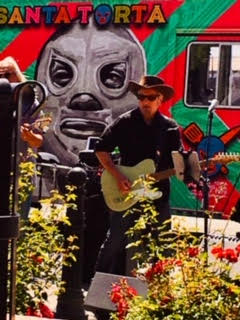 Art Thompson is Senior Editor of Guitar Player magazine. He has authored stories with numerous guitar greats including B.B. King, Prince and Scotty Moore and interviewed gear innovators such as Paul Reed Smith, Randall Smith and Gary Kramer. He also wrote the first book on vintage effects pedals, Stompbox. Art's busy performance schedule with three stylistically diverse groups provides ample opportunity to test-drive new guitars, amps and effects, many of which are featured in the pages of GP.