The Centavo is a smooth-sounding overdrive with a nice, tube-like tone and feel, while the Warmdrive is a kind of "desert island" distortion box
Pros
+

Centavo: A great-sounding medium-gain overdriver with rich, tube-like tone

+

Warmdrive: A flexible and smooth sounding distortion box that is easy to dial-in courtesy of its tone and voice controls

+
Cons
-

Centavo: Takes up a fair chunk of pedalboard real estate

-

Warmdrive: None
You can trust Guitar Player. Our expert reviewers spend hours testing and comparing guitar products so you can choose the best for you. Find out more about how we test.
Warm Audio is known best for its high-end tube and solid-state studio equipment and microphones.
But the Austin-based company has also produced a growing number of replica stompboxes that include the Jet Phaser, Foxy Tone Box (i.e. Foxx Tone Machine), and the new Centavo and Warmdrive pedals on review here.
These two boxes clone a pair of famed '90s designs, namely the Klon Centaur and the Hermida Audio Zendrive.
Warm Audio Centavo
Like the original Centaur, the Centavo has a large custom-cast "champagne" enclosure and black pointer knobs for gain, treble and output. The input, output and nine-volt adapter jacks are on the back, along with a mod slider switch that provides extended low-frequency response in the up position.
Removing two screws is all it takes to remove the thick aluminum bottom plate to expose the PC board with hand-wired connections to the jacks, foot switch and Mod switch. There's even a cast-in compartment for the unit's nine-volt battery (not included).
Image 1 of 2
As per the original circuit specs, Centavo features TL072 op-amps, vintage-style diodes and a charge-pump voltage regulator, which is basically a type of DC-to-DC converter that can increase or decrease input voltage to a specific level. The pedal also has a buffered bypass.
The Centavo is a smooth-sounding overdrive with a nice, tube-like tone and feel. Tested with a new Fender Vintage II '51 Telecaster and a '59 Historic Les Paul, the pedal sounded excellent when used like a booster by keeping the gain on the low side and cranking up the potent volume control.
This worked great to coax more grind from a Deluxe Reverb with its volume about halfway up, using higher gain settings as needed to elicit more distortion. Even when dimed, however, the Centavo's distortion is responsive to your picking and not overly compressed.
Pairing it with another pedal to get more sustain is a good option, and here's where the buffered output helps maintain the warmth, transparency and juiciness that makes the Centavo so cool in the first place.
Warm Audio Warmdrive
The Warmdrive is Warm Audio's take on the famed Zendrive pedal that put Hermida Audio on the stompbox map back in the late '90s and was championed by Robben Ford among other super pickers.
As such, the pedal features gain, volume, tone (post op-amp clipping) and a voice control that, situated before the op-amp clipping stage, increases treble as it's turned clockwise.
Unlike the Centavo, none of the circuit components are viewable from the PCB's back side (aside from a bit of wiring to the nine-volt adapter jack and the connector for a battery) but the list includes original style 2N7000 Mosfets, a NE5532 op-amp, carbon-comp resistors and 1N34A germanium Schottky BAT41 diodes. Also unlike the Centavo, the Warmdrive is a true-bypass design.
Image 1 of 2
The Warmdrive is a flexible distortion pedal with moderate gain and abundant output that allow it to play well with amps of various gain structures.
I tested it with a Fender Deluxe Reverb, a Matchless Chieftain 2x12 combo and the very high-gain Blackstar St. James 6L6 1x12 combo.
Because of how the tone and voice controls are configured you can set them around one o'clock and 11 o'clock respectively, and have plenty of latitude to sculpt tones with single-coils or humbuckers, utilizing the controls' interactive nature to get buttery tones by using a lower tone setting and turning up the voice knob to enhance definition.
Oppositely, you could run tone high and pull back the brights with the voice control to get more bite and presence.
Touch sensitive and very responsive to guitar volume changes, the Warmdrive is a great choice if you like leaving a distortion pedal on and using your guitar volume to control how clean or gritty you want your sound.
As a kind of "desert island" distortion box, the Warmdrive has that innate ability to shape-shift to suit the situation, and is a pedal you can count on to deliver the goods when the venue's Twin Reverb might be your only option.
Specifications
CENTAVO
Controls: Gain, treble, output, two-position Mod switch, I/O input, output, 9VDC jack (also operates on battery power)
Extras: Original-style art deco aluminum housing
Size: 5" x 6.75" x 2.25"
Weight: 2 lbs
WARMDRIVE
Controls: Volume, gain, tone, voice, 9VDC jack (also operates on battery power)
Extras: True bypass
Size: 4.75" x 2.5" x 2.25"
Weight: .75 lbs
Visit Warm Audio for more information.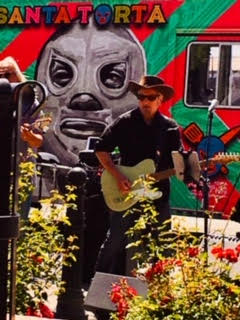 Art Thompson is Senior Editor of Guitar Player magazine. He has authored stories with numerous guitar greats including B.B. King, Prince and Scotty Moore and interviewed gear innovators such as Paul Reed Smith, Randall Smith and Gary Kramer. He also wrote the first book on vintage effects pedals, Stompbox. Art's busy performance schedule with three stylistically diverse groups provides ample opportunity to test-drive new guitars, amps and effects, many of which are featured in the pages of GP.